WILLIAM SINCLAIR (c1790-1862)
ELIZABETH ANDERSON (1802-1872)
(Last Updated: February 12, 2016)
William SINCLAIR was born around 1790 in the Orkney, Scotland.
We have very little information about William's origins or his arrival in Canada other than the details provided in the Scrip claims of his children and the 1827 census records, both indicating he was from the Orkneys. Most of the Red River settlers around 1821 were ex-HBC employees and it seems very likely that William may have been one as well, perhaps a part-time contract Labourer or voyageur, although his name does not appear in the HBC Archives.
We know more about William's wife-to-be, Elizabeth ANDERSON, who was born in 1805 at Brandon House, the halfbreed daughter of Suzette DEMORAN, a Métis, and James ANDERSON (1755-1854) from the Orkneys, an HBC tailor. The ANDERSON family settled in St Andrews Parish around 1823. ** MORE ABOUT JAMES ANDERSON
William marries Elizabeth ANDERSON
1826
On Jan 31, 1826 William married the aforementioned Elizabeth ANDERSON.
In the 1827 Red River Census on River Lot 162 (Lockport area) we find William SINCLAIR, age 41, born around 1786 in Orkney; a married man with a wife but no children. He's living with Peter ERASMUS. On the property there is one house and a stable; a horse, a cow, an ox, two calves, two swine; a cart, plow, harrow and two canoes. Four acres are under cultivation. This would be Peter ERASMUS SR. (1794-1849) was the father of the Peter Jr, author of the book Buffalo Days and Nights. Peter Sr was a Dane, around the same age as our William, and a settler around the same time. The interesting thing about this is that Peter Sr's son, Henry ERASMUS (noted as a boozer) was married to Margaret ANDERSON b.1834, daughter of John Henry ANDERSON (Our Elizabeth's brother). There is information that Henry, in fact, may have also even been married to Our Elizabeth as well!
Their first child was Mary, born Aug 25, 1827 in St Andrews Parish.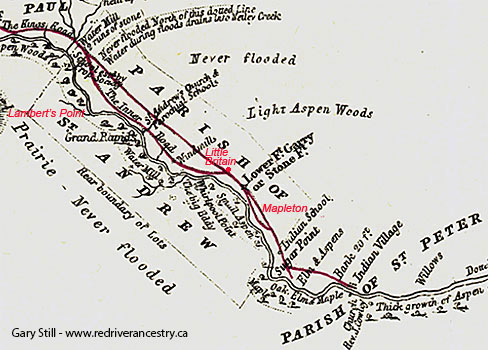 Part of Henry Hind's Map based on his observations of 1857
By about 1845 there were eight children in William's family: Mary, James, George Thomas, William, Joseph, Elizabeth and Isabella, a baby.
Around 1845 William's eldest child, daughter Mary, became the wife of Thomas HOURIE (1820-1852, son of Margaret BIRD (Indian) & John HOURIE (1779-1857) from the Orkneys. ** MORE ABOUT JOHN HOURIE
By 1851 William's family had increased to 12 with the addition of Catherine, Charles, Samuel and Peter.
Around 1852 son James married Catherine TROTTIER, daughter of Marie (Indian) & Joseph TROTTIER (1797-1852).
On Jan 12, 1854, son George married in St Andrews to Maria LAMBERT, daughter of Peggy FAVEL & Michel LAMBERT (1792-1875).
Son Joseph died in 1859, age 19.
In 1860 son William Jr. married Maria DENNETT, daughter of Margaret CALDER & William DENNETT.
Also in 1860 daughter Isabella married Edward BIRD in Portage la Prairie, son of Sarah (Piegan Indian) and James "Jimmy Jock" BIRD (1798-1892). ** MORE ABOUT JAMES "JIMMY JOCK" BIRD
Around 1861 son Thomas married Mary DONALD, daughter of Elizabeth LAVIOLETTE & William DONALD (1813-1887).
In 1865 daughter Elizabeth married in St Peters to Edward THOMAS, son of Harriet, an Indian, & James THOMAS.
In 1867 daughter Isabella married Michael DESMARAIS, son of Harriet Catherine FAVEL and Charles King DESMARAIS (1808-1885). ** MORE ABOUT CHARLES KING DESMARAIS
William SINCLAIR Dies
1870
On Mar 9, 1870 William signed his Last Will & Testimony bequeathing all his estate (Lot 14) to his youngest son Peter. On July 16, 1870 William SINCLAIR died.
On Jun 14, 1872 Elizabeth SINCLAIR died. She and her husband were buried in the Old St Andrews Church Cemetery.
In 1875 a Scrip claim by her son (Peter) regarding Elizabeth's heirs as follows (No mention of her husband William): 1) George;  2) William;  3) Charles;  4) Thomas;  5) Samuel;  6) Peter (the deponent);  7) Mary (wife of John WILSON);  8) Isabella (wife of Michel DESMARAIS);  9) Elizabeth (wife of Edward THOMAS), her children;  and 10) Children of her son James SINCLAIR, deceased:  John, William, James, Francis, Nolan and Flora.
On July 1, 1877, Surveyor John Stoughton DENNIS, surveyed Lot 14, and on Mar 24, 1885, the property was granted (patented) to Peter SINCLAIR (Dominion Land Grant).
Please post comments & queries at this link: FORUM DISCUSSING the WILLIAM SINCLAIR FAMILY
============================ Family Details ============================
Children:
1. Aug 25, 1827 MARY SINCLAIR (m1. Thomas HOURIE, m2. Cuthbert CUMMINGS, m3. James (John) WILSON)
2. 1828 JAMES SINCLAIR (m. Catherine TROTTIER)
3. May 10, 1831 GEORGE SINCLAIR (m. Maria LAMBERT)
4. 1835 THOMAS SINCLAIR (m. Mary DONALD)
5. 1840 WILLIAM SINCLAIR JR (m1. Maria DENNETT, m2. Margaret KENNEDY)
** MORE ABOUT WILLIAM SINCLAIR JR
6. c1840 JOSEPH SINCLAIR (Died age 19)
7. c1844 ELIZABETH SINCLAIR (m. Edward THOMAS)
8. 1845 ISABELLA SINCLAIR (m1. Edward BIRD, m2. Michel DESMARAIS)
9. Jan 13, 1847 CHARLES SINCLAIR (m. Victoria THOMAS)
10. 1849 SAMUEL SINCLAIR (m. Catherine VANDAL)
11. Apr 15, 1851 PETER SINCLAIR (m. Sarah Ann FIDLER)