WILLIAM SINCLAIR (1840-1900)
MARIA DENNETT (c1845-1874)
MARGARET KENNEDY (1846-?)
(Last Updated: July 29, 2014)
William SINCLAIR was born around 1840 in St Andrews Parish, son of Elizabeth ANDERSON &. William SINCLAIR SR (1790-1870). ** MORE ABOUT WILLIAM SINCLAIR SR
Marriage to Maria DENNETT
1860
On Feb 2, 1860 William married Maria DENNETT in St Andrews, daughter of Margaret CALDER & William DENNET (b-1827).
Canadian Confederation
Red River Rebellion
Manitoba becomes a Province
1867-1870
On July 1, 1867 the British colonies in North America were united under the British North American Act to become the Dominion of Canada.  Sir John A MACDONALD (1815-1891) was appointed as Canada's first Prime Minister. William McDOUGALL (1822-1905) became the Minister of Public Works, and he began negotiations to acquire Rupert's Land from the HBC, sending out surveyors to prepare the way for an expected influx of settlers.
On Oct 11, 1869, Louis RIEL (1844-1885) placed his foot on the surveyors' chain to tell them their work was finished. This marked the beginning of a Red River Metis Rebellion. In early November that year he took possession of Upper Fort Garry with armed forces, taking prisoners in the process. ** MORE ABOUT THE RED RIVER REBELLION in WIKIPEDIA
On July 15, 1870 Manitoba became the fifth province of Canada, the Canadian Government having acquired the territory previously governed by the HBC.The Rebellion was essentially over.
From the 1870 census of St Andrews Parish, River Lots 13-14: William SINCLAIR (age 31), his wife Maria (age 25) and their children: Catherine (age 9), Margaret (5) and Alexander (age 2). These river lots are located to the east of Parkdale, up-river from Lambert's Point as shown on the map below. At that time Lot 14 was owned by William's younger brother, Peter SINCLAIR (age 19) and their brother Samuel SINCLAIR (age 22) was recorded with him at that time.
Their mother, Widow Elizabeth SINCLAIR (age 70) was also recorded there that year also. Their father (William SINCLAIR SR. had died earlier that year.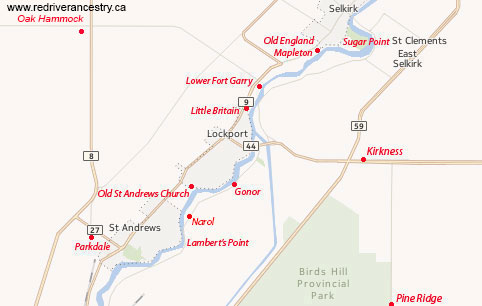 In 1870 William's father (William Sr.) died and in 1872 his mother (Elizabeth) died.
In 1871 Treaty Number One was signed by Chief Henry PRINCE (1819-1899).
** MORE ABOUT CHIEF HENRY PRINCE
In 1872 son Donald was born at Parks Creek (near Parkdale).
St Peters
1874
On July 7, 1874 Maria (nee DENNETT) SINCLAIR died in St Peters at the age of 26. Daughter Catherine also died that year (only 14 years old). At that time her surviving children were Margaret Ann (age 9), Alexander (6) and Donald (age 2).
Marriage to Margaret KENNEDY
Not long after his first wife, Maria (DENNETT) died, William re-married to Margaret KENNEDY, the daughter of Margaret and John KENNEDY (1810-1880) who were members of the St Peters Indian Band.
It seems that Margaret KENNEDY's brother, Alexander KENNEDY (1852-1935), was married to Marguerite DENNET b-1853 who may have been a sister of Maria DENNETT (William's first wife). ** This is all very complex and confusing and is under review. Help would be much appreciated.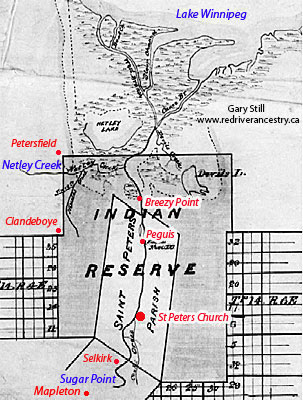 Plan showing St Peters Reserve after the signing of Treaty No.1
In 1875 William was living in St Peters when he claimed Scrip for himself. William was also included as an heir to his deceased mother (Elizabeth). That claim was filed by his brother (Peter) on behalf of all of his mother's children.
In 1876 William claimed Scrip for the heirs of his deceased wife (Maria) as: 1) Margaret Ann, 2) Alexander, and 3) Donald. 
Census of 1881 in St Andrews Parish:: William SINCLAIR (age 45); wife Margaret (age 35). Children: Alexander (age 12), George (12), Daniel (age l 8; this would be Donald) and Maria (age 7). Also 70 year old Indigenous Margaret KENNEDY (b-1811). This would be Margaret's mother.
Town of Selkirk
Census of 1891 in the Town of Selkirk: William SINCLAIR (age 58); wife Margaret (age 49). Children: Donald (age 18), Christianna (9) and John (age 6).
**Note: During the period 1891 to 1901 a William SINCLAIR was a Councillor for the St Peters Band. Was this our William?
Around 1892 daughter Margaret married William Charles FIDLER at St Paul's Anglican (Middlechurch), son of Amelia BIRD & Peter FIDLER (1820-1881). In 1896 William Charles FIDLER died, and in 1897 Widow Margaret married his older brother, Thomas FIDLER. ** MORE ABOUT AMELIA BIRD & PETER FIDLER
Around 1893 son Donald married a lady named Isabella, of uncertain origins.
In 1894 Margaret (nee KENNEDY) SINCLAIR filed a Power of Attorney regarding her Halfbreed Scrip.
Around 1900 William SINCLAIR died in Selkirk.
Census of 1901 in the Town of Selkirk: Widow Margaret SINCLAIR (age 64) and daughter Christie (age 20).
Around 1901 son Donald (widowed) re-married to Widow Adeline (nee COURCHENE) THOMAS, a former Treaty Indian, daughter of Elizabeth BRUYERE and Maxime COURCHENE (b-1852). Adeline was the widow of Thomas THOMAS (1875-1900) and was living in Balsam Bay at the south end of Lake Winnipeg prior to this union.
Comments and queries at this link: FORUM DISCUSSING this WILLIAM SINCLAIR FAMILY
========================== Family Details ==========================
Children with Maria DENNETT:
1. 1860 CATHERINE LOUISE SINCLAIR (Died 1874, only 14 years old)
2. 1865 MARGARET ANN SINCLAIR (m1. William Charles FIDLER, m2. Thomas FIDLER)
3. 1868 ALEXANDER SINCLAIR
4. 1869 GEORGE SINCLAIR
5. 1872 DONALD SINCLAIR (m.1 Isabella; m2. Adeline COURCHENE)
6. 1874 MARIA SINCLAIR
Children with Margaret KENNEDY:
1. 1882 CHRISTIANNA SINCLAIR
2, 1885 JOHN SINCLAIR