CHARLES KING DESMARAIS (1808-1885)
HARRIET CATHERINE (nee FAVEL) SAUNDERS (1816-1884)
(Last Updated: May 11, 2014)
Charles King DESMARAIS was born 1808 in Pembina, North Dakota, son of a Salteaux Indian named Marie Suzette and Francois DESMARAIS (1770-1848) from L'Assomption, Quebec (north of Montreal).
Union of the North West Company with the Hudson's Bay Company
1821
In 1821 the union of the North West Company (NWC) and the Hudson's Bay Company (HBC) occurred, ending the years of bitter rivalry for dominance of the fur trade in Western Canada. After the merger, almost 1,300 employees lost their jobs since the single HBC organization that emerged had no need for most of the voyageurs and fur traders.
No one seems to know when Charles' Indian mother (Marie Suzette) died, but it is known that around the time of the HBC - NWC union of 1821 when he was about nine years old, his father (Francois) left Red River country and re-married to Marie COLLARD in Terrebonne, Quebec.
Marriage to Widow Harriet Catherine (nee FAVEL) SAUNDERS
1833
In 1833 Charles married Harriet Catherine (nee FAVEL) SAUNDERS, widow of John SANDERSON dit SAUNDERS (1801-1831) who had died in 1831.
Portage la Prairie
1853
In 1853, with the groundwork laid at St Peters, Rev William COCKRAN (1798-1865) left with his family to start a mission at Portage la Prairie.  At the same time about 12 other families from Middlechurch and St Andrews settled in Portage as members of the first St Mary's congregation. ** MORE ABOUT REVEREND WILLIAM COCKRAN in DCBO
In 1853 Charles is said to have moved to Portage La Prairie, as well as his brother, Jean Baptiste DESMARAIS (1812-1897). ** MORE ABOUT JEAN BAPTISTE DESMARAIS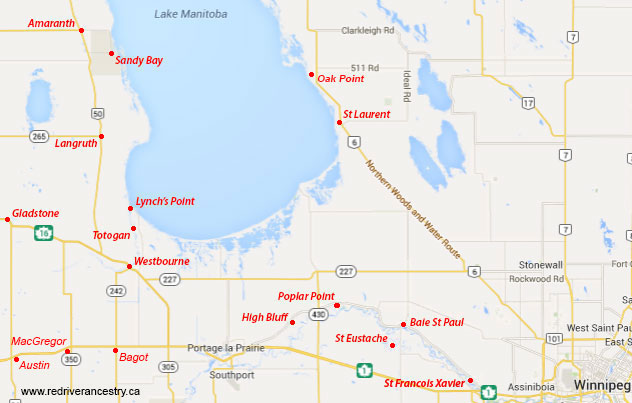 In 1858 son Francois married Catherine POCHA in Portage la Prairie, daughter of Josephte DESCOTEAUX and Joseph PAQUIN aka POCHA (1800-1896).
In 1860 step-son John SANDERSON married Fanny SINCLAIR in St Andrews, daughter of Elizabeth SWAIN and Baikie SINCLAIR (1802-1887), a retired HBC employee from the Orkneys of Scotland.
** MORE ABOUT BAIKIE SINCLAIR
In 1861 daughter Eliza gave birth (out of wedlock) to Absalom LAROCQUE in Portage la Prairie. The father was Joseph LAROCQUE of uncertain origins. ** MORE ABOUT ABSALOM LAROCQUE alias SPENCE
Some sources indicate that daughter Eliza was also married to Louis BELLEGARDE, son of Marguerite DUFORT and Alexis Joseph BELLEGARDE (1792-1852). However, that is a matter for debate since the mother of most of BELLEGARDE's children was Elizabeth CARDINAL (b-1840). Need help with this one.
In 1864 daughter Catherine married Pierre CADOTTE, son of Genevieve PICARD and Joseph CADOTTE (1813-1864).
Canadian Confederation
Red River Rebellion
Manitoba becomes a Province
1867-1870
On July 1, 1867 the British colonies in North America were united under the British North American Act to become the Dominion of Canada. Sir John A MACDONALD (1815-1891) was appointed as Canada's first Prime Minister; a month later he won the first federal election.William McDOUGALL (1822-1905) became the Minister of Public Works, and he began negotiations to acquire Rupert's Land from the HBC, sending out surveyors to prepare the way for an expected influx of settlers.
In 1867 son Michael married in Portage to Isabella (nee SINCLAIR) BIRD (previously married to Edward BIRD), daughter of Elizabeth ANDERSON & William SINCLAIR (1790-1870) from the Orkneys of Scotland.
** MORE ABOUT WILLIAM SINCLAIR
On Oct 11, 1869, Louis RIEL (1844-1885) placed his foot on the surveyors' chain to tell them their work was finished. This marked the beginning of a Red River Metis Rebellion.
On July 15,1870 Manitoba became the fifth province of Canada, the Canadian Government having acquired the territory previously governed by the HBC. The Rebellion was essentially over.
Census 1870 at White Mud River: Charles DESMARAIS (age 64); wife Catherine (age 54). Children: Eliza, (age 26) and Marguerite (age 17).
Around 1872 daughter Margaret married John Norman SINCLAIR, son of Catherine TROTTIER and James SINCLAIR (1828-1867).
Census 1881 in Westbourne: King DIMERY (DESMARAIS), age 73; wife Harriet, age 72. Children: Elisa (age 40), Thomas (22), James (16), Mary Ann 12), Nancy (10), Alexander (7), John (6), Ellen (4), Priscilla (2), Frederick (2). **Note: James, Mary Ann, Nancy, Alexander, John, Ellen, Priscilla and Frederick must be grandchildren. Haven't determined who their parents were; need help.
In 1884 wife Catherine died in Portage la Prairie, and on Jan 1, 1885 Charles King DESMARAIS died in Westbourne, age 70.
Comments and queries at this link: FORUM DISCUSSING the FAMILY of CHARLES KING DESMARAIS
========================= Family Details =========================
Child of Harriet FAVEL & John SAUNDERS:
1. Jan 17, 1832 JOHN SANDERSON dit SANDERS/ SAUNDERS JR (m. Fanny SINCLAIR)
Children with DESMARAIS:
1. Mar 2, 1834 FRANCOIS DESMARAIS JR (m. Catherine POCHA)
2. Apr 30, 1839 CHARLES DESMARAIS (m. Unknown)
4. Apr 5, 1842 ELIZA DESMARAIS (m.1. Joseph LAROCQUE, m2. Louis BELLEGARDE)
5. Sep 14, 1846 MICHAEL DESMARAIS (m. Isabella SINCLAIR)
6. Aug 30, 1847 JOHN DESMARAIS
7. Mar 8, 1849 CATHERINE ELLEN DESMARAIS (m. Pierre CADOTTE)
8. Feb 22, 1852 JOSEPH DESMARAIS
9. 1853 MARGARET DESMARAIS (m. John Norman SINCLAIR)
10. 1859 THOMAS DESMARAIS