JEAN BAPTISTE DESMARAIS (1812-1897)
SOPHIA ERASMUS (1816-1872)
MARGARET "POO-PEE" (nee GUNN) TANNER (1826-1914)
(Last Updated: May 15, 2014)
Jean Baptiste DESMARAIS aka DEMARAIS was born around 1812 in the White Mud Settlement (later named Westbourne), the youngest son of a Salteaux Indian named Marie Suzette and Francois DESMARAIS (1770-1848) from L'Assomption, Quebec (north of Montreal).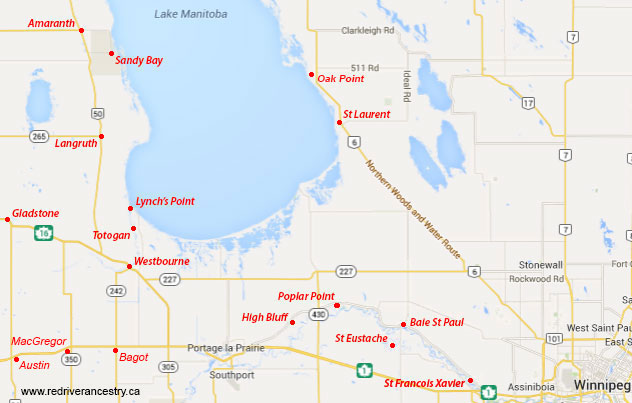 Union of the North West Company with the Hudson's Bay Company
1821
In 1821 the union of the North West Company (NWC) and the Hudson's Bay Company (HBC) occurred, ending the years of bitter rivalry for dominance of the fur trade in Western Canada. After the merger, almost 1,300 employees lost their jobs since the single HBC organization that emerged had no need for most of the voyageurs and fur traders.
Also at the time of the Union, Reverend John WEST (1778-1845) arrived from England as the first Chaplain in the northwest. He was sponsored by the Church Missionary Society (CMS) and the HBC.
No one seems to know when Jean Baptiste's Indian mother (Marie Suzette) died, but it is known that around the time of the HBC - NWC union of 1821 when he was about nine years old, his father (Francois) left Red River country and re-married to Marie COLLARD in Terrebonne, Quebec.
Marriage to Sophia ERASMUS
1837
On Dec 27, 1837 Jean Baptiste married Sophia ERASMUS in St Andrews Parish (Red River), daughter of Catherine BUDD (a half-breed) and Peter ERASMUS (1794-1849), a retired HBC employee from Denmark.
St Andrews Parish
It is difficult to determine Baptiste's whereabouts after 1821. Most evidence indicates that he moved to St Andrews Parish as a youngster, probably living with one of his older siblings. He apparently did not receive any formal education; he was illiterate (signed documents with an 'X').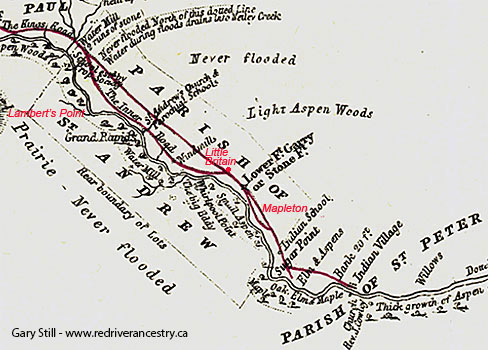 St Andrews Parish from Hind's Map of 1857
Marriage to Sophia ERASMUS
1837
On Dec 27, 1837 Jean Baptiste married Sophia ERASMUS in St Andrews Parish (Red River), daughter of Catherine BUDD (a half-breed) and Peter ERASMUS (1794-1849), a retired HBC employee from Denmark.
On Aug 13, 1838 daughter Fanny was born not far downriver from Fort Garry (Winnipeg).
In 1844 daughter Marguerite was born in the Mackenzie River District (from her Scrip Affidavit). No information to indicate Baptiste's activities would have been there at that time.
In 1846 son Henry Charles was born in St Andrews Parish; daughter Mary Ann in 1849 (baptized at St John's).
Baptiste returns to the White Mud Settlement
By 1851 Baptiste had returned to his birthplace in the White Mud Settlement where the rest of his children would be born.
In 1853, with the groundwork laid at St Peters, Reverend William COCKRAN (1798-1865) left with his family to start a mission at Portage la Prairie. At the same time about 12 other families from Middlechurch and St Andrews settled in Portage as members of the first St Mary's congregation. These included John and Thomas ANDERSON; Baptiste and John DESMARAIS and Peter and Simon WHITFORD. ** MORE ABOUT REVEREND WILLIAM COCKRAN in DCBO
In 1859 the Westbourne Mission was built by Reverend Henry GEORGE (1833-1885). He and the Archdeacon COCKRAN decided that George would form a new mission station not associated with the Hudson's Bay Company. The mission was located at the First Crossing of the White Mud River, known as Wahputunestee Seepee. A year later, the mission became known as Westbourne, so named after the first Anglican missionary, Mr. WEST.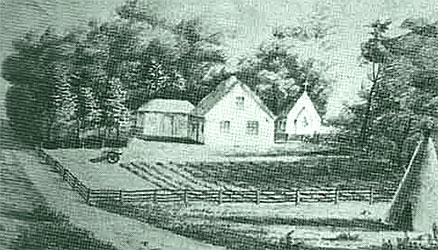 Westbourne Mission, established 1859, sketched c. 1865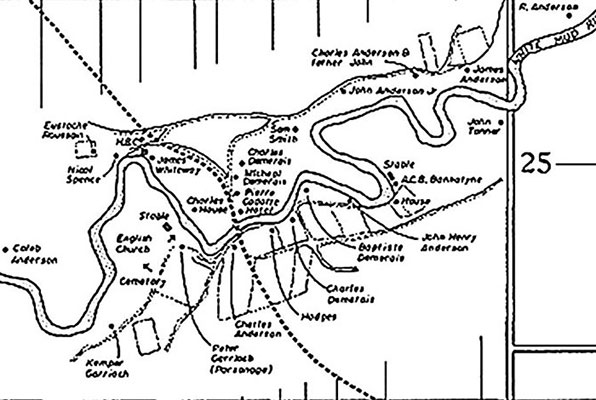 Part of an Early Map of the White Mud Settlement (Westbourne)
The dotted line depicts the Carlton Trail
(From the book Tanner's Crossing by Robert Mummery)
Discernable on this undated map are the names Baptiste DEMARAIS as well as Charles DEMARAIS (two of that name) and Michael DEMARAIS as well as numerous ANDERSON families.
Around 1861 daughter Marguerite married to George HODGES (born 1828 in Tennessee, USA).
Canadian Confederation
Red River Rebellion
Manitoba becomes a Province
1867-1870
On July 1, 1867 the British colonies in North America were united under the British North American Act to become the Dominion of Canada. Sir John A MACDONALD (1815-1891) was appointed as Canada's first Prime Minister; a month later he won the first federal election.William McDOUGALL (1822-1905) became the Minister of Public Works, and he began negotiations to acquire Rupert's Land from the HBC, sending out surveyors to prepare the way for an expected influx of settlers.
In 1868 eldest daughter Fanny married James Finley WRAY, son of Eliza FINLEY and James WRAY (1797-1884).
In 1867 son Charles married Mary Ann WHITFORD in Portage la Prairie, daughter of Mary ROBILLARD & James WHITFORD (1829-1872).
Also around 1867 daughter Mary Ann married Samuel SMITH in Portage la Prairie, son of Nancy FAVEL and John James SMITH (1791-1850).  **MORE ABOUT JOHN JAMES SMITH
On Oct 11, 1869, Louis RIEL (1844-1885) placed his foot on the surveyors' chain to tell them their work was finished.
On July 15,1870Manitobabecame the fifth province of Canada, the Canadian Government having acquired the territory previously governed by the HBC. The Rebellion was essentially over.
In 1870 Baptiste and Sophia were living in High Bluff where in the spring of 1872 Sophia (nee ERASMUS) DESMARAIS died.
Baptiste marries Widow Margaret Poo-pee (nee GUNN) TANNER
After his wife Sophia died, Baptiste re-married to Margaret Poo-pee (nee GUNN) TANNER, the widow of Reverend James TANNER( 1812-1870).
In 1875 Baptiste was in White Mud Parish when he claimed Half-breed Scrip for his deceased wife Sophia. At that time he listed their children as 1) Francis; 2) Margaret, wife of George HODGES; 3) Henry Charles; 4) Mary Ann, wife of Samuel SMITH; 5) John Peter; 6) William Thomas; 7) Rebecca, wife of James ANDERSON; 8) Flora; 9) Victoria and 10) Maria Jane.
Around 1875 son John Peter married Caroline ANDERSON, daughter of Letitia McKAY and Peter ANDERSON (1827-1879).

Also around 1875 daughter Rebecca married James ANDERSON, son of Angelique Ann Nancy BIRSTON & Charles ANDERSON (1826-1894).
In 1876 son William married Elizabeth Harriet BEAR at The Pas; her origins uncertain.
Around 1878 daughter Victoria married Alexander MOAR, son of Louisa CAMPBELL and HEBRON MOAR (1831-1913).
In 1880 son John Peter re-married (first wife Caroline must have died) to his sister-in-law, Christina ANDERSON, also a daughter ofAngelique BIRSTON and Charles ANDERSON (1826-1894).
Western Land Grants: Document dated Aug 24, 1882 for Baptiste DESMARAIS; 87.45 acres - M.A.G. in Westbourne Settlement.
The 1891 Census in Westbourne recorded Baptiste as age 75; his wife Margaret, age 65. They were either with, or next to, son John Peter and his family.
In 1896 son William, widowed, re-married to Harriet COCHRANE, daughter of Mary BUCK and James COCHRANE (1845-1888) from The Pas.
In 1897 Jean Baptiste DESMARAIS died in the Kinosota; buried there in St Bede's Anglican Church Cemetery. In the 1901 census, Widow Margaret DEMARAIS was recorded in Kinosota area next to her step-son, John Peter DEMARAIS and his family. She was again recorded there in the 1911 Census.
In 1914 Margaret (Poo-poo; nee GUNN) DESMARAIS died in Kinosota; buried there with her husband.
Comments and queries at this link: FORUM DISCUSSING the FAMILY OF JEAN BAPTISTE DESMARAIS
========================== Family Details ==========================
Children:
1. Aug 13, 1838 FANNY DESMARAIS (m. James Finlay WRAY)
2. May 13, 1844 MARGUERITE CATHERINE DESMARAIS (m. George W HODGES)
3. Oct 29, 1846 HENRY CHARLES DEMARAIS/ DESMARAIS (m. Mary Anne WHITFORD)
4. 1849 MARY ANN DESMARAIS (m. Samuel SMITH)
5. Mar 27, 1851 JOHN PETER DESMARAIS (m1. Caroline ANDERSON, m2. Christina ANDERSON)
6. 1855 REBECCA DESMARAIS (m. James ANDERSON)
7. Oct, 1856 WILLIAM THOMAS DESMARAIS (m1. Elizabeth Harriet BEAR, m2. Harriet COCHRANE)
8. 1858 FLORA SARAH DESMARAIS
9. 1860 VICTORIA HARRIET DESMARAIS (m. ALEXANDER MOAR)
10. Apr 30, 1865 MARIE JANE DESMARAIS (m. Neil WILSON)