PETER ERASMUS (1794-1849)
CATHERINE "KITTY" BUDD (1800-1890)
(Last Updated: May 17, 2014)
Peter ERASMUS was born about 1794 in Denmark.
In 1815 Peter was a volunteer with the British Army and was wounded at the Battle of Waterloo that year. He received a pension of 25 cents a day. Discharged from the army, he had taken service with the Hudson's Bay Company.
** MORE ABOUT the BATTLE of WATERLOO in Wikipedia


Recruited by the Hudson's Bay Company
Norway House
Arrival of the Selkirk Settlers
1815
In 1815 Peter began to work for the Hudson's Bay Company (HBC) as a Labourer at Norway House in the Lake Winnipeg District. ** MORE ABOUT PETER ERASMUS in HBC ARCHIVES (HBCA)

In 1816 Peter became part of another group of Norwegian labourers sent by Lord SELKIRK to prepare a travel route for his settlers from York Factory to Lake Winnipeg with a series of supply posts along the way.
** MORE ABOUT LORD SELKIRK in DCBO

HBCA refers to comments from Ray Beaumont who stated in 'Family Ties of Henry Budd': "Under the name Johann Frederick SWENDSEN or SWEDSON, he (Peter Erasmus) had been a ringleader in a revolt over working conditions among the Norwegian labourers at Norway House in the spring of 1815. In spite of threats from the overseer and the pleadings of officers from Jack River nearby, the Norwegians did not return to work until their demands were met. I spite of such behaviour, ERASMUS was again hired in 1823 for a two-year contract at Brandon House in which there was a proviso the "the said Frederick SWEDSON not obliged to buy dogs while employed a sawyer at Brandon House. ERASMUS was still setting conditions." My note: Dates provided by HBCA appear erratic, and don't agreed with those provided by Beaumont.
HBCA places Peter in the Red River District in 1816-17, and at Beaver Creek Post in the York District in 1817-18.
Peter and Catherine "Kitty" BUDD
1820
Around 1820 Peter began a connubial relationship with Catherine "Kitty" BUDD at Norway House, the daughter of WASH-E-SOO-E"SQUEW (Agathas) COCKING and a Muskego Cree Indian from York Factory, simply known as BUDD.  Daughter Catherine was born around that time. ** MORE ABOUT MUSKEGO CREE BUDD
Union of the North West Company with the Hudson's Bay Company
1821
In 1821 the union of the North West Company (NWC) and the Hudson's Bay Company (HBC) occurred, ending the years of bitter rivalry for dominance of the fur trade in Western Canada.George SIMPSON (1786-1860) became the new Governor of Rupert's Land. Also at the time of the Union, Reverend John WEST (1778-1845) arrived from England as the first Chaplain in the northwest.
HBCA:  Peter ERASMUS as a servant at Brandon House during 1823-24, a bowsman (voyageur) during 1824-25.
On Dec 19, 1824 daughters Catherine and Sophia were baptized, most likely by Reverend David JONES (1796-1844).
** MORE ABOUT REVEREND DAVID JONES in DCBO

In 1826 Peter became a colonist in Red River (St Andrews Parish).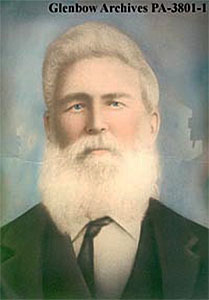 Portrait of Peter Erasmus Sr. ca.1849
Son Peter would later comment about his father: "Upon his retirement, when he took up land at Fort Garry. Dad was a big man, weighed over 220 lbs, stood 6 ft. tall, but not fleshy.  A non-drinker, and careful with his money, he was well respected in the community. We were considered well off, as we had 2 carts and oxen, a flock of sheep, and a saddle horse that was always kept in the barn, besides a couple of mares on the range."
Peter and Catherine "Kitty" BUDD are Church-Wed
St Andrews Parish in Red River
1826
On Jan 31, 1826 Peter and Catherine BUDD were church-wed (probably by Reverend David JONES). The Parish Register at the time of his marriage in 1826calls him a Settler. It was around this time that their first son, Henry, was born. 
Red River Census of 1827: Lot 162 in St Andrews Parish (just north of Little Britain on the east side of the Red River. See map below): Peter ERASMUS, age 35 (Protestant from Sweden). He has a wife and three youngsters: a son and two daughters. He has a house and stable; two cows and two oxen and a cart and he has two acres under cultivation. The son of course would be Henry (a baby), and the two daughters would be Catherine (about 7 years old) and Sophia (about two years old). He's sharing the same river lot as William SINCLAIR (1790-1870) from the Orkneys.
** MORE ABOUT WILLIAM SINCLAIR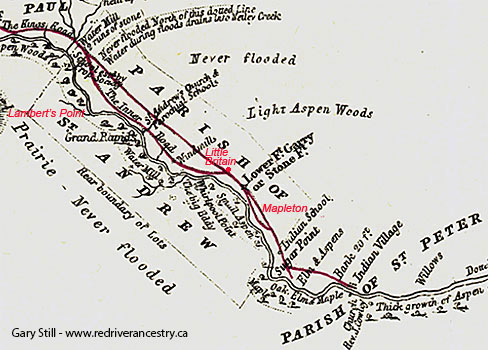 St Andrews Parish from Henry Hind's Map of 1857
Between 1830 and 1835, another daughter, Sally, and two more sons, Peter Jr and William were born.
In 1837 daughter Sophia married Jean Baptiste DESMARAIS in St Andrews Parish, the son of Marie Suzette (Indian) and Francois DESMARAIS (1770-1848) from Quebec.
Around 1844 their last child was born, "their favorite daughter", Mary.
In 1847 daughter Sarah married Antoine KENNEDY, the child of an Indian woman simply known as Mrs., Jane KENNEDY (1791-1885). ** MORE ABOUT MRS JANE KENNEDY
Around 1848 daughter Catherine married John BEAR in St Peters, probably a son or close relative of WHITE BEAR aka TURNER (1780-1844).  ** MORE ABOUT WHITE BEAR
Peter ERASMUS Dies
1849
On Oct 23, 1849 Peter ERASMUS was buried in St Andrews at the age of 55.
From son Peter:  "My Uncle BUDD was named guardian of our family, and as soon as word reached him he came to the settlement to arrange our affairs. He considered it necessary for my older brother Henry and me (Peter Jr) to quit school – Henry to work out to earn money for the family support, and I to take care of the stock and cultivate the land." Of course Uncle BUDD was Reverend Henry BUDD (1814-1875). ** MORE ABOUT HENRY BUDD in DCBO
In 1850 son Henry ERASMUS married Margaret ANDERSON in St Andrews Church, the daughter of Mary Anne DESMARAIS and John ANDERSON (1804-1884). ** MORE ABOUT JOHN ANDERSON
In 1860 son Peter ERASMUS JR married Caroline BRUNEAU in Edmonton, daughter of Marie Suzanne MISTATIM and Pierre BRUNEAU (b-1814) of uncertain origins. In 1864 he re-married Charlotte JACKSON of uncertain origins.
In 1861 son William married Isabella SPENCE in St Andrews, daughter of Victoria TROTTIER and William SPENCE (b-1813).
In 1862 youngest daughter Mary Ann married Andrew Nelson 'Nels' PETERSON (1840-1897) from Denmark.    
In 1881 Widow Catherine ERASMUS (age 89) was recorded with her daughter Mary Anne and son-in-law Andrew PETERSON in Prince Albert, Saskatchewan.
On Feb 2, 1890 Catherine (nee BUDD) ERASMUS died.
Comments and queries at this link: ** FORUM DISCUSSING the FAMILY OF PETER ERASMUS SR
=========================== Family Details ===========================
Children:
1. c1820 CATHERINE ERASMUS (m. John BEAR)
2. Dec 19, 1824 SOPHIA ERASMUS (m. Jean-Baptiste DESMARAIS)
** MORE ABOUT JEAN BAPTISTE DESMARAIS
3. c1827 HENRY ERASMUS (m1. Elizabeth ANDERSON, m2. Margaret ANDERSON)
4. 1830 SARAH "SALLY" ERASMUS (m. Antoine KENNEDY)
5. June 27, 1833 PETER ERASMUS JR (m1. Caroline BRUNEAU, m2. Charlotte JACKSON, m3. Mary STANLEY)
6. 1835 WILLIAM ERASMUS (m. Isabella SPENCE)
7. Jan 3, 1840 MARY ANN ERASMUS (m. Andrew Nelson "Nels" PETERSON)