JOHN BEAR (1804-1864)
CATHERINE ERASMUS (c1822-1902)
(Last Updated: December 13, 2016)
John BEAR, an Indian, was born around 1804, probably in the Cumberland House area. Although I have so far been unable to find documentary evidence to support my premise, I believe he was probably a son or a close relative of WHITE BEAR aka TURNER (1780-1844). ** MORE ABOUT WHITE BEAR
In the early 1820's WHITE BEAR and his family moved from Cumberland House to the St Peters Indian Settlement (north of Selkirk, Manitoba). John BEAR would have been in his late teens around that time.
In 1844 WHITE BEAR died in St Peters.
Marriage to Catherine ERASMUS
1848
John BEAR married around 1848 to Catherine ERASMUS, daughter of Catherine "Kitty" BUDD & Peter ERASMUS (1794-1849) from Denmark, a voyageur (boat man) with the Hudson's Bay Company (HBC) who retired (around 1825) to St Andrews Parish south of the St Peters Indian Settlement as a colonist. ** MORE ABOUT PETER ERASMUS
On Dec 25, 1849 daughter Margaret was born in St Peters.
On Dec 22, 1850 Catherine's uncle became the Reverend Henry BUDD, ordained that day by Bishop David ANDERSON (1814-1885) as the first Native Indian on the North American Continent to be admitted to the ministry.
Death of John BEAR
1864
John BEAR died around 1864.
Around 1866 daughter Margaret married John CLEMONS (1830-1917) from the USA.
Canadian Confederation
The Riel Rebellion
Manitoba becomes a Province
Treaty Number One is signed by Chief Henry PRINCE
1867-1871
On July 1, 1867 the British colonies in North America were united under the British North American Act to become the Dominion of Canada.  Sir John A MacDONALD (1815-1891) was appointed as Canada's first Prime Minister. On Oct 11, 1869, Louis RIEL (1844-1885) placed his foot on the surveyors' chain to tell them their work was finished! This marked the beginning of another Red River Métis Rebellion. In 1870 the Rebellion ended and Manitoba became a Province.
In 1871 Treaty Number One was signed by Chief Henry "Red Eagle" PRINCE (1819-1902) on behalf of the St Peters Indians. ** MORE ABOUT CHIEF HENRY PRINCE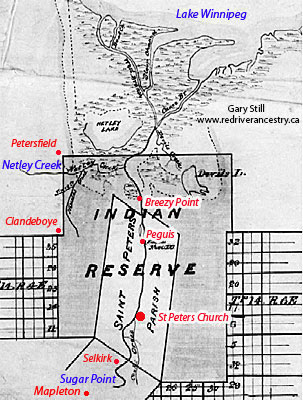 Plan showing St Peters Reserve No.1
In 1874 Sarah BEAR (probably a daughter) married Samuel STEVENSON, son of Margaret BALLENDINE & Peter STEVENSON (1830-1918). ** MORE ABOUT PETER STEVENSON
Around 1878 daughter Sophia married Albert KNOTT, son of Mary HAY and John KNOTT (b-1815).
** MORE ABOUT JOHN KNOTT
In the Census of 1881 Widow Catherine BEAR was recorded in St Peters as 58 years old. With her were her son Peter (age18), daughter Sophia (age 20) and son-in-law Albert KNOTT (age 24). In the next household were daughter Margaret and her husband John CLEMONS.
On Feb 14, 1884 son Peter married Harriet BEARDY.
In the Census of 1891 Widow Catherine was recorded alone (age 65).
In the Census of 1901 Widow Catherine (age 74) was living in Selkirk. With her was her grandson Ralph KNOTT. Margaret & John CLEMONS had also moved to Selkirk as Catherine's neigbours.
Feb 19, 1902 Catherine BEAR died at the age 80 (according to Vital Stats).
Please post comments & queries at this link: FORUM DISCUSSING the FAMILY of JOHN BEAR
=========================== Family Details ===========================
Children:
1. Dec 25, 1849 MARGARET BEAR (m. John Lefoi CLEMONS)
** MORE ABOUT JOHN CLEMONS
?2. 1852 CATHERINE BEAR (m. William PRINCE)
?3. 1857 SARAH BEAR (m. Samuel STEVENSON)
** MORE ABOUT SAMUEL STEVENSON
?4.  est c1860 ELIZA BEAR (m. William KIPLING)
5. 1861 SOPHIA BEAR (m. Albert KNOTT)
6. c1864 PETER JACOB BEAR (m. Harriet BEARDY)