JOHN KNOTT (1815-?)
MARY HAY(S) (1820-1891+)

(Last Updated: December 15, 2016)
John KNOTT, an Indian, was born about 1815 at Moose Factory at the south end of James Bay.
John and Mary HAY
St Andrews Parish, Red River
1841
Around 1841 John was married to Mary HAY, daughter of half-breed Margaret and Henry (Henneyman) HAY (1778-1852), an HBC Carpenter from the Orkneys of Scotland. On July 10, 1842 their first child, Alexander, was born in St Andrews Parish, Red River.
Around 1860 son John Jr. married Mary CORRIGAL, daughter of Catherine FLETT and James CORRIGAL (1795-1874), an HBC empoyee from the Orkneys of Scotland. ** MORE ABOUT JAMES CORRIGAL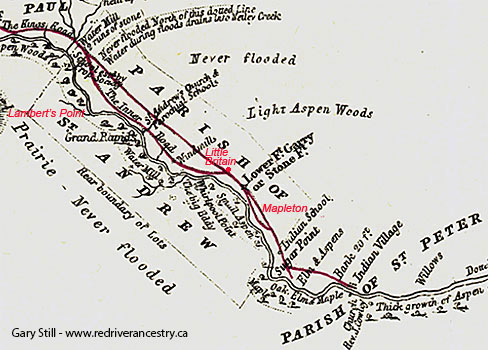 St Andrews Parish from Hind's Map of 1857
Canadian Confederation
A Red River Rebellion
Manitoba becomes a Province
1867-1870
On July 1, 1867 the British colonies in North America were united under the British North American Act to become the Dominion of Canada.  Sir John A MACDONALD (1815-1891) was appointed as Canada's first Prime Minister. William McDOUGALL (1822-1905) became the Minister of Public Works, and he began negotiations to acquire Rupert's Land from the HBC; surveyors were sent to Red River to prepare the way for an expected influx of settlers.
In 1867 son Alexander married Barbara LINKLATER in St Andrews, daughter of Ellen RICHARD and William LINKLATER (1820-1864).
On Oct 11, 1869, Louis RIEL (1844-1885) placed his foot on the surveyors' chain to tell them their work was finished! This marked the beginning of the historic Red River Métis Rebellion.
On July 15, 1870 the Rebellion ended when RIEL's Provisional Government accepted the terms of the Manitoba Act and Manitoba became the fifth province of Canada.
Census of 1870 in St Andrews (Lot 48): John KNOTT, age 68; wife Mary, age 53.  Children: Matilda(age 23), Francoise(16) and Albert (age 14).
By about 1874 daughter Francoise was the wife of George RUPERT (1835-1912), son of Lissette (Cree woman) and Michel OKANASE ala CARDINAL.
In 1875 John applied for his Half-breed Scrip as a resident of St Andrews Parish.
Around 1878 son Albert married Sophia BEAR, daughter of Catherine ERASMUS and John BEAR (1804-1864).
** MORE ABOUT JOHN BEAR
Census of 1891 in Fort Alexander: Widow Mary KNOTT, age 72 (b-1819). This is the last record found for Mary. We don't know when she died, but she was apparently the first person buried in the St Judes's Church Cemetery at Grand Marais. The church was built there in 1896.
Comments and queries at this link: FORUM for DISCUSSING THE FAMILY OF JOHN KNOTT
========================== Family Details ==========================
Children:
1. July 10, 1842 ALEXANDER KNOTT (m. Barbara LINKLATER)
2. 1847 MATILDA KNOTT
3. 1848 JOHN KNOTT (m. Mary CORRIGAL)
4. Dec 27, 1854 FRANCOISE "FANNY" KNOTT (m. George RUPERT)
5. Aug 10, 1857 ALBERT KNOTT (m. Sophia BEAR)