SAMUEL STEVENSON (1855-1914)
SARAH BEAR (1857-1875)
RACHEL HARRIET WEST (1861-1940)
(Last Updated: August 02, 2014)
Samuel STEVENSON, a Cree Indian, was born 1855, son of Margaret BALLENDINE & Peter STEVENSON (1830-1918). ** MORE ABOUT PETER STEVENSON
Canadian Confederation
A Red River Rebellion
Manitoba becomes a Province
1867-1870
On July 1, 1867 the British colonies in North America were united under the British North American Act to become the Dominion of Canada.  Sir John A MACDONALD (1815-1891) was appointed as Canada's first Prime Minister.William McDOUGALL (1822-1905) became the Minister of Public Works, and he began negotiations to acquire Rupert's Land from the HBC; surveyors were sent to Red River to prepare the way for an expected influx of settlers.
On Oct 11, 1869, Louis RIEL (1844-1885) placed his foot on the surveyors' chain to tell them their work was finished! This marked the beginning of the historic Red River Métis Rebellion. The Rebellion ended when RIEL's Provisional Government accepted the terms of the Manitoba Act and on July 15,1870 Manitoba became the fifth province of Canada.
Census 1870:  Samuel (age 17) was recorded with his parents in the St Peters Indian Settlement.
In 1871 Sam was about 18 years old when Chief Henry PRINCE or RED EAGLE (1819-1902) signed Treaty Number One on behalf of the St Peters Indians.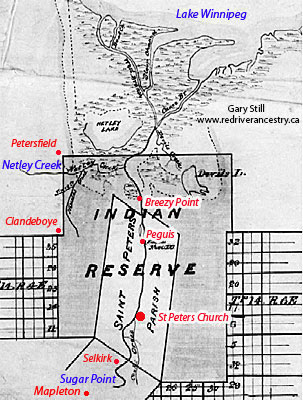 Boundaries of the St Peters Reserve upon the signing of Treaty One in 1871
The Daily Free Press 1871: A list of St Peters Indian Reserve Band Members includes the name Samuel STEVENSON.
Marriage to Sarah BEAR
1874-1875
Merrily: On Feb 5, 1874 Samuel married Sarah BEAR in the St Peters Reserve, daughter of John BEAR who was deceased at the time. This is probably John BEAR (1804-1864) who married Catherine ERASMUS.
** MORE ABOUT JOHN BEAR
Their child, Mary was baptized on Dec. 9, 1874; then died in 1875. On April 8, 1875 Sarah (nee BEAR) STEVENSON died.
Regarding the birth & death of Mary CLEMONS: Samuel STEVENSON of Clandeboye said: "I was employed by John L CLEMONS at The Pas when his daughter Mary was born there, that was on the 20th of November, 1876. That was my first year with CLEMONS, and I continued working for him for four years at The Pas. It was in July 1880 I left his employ. He had a house and home there. The Pas was his home for six years after I left him and he continued the store that time."
In the Red River Census of 1881 Samuel (age 38) was enumerated with parents in St Peters.
Samuel & Rachel Harriet WEST
1881
On Apr 23, 1881 Samuel re-married to Rachel Harriet WEST, daughter of Maria THOMAS & Morrison WEST (an Indian born around 1821). On Dec 23 that year, daughter Esther was born.
On June 15, 1882 the Town of Selkirk was incorporated. The first Mayor was James COCLEUGH (1841-1918). In 1883 construction of the CPR railway line from Winnipeg to Selkirk completed and opened for service.
In 1905 daughter Esther married Benjamin Albert Kamloops "Bert" PRUDEN, son of Mary ISBISTER & John Edward PRUDEN (1839-1904).
The 1906 Census enumerated this STEVENSON family in the St Peters Indian Reserve as follows: Samuel (age 51); wife Rachel (age 35) and children as Esther (age 22), Samuel Jr. (17), Walter (11), Colin (14) and McClure (age 12).
Surrender of the St Peters Reserve
1907-1911
1907 was the year of that the St Peters Indian Reserve was surrendered to the Crown and most of the native residents moved to present day Peguis Reserve (Fisher River/ Hodgson) by 1909. Samuel STEVENSON however remained in St Peters Pzrish for the rest of his days.
Around 1910 a Violet FREEMAN was born (parents uncertain at this time) and later adopted by Rachel and Samuel. Thanks to Merrily for this information.
By 1911 the St Peters Indian Reserve ceased to exist as such, but disputes about land claims on the Reserve would continue well into the next century. The Reserve thereafter continued to be known as St Peters Parish only.
Samuel STEVENSON Dies
1914
On May 30, 1914 Samuel STEVENSON died in Selkirk at the age of 59.
World War I
1914
On Aug 4, 1914 Great Britain (Canada on Aug 5) declared war on Germany and Austria-Hungary to uphold treaties with France and Belgium which were under German attack. This marked the beginning of World War I.
In 1915 son Walter (age 21) enlisted at Selkirk (Canadian Expeditionary Force).
In the 1916 Census the Cree family of Widow Rachel STEVENSON (age 45) was enumerated in St Peters Parish; children at home were listed as Walter (age 21), Colin (19), McClure (16) and Violet (age 6).
November 11, 1919, Armistice Day (Remembrance Day) marked the end of the First World War.
In 1929 son Walter married at Brandon (MB) to Gertrude Mary WHITTINGHAM from Glenavon, Saskatchewan (south of Wolseley and Grenfell). Gertrude was the daughter of Gertrude ALCOCK and John WHITTINGHAM (born 1882 in England). Walter and Gertrude's father were both veterans of the First World War (both served in the Canadian Expeditionary Force).
In 1939 Mrs STEVENSON was in St Peters, Dynevor (from her son Colin's Obit). Son Colin drowned in the Red River that year.
On May 20, 1940 Rachel Harried STEVENSON died in Selkirk.
Please post comments & queries at this link: FORUM DISCUSSING the FAMILY OF SAMUEL STEVENSON
========================== Family Details ==========================
Child by Sarah BEAR:
1. 1874 MARY STEVENSON (Died in infancy)
Children by Rachel WEST:
1. Dec 23, 1881 ESTHER STEVENSON (m1. "Bert" PRUDEN; m2. George ISBISTER)
** MORE ABOUT BERT PRUDEN
2. 1889 SAMUEL STEVENSON (Died age 17?)
3. Apr 24, 1892 PETER JAMES STEVENSON
4. Jan 3, 1895 WALTER STEVENSON
** MORE ABOUT WALTER STEVENSON
5. May 17, 1897 COLIN STEVENSON
6. Mar 17, 1899 McCLURE STEVENSON

Adopted:
1. 1910 VIOLET (born FREEMAN) STEVENSON