WALTER STEVENSON (1895-1969)
GERTRUDE MARIE WHITTINGHAM (1906-2002)
(Last Updated: August 03, 2014)
Walter STEVENSON was born Jan 3, 1895 in Clandeboye (MB), son of Rachel Harriet WEST and Samuel STEVENSON (1855-1914). Walter grew up in the St Peters Indian Reserve. ** MORE ABOUT SAMUEL STEVENSON
** These are the parents of Merrily (on the Forum) and this page is being constructed in cooperation with her.
Walter's future wife, Gertrude Marie WHITTINGHAM, was born in 1906 in the Town of Stafford in Staffordshire, England, daughter of Gertrude ALCOCK and John WHITTINGHAM (1882-1951)
In 1906 Walter STVENSON (age 11) was recorded with his parent in the St Peters Reserve.

In 1907 the WHITINGHAM family immigrated to Canada. Gertrude was five years old at that time.
In 1907 the St Peters Indian Reserve was surrendered to the Crown and most of the native residents moved to present day Peguis Reserve (Fisher River/ Hodgson) by 1909. Samuel STEVENSON (Walter's father) however remained in St Peters for the rest of his days.
By 1911 the St Peters Indian Reserve ceased to exist as such, but disputes about land claims on the Reserve would continue well into the next century. The Reserve thereafter continued to be known as St Peters Parish.
In 1911 the WHITTINGHAM family was living in the Railway Station House in Glenavon Village (See map below). Gertrude was five years old. Her father worked as a Labourer and Foreman.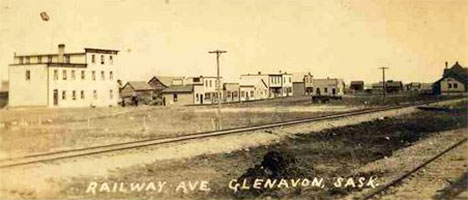 In 1911 Walter STEVENSON (age 16) was still living in St Peters with his parents.
On May 30, 1914 when Walter was 19 years old, his father (Samuel STEVENSON) died in Selkirk at the age of 59.
World War I
Walter Meets the WHITTINGHAM Family
1914-1919
On Aug 4, 1914 Great Britain (Canada on Aug 5) declared war on Germany and Austria-Hungary to uphold treaties with France and Belgium which were under German attack. This marked the beginning of World War I.
On Dec 14, 1915 at Selkirk (MB) Walter STEVENSON enlisted for war service with the Canadian Expeditionary Force (CEF). He was 21 years old and described as 5' 9" with a clear complexion, brown eyes and brown hair. He stated his next of kin as his mother, Rachel STEVENSON of Selkirk.

On Mar 2, 1916 Gertrude's father, John WHITTINGHAM, enlisted for war service at Wolsely, Saskatchewan. His family was then living in Glenavon (SK), and Gertrude would have been about 10 years old. (See Glenavon on map below)
New recruits were sent to Camp Hughes for military training (East of Brandon as shown on map below). This is where Walter STEVENSON would make his first acquaintance with the WHITTINGHAM family.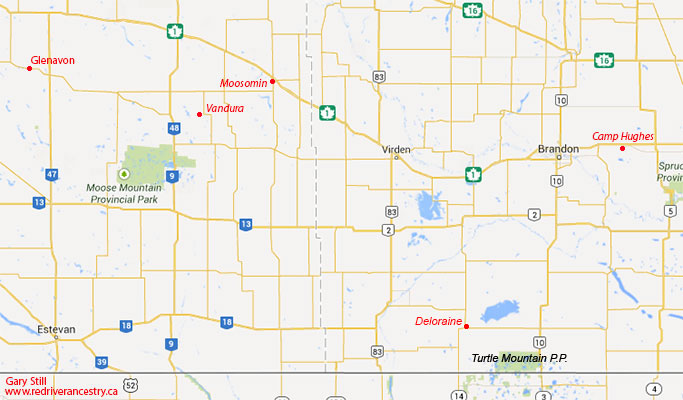 From Census of 1916 at the Glenavon CPR Station House (SK): John WHITTINGHAM (age 33), Soldier at Camp Sewell (Camp Hughes); wife Gertrude (age 28). WHITTINGHAM children: Gertrude (age 10), John (6), Henry (5), Albert (3) and Beatrice (age 2).
From the Census of 1916 in St Peters Parish: Walter STEVENSON (age 21), a soldier from Camp Hughes.
Many of the soldiers who trained at Camp Hughes were later involve in the infamous Battle of Vimy Ridge in France on Apr 9, 1917.
On June 2, 1917, Gertrude's father embarked for Britain as a soldier with the '217th Overseas Battalion, CEF'. On Sep 1, 1917 that battalion was disbanded.
November 11,1919, Armistice Day (Remembrance Day) marked the end of the First World War.
In 1921 Gertrude (age 15) was recorded with her parents in Vandura, SK (See map above). Her father was then working as a railroad labourer.
Marriage to Gertrude Marie WHIITINGHAM
1929
On Jun 24, 1929 Walter married the aforementioned Gertrude WHITTINGHAM in Brandon.
               
In 1939 Walter was at Souris, MB (his brother Colin's Obit).
UNDER CONSTRUCTION – MUCH MORE TO COME AFTER FURTHER REVIEW
Comments and queries at this link: FORUM FOR DISCUSSING THE WALTER STEVENSON FAMILY