BENJAMIN ALBERT "BERT" KAMLOOPS PRUDEN (1883-1931)
ESTHER STEVENSON (1884-1978)
(Last Updated: July 25, 2015)
Benjamin Albert Kamloops "Bert" PRUDEN was born Jul 23, 1883 in St Paul (Middlechurch), Manitoba, son of Mary ISBISTER & John Edward PRUDEN (1839-1904). ** MORE ABOUT JOHN EDWARD PRUDEN
Around 1895, when Bert was about 12 years old, the family moved from St Paul north to Mapleton (Old England on map below).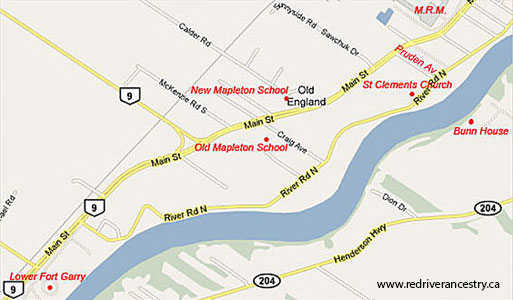 In 1904 Bert's father (Edward PRUDEN) died in Mapleton.
Bert marries Esther STEVENSON
1905
On Dec 6, 1905 Bert married in Selkirk to Esther STEVENSON, daughter of Rachel Harriet WEST & Samuel STEVENSON (1855-1914), a Cree Indian from the St Peters Band north of Selkirk. 
** MORE ABOUT SAMUEL STEVENSON
Bert and Esther moved in with his widowed mother (Mary) in Mapleton where they remained the rest of their lives.
Adoption of Kamloop McLEAN
1912
Apparently Bert & Esther never had any children of their own.
Thanks to Merrily on the Forum, we learn that that on Feb 12, 1912 they legally adopted Kamloop McLEAN who is listed in Vital Stats as born on Oct 11, 1911. His mother's maiden name is indicated as Mary McLEOD. Merrily adds that Kamloop's father is not formally known but rumored to be a man with the last name of McLEAN.
In 1920 Bert noted as serving on the Vestry of the St Clements Church at Mapleton.
In 1926 Bert's mother (Widow Mary) died at the age of 82; buried in St Clements Churchyard at Mapleton.
From 1928 to 1930 Bert served again on the Vestry of the St Clements Church.
Bert PRUDEN Dies
1931
On Mar 10, 1931 Benjamin Albert Kamloops PRUDEN died in Selkirk, age 47.
On July 15, 1939 Esther's brother, Colin STEVENSON, drowned in the Red River near his home at the age of 42. Colin's obituary the appeared in the Daily Free Press indicating that he was buried in the St Peters Anglican Church Cemetery and that he was survived by his (and Esther;s) mother, Mrs Samuel STEVENSON (Rachel nee WEST); two brothers, Walter & McClure (STEVENSON); and two sisters: Mrs B PRUDEN and Violet (STEVENSON).
Esther remarries to George ISBISTER
Adoption of Ethel (born SINCLAIR)
1939
Merrily on the Forum: Ethel was my cousin. Her "Mother" listed as Esther ISBISTER was correct, as Aunt Esther married George ISBISTER in 1939, after Bert died.
Beth Balsillie: This is John George ISBISTER, son of Emily SAUNDERS and Alexander ISBISTER (1852-1925).
Merrily: Ethel was adopted by Esther & Bert PRUDEN. Her actual Mother was Edith HARPER and her birth name was Ethel SINCLAIR.
Thanks to Merrily's clues, further research reveals that Ethel's mother Edith was a daughter of Nancy COCHRANE and William Thomas HARPER (b-1867).** MORE ABOUT WILLIAM THOMAS HARPER
In 1940 the aforementioned Ethel married Vernon RAILTON, son of Daupiter Mae and Edwin RAILTON (1886-1952) from Wales.
On Jun 30, 1978 Esther (nee STEVENSON) ISBISTER died at the Betel Home in Selkirk at the age of 96, predeceased by her second husband, George ISBISTER, in 1963.
Please post comments & queries at this link: FORUM DISCUSSING the BERT PRUDEN FAMILY
============================ Family Details ============================
Adopted Children:
1. Oct 11, 1911 KAMLOOP McLEAN aka PRUDEN
2. c1920 ETHEL MAE (born SINCLAIR) PRUDEN (m. Vernon RAILTON)