WILLIAM THOMAS HARPER (1867-?)
NANCY COCHRANE (1871-?)
(Last Updated: March 08, 2013)
William Thomas HARPER was born May 20, 1867 in the St Peters Indian Settlement, son of Margaret THOMAS, an Indian, and Robert HARPER (1842-1914), a Half-breed. On June 15 that year at the St Peters Church, William was baptized by Reverend Henry COCHRANE (1834-1898), a Cree Clergyman.
In 1875 William's Half-breed Scrip was claimed by his father (Robert), living at the time in St Peters and in the Census of 1881 he was recorded (age 11) with his parents there.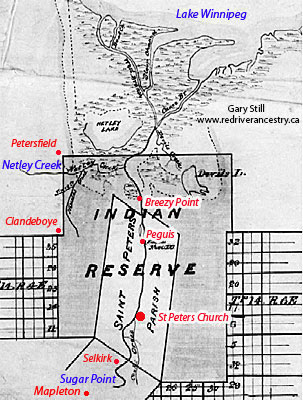 St Peters Indian Reserve boundaries after Treaty One 1871
Marriage to Nancy COCHRANE
1890
On Jul 17, 1890 William Thomas HARPER married Nancy COCHRANE in St Peters, daughter of Nancy HARPER & Alexander COCHRANE (1845-1927). On Apr 13, 1891 their first child, Aurelia Ellen, was born.
In 1892-93 Nancy received consent of the St Peters Band for and received Commutation of her Treaty Annuities in order to receive Half-breed Scrip as the wife of William Thomas HARPER. Signed by Chief William ASHAM and Councillors William SINCLAIR and John PRINCE; certified by A.M. MUCKLE, Indian Agent.
In the 1906 Census William (age 37) and Nancy (age 34) were recorded on Lot 81 in St Peters with children as Oliver (age 16), Amelia (14), Lizzie (12),, Edith (11), Ethel (9), Robert (6) and Donald (age 4).
Surrender of the St Peters Reserve
1907-1911
1907 was the year of that the St Peters Indian Reserve was surrendered to the Crown and most of the native residents moved to present day Peguis Reserve (Fisher River/ Hodgson) by 1909. By 1911 the St Peters Indian Reserve ceased to exist as such, but disputes about land claims on the Reserve would continue well into the next century. The Reserve thereafter continued to be known as St Peters Parish only.
In the 1911 Census William and his family were enumerated still in St Peters Parish, now with eight children including a daughter Rosie (age 4).
In 1913 son Oliver married Agnes SINCLAIR of uncertain origins. This marriage lasted less than two years for unknown reasons and Oliver would re-marry (see below).
World War I
1914
On Aug 4, 1914 Great Britain (Canada on Aug 5) declared war on Germany and Austria-Hungary to uphold treaties with France and Belgium which were under German attack. This marked the beginning of World War I.
On Oct 6, 1914 daughter Edith married McIvor SINCLAIR in Selkirk, son of Nancy & John SINCLAIR (b-1866) from the Fisher River Indian Reserve. ** MORE ABOUT JOHN SINCLAIR
In 1915 son Oliver re-married to Mary Jane DONALD, daughter of Robina PIERSON and Joseph DONALD (b-1866) from the Gonor (Lockport) area.
In 1915 son-in-law McIvor SINCLAIR enlisted in the Army at Camp Hughes Military Base stating his next of kin as his wife Edith then living in West Selkirk. McIvor would never return home.
In the 1916 Census William and his family were living at 351 Dufferin Avenue in Selkirk. Their children now included a daughter Sarah (a baby).
On Nov 8, 1916, son-in-law McIvor SINCLAIR died a soldier in France. He was buried in Louez Military Cemetery, Pas de Calais.
In 1917 son Oliver enlisted in the Army.
November 11, 1919, Armistice Day (Remembrance Day) marked the end of the First World War.
Around 1920 widowed daughter Edith gave birth to daughter named Ethel Mae SINCLAIR. Obviously Ethel's father however could not have been McIvor SINCLAIR who died at war in 1916.
We don't know when Nancy or William HARPER died.
Granddaughter Ethel Mae SINCLAIR was eventually adopted by Esther and Bert PRUDEN (1883-1931).
Please post comments & queries at this link: FORUM DISCUSSING the WILLIAM HARPER FAMILY
============================ Family Details ============================
Children:
1. Apr 13, 1891 AURELIA ELLEN HARPER
2. Oct 29, 1892 OLIVER HARPER (m1. Agnes Murray SINCLAIR, m2. Mary Jane DONALD)
3. 1893 ETHEL HARPER
4. Jun 28, 1894 AMELIA JANE HARPER
5. Nov 29, 1895 ELIZABETH "LIZZIE, ELIZA" HARPER
6. May 3, 1897 BEATRICE FLORENCE HARPER
7. Jan 15, 1899 EDITH HARPER (m. McIvor SINCLAIR)
8. Feb 14, 1901 WILLIAM ROBERT HARPER
9. Mar, 1905 DONALD R HARPER
10. May, 1907 ROSIE HARPER
11. 1915 SARAH HARPER