MORRISON WEST (1821-1881+)
MARIA THOMAS (1836-1918)
(Last Updated: August 03, 2014)
Morrison WASTE or WEST, an Indian, was born around 1820-30 in the St Peters Indian Reserve. The 1870 census identifies him as Morrison WASTE; his father as Peter WASTE. ** Note: Birth dates from various sources for everyone in this family are inconsistent and generally found to be very unreliable (erratic).
** This narrative is being developed in cooperation with Merrily (on the Forum), herself a descendant of Morrison WEST through his daughter Rachel WEST who married Samuel STEVENSON.
In Sprague & Frye (S&F), and in census records, Morrison WEST is referred to as Indigenous (an Indian). In all likelihood he was born with an Indian name and probably later gained the European surname 'WEST', perhaps if and when he was baptized). In those days native children were often baptized with European names. There are many such baptisms whereby natives were assigned a surname that reflected the clergyman who baptized them. We know that Reverend John WEST (1778-1845) was the first HBC chaplain in Rupert's Land and that he arrived in 1820. Prior to his arrival there simply weren't any clergymen and no church-records that would verify Morrison's birthdate definitively.
** MORE ABOUT REVEREND JOHN WEST and the FIRST RED RIVER CHURCHES & SCHOOLS
In 1849 the Diocese of Rupert's Land was founded when Bishop David ANDERSON (1814-1885) was sent from England to be the first bishop of Rupert's Land. ** MORE ABOUT BISHOP DAVID ANDERSON
On July 3, 1850 Morrison WEST was baptized as an adult Indian in the Parish of the Cathedral Church of St John, Rupert's Land (Red River).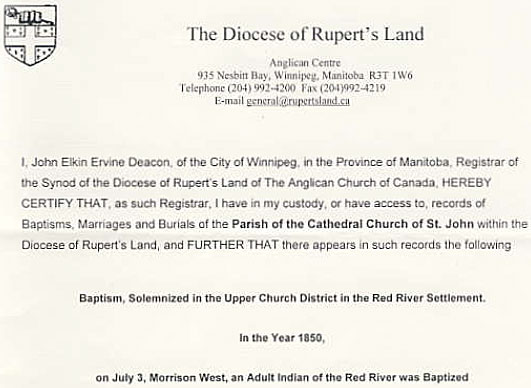 Thanks to Merrily for acquiring this Baptismal Record
Marriage to Maria THOMAS
1854
On Jan 6, 1854 Morrison married Maria THOMAS at the St Peters Fishing Station at the south end of Lake Winnipeg (Matlock area), the daughter of Jane and Thomas THOMAS, both Indians of uncertain origins.
Canadian Confederation
A Red River Rebellion
Manitoba becomes a Province
1867-1870
On July 1, 1867 the British colonies in North America were united under the British North American Act to become the Dominion of Canada.  Sir John A MACDONALD (1815-1891) was appointed as Canada's first Prime Minister.William McDOUGALL (1822-1905) became the Minister of Public Works, and he began negotiations to acquire Rupert's Land from the HBC; surveyors were sent to Red River to prepare the way for an expected influx of settlers.
On Oct 11, 1869, Louis RIEL (1844-1885) placed his foot on the surveyors' chain to tell them their work was finished! This marked the beginning of the historic Red River Métis Rebellion. The Rebellion ended when RIEL's Provisional Government accepted the terms of the Manitoba Act and on July 15,1870 Manitoba became the fifth province of Canada.
Census of 1870 in St Peters:Indian Family of Morrison WASTE, age 40 (Father: Peter WASTE); wife Maria, age 30 (Father: Thomas THOMAS). Children: George (age 12), Rachel (11), Hector (7), Matilda (4) and Christine (age 1).
In 1871 Chief Henry PRINCE or RED EAGLE (1819-1902) signed Treaty Number One on behalf of the St Peters Indians. ** MORE ABOUT CHIEF HENRY PRINCE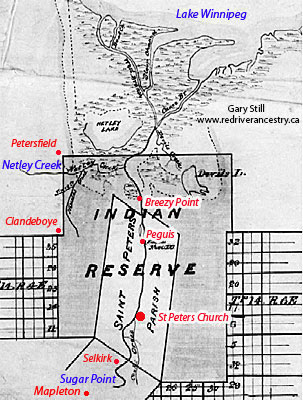 Boundaries of the St Peters Reserve upon the signing of Treaty One in 1871
Census 1881: St Andrews/ Lisgar: Moricia (Morison) WEST, Indigenous, age 60 (born c1821 in MB); wife Maria b-c1826 (age 55). Children: George 22; Rachel b-c1861 (age 20); Hector 18; Matilda 15; Jeremiah 12.
** It is frustrating and puzzling that after 1881 neither Morrison, Maria nor their children can be found in either the 1891 or 1901 census records for Manitoba. We rediscover Maria as a widow in the 1906 census in St Peters, but that leaves over 20 years of not knowing the family situation. Obviously Morrison must have dies at some time after 1881 and before 1906.
Around 1881 daughter Rachel married to Samuel STEVENSON, son of Margaret BALLENDINE and Peter STEVENSON (1830-1918). ** MORE ABOUT PETER STEVENSON
Around 1885 daughter Matilda married James SINCLAIR, son of Maria LAMBERT & George SINCLAIR (1831-1890)
** MORE ABOUT GEORGE SINCLAIR
In the census of 1906 in the St Peters Reserve we finally rediscover the widowed Mrs. (Maria) WEST (age 70) and her two sons, Hector (age 38) and Jeremiah (age 30).
In 1907 the St Peters Indian Reserve was surrendered to the Crown and most of the native residents moved to present day Peguis Reserve (Fisher River/ Hodgson) by 1909.
By 1911 the St Peters Indian Reserve ceased to exist as such, but disputes about land claims on the Reserve would continue well into the next century. The Reserve thereafter continued to be known as St Peters Parish.
In 1908 Maria WEST received patent for Lot 58 in St Peters Parish. The lot was vacant on that date.
Census of 1911 in the St Peters Reserve: Widow Mrs Morrison WEST (age 71) and her son Hector (age 50).
Census of 1916 in the St Peters Reserve on River Lot 58: Widow Morrison WEST (age 71) and her sons Hector (age 50) and Jeremiah (age 41). On the same Lot 58 are widowed daughter Rachel (nee WEST) STEVENSON (age 45) and her children which includes Merrily's father, Walter STEVENSON (a 21 year old soldier).
On March 4, 1918 Maria WEST died in St Andrews Parish at the age of 80 (MB Vital Stats).
Comments and queries at this link: FORUM DISCUSSING the MORRISON WEST FAMILY
======================== Family Details ========================
Children:
1. 1859 GEORGE WEST
2. Oct 20, 1861 RACHEL HARRIET WEST (m. Samuel STEVENSON)
** MORE ABOUT SAMUEL STEVENSON
3. 1863 HECTOR WEST
4. 1866 MATILDA ELIZABETH WEST (m. James SINCLAIR)
5. c1869 CHRISTINE WEST
6. c1869 JEREMIAH WEST