GEORGE SINCLAIR (1831-1890)
MARIE (MARIA) LAMBERT (1836-?)
(Last Updated: May 22, 2017)
George SINCLAIR was born on May 10, 1831 in St Andrews Parish, probably south of Lambert's Point (baptized in 1833 at St Johns Anglican, Winnipeg), the third child of Elizabeth ANDERSON, a half-breed, and William SINCLAIR (1790-1862) from the Orkneys. ** MORE ABOUT WILLIAM SINCLAIR
It wasn't until 1838 that construction of the bastions and stone walls around Lower Fort Garry was begun, under instructions from Governor George SIMPSON (1786-1860). The fort became an important trading center for supplying goods to northern fur trading posts and packing furs for shipment to York Factory. It was definitely the hub of activity for the residents in that area.
George was about 13 years old in 1844 when Duncan McRAE (1818-1898) began construction of the stone church near "The Rapids" (the Old St Andrews Church on the Red) not far from George's home.
From 1852-56 George contracted with the Hudson's Bay Company (HBC) as an Interpreter.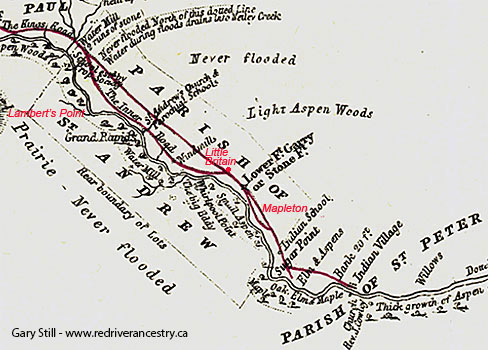 Part of Henry Hind's Map based on his observations of 1857
George marries Maria LAMBERT
1854
On Jan 12, 1854 George married 18 yr old Maria LAMBERT, daughter of Margaret FAVEL & Michel LAMBERT (1792-1875), both half-breeds. Maria's father, Michel LAMBERT, was known as a "tough guy" on the York boat brigades. He was a 'Bulyer', head man of the brigade. Michel lived on River Lot 33, in an area that was known as "Lambert's Point".
George & Maria continued to live at Lambert's Point after they married. Their first child, Peter, was born there on Apr 18, 1855.
Canadian Confederation and a Red River Rebellion
Creation of the Province of Manitoba
1867-1870
On July 1, 1867 the British colonies in North America were united under the British North American Act to become the Dominion of Canada.  Sir John A MacDONALD (1815-1891) was appointed as Canada's first Prime Minister.
On Oct 11, 1869, Louis RIEL (1844-1885) placed his foot on the surveyors' chain to tell them their work was finished! This marked the beginning of another Red River Métis Rebellion. When it was all over, RIEL's Provisional Government accepted the terms of the Manitoba Act and on July 15,1870 Manitoba became the fifth province of Canada, the Canadian Government having acquired the territory previously governed by the HBC.
In December of 1870 a Census of Red River was completed. This information would be later used to determine who would be eligible for Land Grants and Scrip. George and his family were recorded on River Lot 25, just south of Lambert's Point with six children: Peter, William, Mary, James, John and Alexander (Peter was the eldest, age 16; the youngest was two year old Alex).
In 1870 Humphrey FAVEL (1821-1888) lived on Lot 29, a short distance from George. In the years that followed there would be numerous intermarriages between the FAVEL, SINCLAIR and LAMBERT families from the vicinity of Lambert's Point.
From 1874 to 1877 George contracted as a Labourer with the HBC.
In July of 1875 both George and his wife Maria applied for Half-breed Scrip, as residents of St Andrews. George also applied at that time for their children:  Mary Jane, James, John Thomas, and Alexander.
In 1876 son Peter married in St Andrews to Jane FAVEL, daughter of Sophia COCHRANE & Humphrey FAVEL (1821-1888).
Sons Peter & William move to the Petersfield area
Times were tough in those days, and land speculators were grabbing up the land in the St Andrews area.  Some of the married SINCLAIR, FAVEL and LAMBERT children decided to establish farmsteads in the Netley Creek area (Petersfield).
In 1878 eldest son Peter received patent to property (32-15-3-E1) at "Catfish Point," just west of Dunara (as shown on the map below).
In 1879 son William received patent to property (18-15-4-Epm) located about two miles south of what was to become Petersfield.
The Census of 1881, St Andrews Parish: George (age 50); wife Maria (age 45) and children: William 24; James, age 17; Alex 12; Sarah 10; Elizabeth 8; Cuthbert 6; Anna, age 2. Daughter Mary Jane was not recorded with the family, probably because she had become the wife of Thomas NORQUAY, son of Mary MONKMAN & Henry NORQUAY (1810-1874).
In 1882 son William married Ann Elizabeth FAVEL, daughter of Sophia COCHRANE & Humphrey FAVEL (1821-1888).
On Dec 2, 1884, George received patent to River Lot 25, St Andrews.
Around 1885 son James married Matilda Elizabeth WEST, daughter of Maria THOMAS & Morisson WEST. They later moved to Selkirk. ** MORE ABOUT MORRISON WEST
On July 28, 1889, daughter Sarah gave birth to an illegitimate child that was named John David NORQUAY. My guess is that the father was Thomas NORQUAY, her sister Mary Jane's husband mentioned above.
George SINCLAIR died on Jan 26, 1890.
Widow Maria moves to Catfish Point
1890
Not long after her husband died in 1890, Widow Maria moved the rest of her family to "Catfish Point," just west of Dunara (as shown on the map below) where son Peter had his property.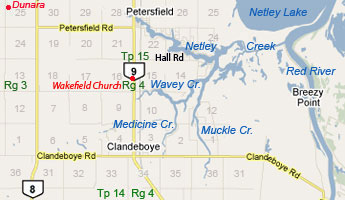 Catfish Point is not far west of Dunara
Frank Walters tells about the SINCLAIR Family at Catfish Point
in his book, Pieces of the Past (Pg 133)
Frank WALTERS (from England) lived from 1898 to 1995 and moved to Petersfield in 1912 at the age of 13. In 1993 Frank published his book "Pieces of the Past," a history or the Petersfield-Netley pioneers. Following are several direct quotes from Frank's book:
I don't suppose there are many people alive today who lived at "Catfish Point," the spot where some settlers moved, nearly six miles west of the present town of Petersfield. There was quite a settlement there during the 1870's. At that time their log houses were beside a small stream that ran east from springs out of what was called The Bog. Catfish Point is what people called Stony Creek, where the settlement was back then. The catfish found their way up the creek from Nee-Pow-Win-Sipee (or Netley) River to spawn. Probably, that is why the place was called "Catfish Point," long before anyone dreamed of putting Selkirk on the map as a Catfish Capital. - - one family by the name of SINCLAIR spent many years at Catfish Point.
The person this story is about was one of them (Here, Frank refers to Maria). She was a remarkable loveable lady. She possessed a memory that stretched way back in time. It spanned many developments that early settlers who lived in the district that became St Andrews.
================================
Around  1890, the same time that the SINCLAIR family moved to Catfish Point, son Alex conceived a child with Margaret IRVINE, daughter of Catherine LAMBERT (his mother Maria's sister) & Cornelius IRVINE (1848-1910).

It was also around 1890 that Maria's sister, Catherine (nee LAMBERT), Mrs. Cornelius IRVINE died.
Census of 1891 at Catfish Point
The Census of 1891 indicates the family members who went to Catfish Point with Widow Maria SINCLAIR (age 50). Her children recorded there were: Alex (age 22), Sarah (20), Elizabeth (19), Cuthbert (15), Annabella (11), Archibald (9) and Marion (age 6). Also with her was her sister, Elizabeth LAMBERT (age 35) and grandson John David (daughter Sarah's child, age 1). The sister Elizabeth (Eliza) had been the wife of John VANDAL who died in 1878, but her age recorded as 35 seems erratic. Eliza was only a few years younger than Maria (born around 1841).  Maria's next-door neighbours recorded in the same census were the family of her brother, James LAMBERT who died in November of the same year leaving a widow, Susanne (nee DUCHARME).with children including a one month old baby (William).
On Dec 6, 1891, granddaughter Mary Catherine SINCLAIR was born to son Alex & Margaret (nee IRVINE), not yet married. As Alex's wife, Margaret was known as "Maggie-Alex."
On Mar 13, 1893 daughter Sarah married Jack IRVINE (her uncle), son of Catherine LAMBERT (her mother's sister) & Cornelius IRVINE.
On Aug 2, 1894, daughter Elizabeth Frances married in Selkirk to John FAVEL, son of Nancy THOMAS and John FAVEL SR (1843-1893). ** MORE ABOUT JOHN FAVEL SR
On Apr 3, 1895 son Alex was church wed in Selkirk to Margaret IRVINE.
A side note: On Oct 10, 1896 Cornelius IRVINE re-married in Selkirk to Widow Emma (nee CAMPBELL) SAYER (Ventrice THOMAS' maternal grandmother) the widow of George SAYER. ** MORE ABOUT GEORGE SAYER
On Sep 15, 1897, son Cuthbert married his sister-in-law, Mary Ellen FAVEL in Selkirk..
On Dec 19, 1899, son-in-law (Mary Jane's husband) Thomas NORQUAY died.

On May 24, 1900 daughter Sarah's illegitimate child, John David NORQUAY died.
Census of 1901
In the Census of 1901, Widow Maria SINCLAIR (age 64) was recorded with her children, Bella (age 21), Archie (age 19) and Maria (age 16). Also with her were her daughter, Widow Mary Jane NORQUAY and three of her children (Elizabeth NORQUAY (age 18), Annabella (age 13) and Florence NORQUAY (age 5). Living nearby were daughter Sara,( age 30), and her husband, Jack IRVINE (age 31); and also son Jim SINCLAIR and his wife Matilda (WEST). 
Due to the lack of work in the settlement of Dunara (near Catfish Point) some families left their log houses and moved to where men could get work. Eldest son Peter SINCLAIR bought land along the Gimli Trail, bordering Netley Creek.
On Nov 20, 1903, daughter Maria died at the young age of 22.
On Dec 21, 1904, daughter Annabella married her brother-in-law, Thomas George FAVEL at the Wakefield Church, south of Petersfield.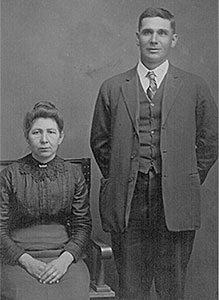 Bella (nee Sinclair) and Tom Favel (From Patty & Bea Still)
The founding of St Louis – Petersfield
1905
Around 1905 Son Archie SINCLAIR got work clearing land for Louis ST LOUIS (1859-1909), a businessman from Quebec, who was building a summer resort and a townsite that was known as St Louis, named after its founder. Later, St Louis became the Village of Petersfield (SW ¼ of 27-15-4-Epm). Archie settled there and his widowed mother moved in with him.
On June 13, 1907 son Archie married Elizabeth Jane CORRIGAL, daughter of Isabella DUCHARME & Thomas CORRIGAL (1853-1935).
Widow Maria remained with son Archie and his family, probably for the rest of her days. In the census of 1916 she was recorded as 80 years old. I do not have a record of when she died.
Please post comment & queries at this link: FORUM DISCUSSING the GEORGE SINCLAIR FAMILY
======================== Family Details ========================
Children:
1. Apr 18, 1855 PETER SINCLAIR (m. Jane Harriet FAVEL)
2. May 1, 1857 WILLIAM SINCLAIR (m. Ann Elizabeth FAVEL)
** MORE ABOUT WILLIAM SINCLAIR
?3. Feb 6, 1861 GEORGE SINCLAIR
4. Dec 19, 1863 MARY JANE SINCLAIR (m. Thomas NORQUAY)
5. Jan 16, 1865 JAMES SINCLAIR (m. Matilda Elizabeth WEST)
6. Mar 20, 1867 JOHN THOMAS SINCLAIR
7. Feb 9, 1869 ALEXANDER SINCLAIR (m. Maria Margaret "Maggie" IRVINE)
** MORE ABOUT ALEXANDER SINCLAIR
8. Apr 27, 1871 SARAH SINCLAIR (?m1. Unknown NORQUAY, m2. John George "Jack" IRVINE)
9. Nov 13, 1873 FRANCES ELIZABETH SINCLAIR (m. John FAVEL JR)
** MORE ABOUT JOHN FAVEL
10. Nov 4, 1875 CUTHBERT SINCLAIR (m. Mary Ellen FAVEL)
11. Aug 4, 1879 ANNABELLA SINCLAIR (m. Thomas George FAVEL)
12. Aug, 1882 ARCHIBALD DANIEL SINCLAIR (m. Elizabeth Jane CORRIGAL)
13. Nov 7, 1883 MARIA CATHERINE SINCLAIR (Died age 22)