ALEXANDER "ALEX' SINCLAIR (1869-1953)
MARIA MARGARET "MAGGIE ALEX' IRVINE (1872-1968)
(Last Updated: January 20, 2013)
Alexander "Alex" SINCLAIR was born Feb 9, 1869, son of Maria LAMBERT & George SINCLAIR (1831-1890), both half-breeds.
In 1875 Half-breed Scrip for Alex was claimed by his father (George SINCLAIR). They were living in St Andrews (in the Lambert's Point area, south of Lockport). ** MORE ABOUT GEORGE SINCLAIR
Times were tough in those days, and land speculators were grabbing up the land in the St Andrews area.  Some of the married SINCLAIR, FAVEL and LAMBERT children decided to establish farmsteads in the Netley Creek area (Petersfield). By 1882 Alex's oldest brothers, Peter and William (both married to FAVEL sisters Jane and Ann Elizabeth) had moved to that area with their families.
The rest of the SINCLAIR family moves to Petersfield
On Jan 26, 1890 Alex's father (George) died in St Andrews, and soon after Alex, his siblings and their widowed mother (Maria) moved to "Catfish Point" (west of Dunara as shown on the map below) to be near his eldest brother Peter.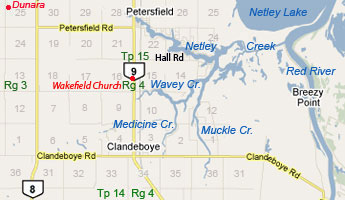 Alex and Margaret SINCLAIR
1890
In 1890 Alex SINCLAIR conceived a child with Maria Margaret "Maggie" IRVINE, the daughter of Catherine LAMBERT & Cornelius IRVINE (1848-1910) whose family had also moved to Catfish Point from Lambert's Point where the two of them grew up as neighbours.
On Dec 6, 1891 Maggie gave birth to daughter Mary Ann Catherine.
Following are quotes from Frank Walters' book 'Pieces of the Past'
Ppg 37:  One man, Alex SINCLAIR, who went by the name "Kewatin", meaning "North Wind" in Cree etc - - Alex lived at "Catfish Point" west of Petersfield, his sister Sarah, married Maria's brother (Alex's uncle), Jack IRVINE.
 Pg 133:  I don't suppose there are many people alive today who lived at "Cat Fish Point", the spot where some settlers moved, nearly 6 mi west of present day Petersfield.  There was quite a settlement there during the 1870's.  At that time, their log houses were beside a small stream that ran east from springs out in what was called The Bog.  Catfish Point is what people called Stony Creek, where the settlement was back then. - one family by the name of SINCLAIR spent many years at Catfish Point. Alex worked for Sandy VANCE hauling fish on Lake Winnipeg. He married a girl whose parents had lived at the Point as well.  She was Margaret IRVINE. She was born at Parkdale by the Red River and, to distinguish her from many Maggies that lived in the same district, she received the pseudonym "Maggie Alex" from her friends. - at the age of 96 her memory was still sharp - she could remember the soldiers of RIEL coming by horseback looking for an escaped prisoner (SHULTZ).  Her father, Curry (Cornelius), said "What are you scared of?  They're not looking for you."
Maggie's mother (Catherine nee LAMBERT) died in 1890, and Maggie, as the eldest daughter (she was 18 in 1890) apparently had to take on the responsibility for caring for her young siblings.  Her eldest brother, Jack IRVINE, was 20 yrs old; her next youngest sibling was 16 yr old Eliza; and there was Belle, 14; Jimmy, 11; Harry, 5; and baby Nellie.  Maggie's widowed father, Cornelius, began a relationship with widower Emma CAMPBELL-SAYER (Ventrice's grandmother, Caroline SAYER's mother).
On Apr 3, 1895 Alex & Maggie were church-wed in Selkirk. In 1898 daughter Orillia was born.
The 1901 census at Catfish Point recorded Alex (age 31), wife Maria (age 28) and only one daughter, Aurelia (age 2?). It is presumed that their first daughter must have died in infancy.
The founding of St Louis – Petersfield
1905
Around 1905 Archie SINCLAIR (Alex's younger brother) got work clearing land for Louis ST LOUIS (1859-1909), a businessman from Quebec, who was building a summer resort and a townsite that was known as St Louis, named after its founder. Later, St Louis became the Village of Petersfield (SW ¼ of 27-15-4-Epm). Archie settled there and his widowed mother (Maria) moved in with him.
Census 1906: Alex, (age 38), and Maria (age 35), enumerated again in Petersfield area (15-15-4-Epm). They have a baby (Katie). They also have an adopted child, Stanley SINCLAIR (age 5).
In 1909 son George was born.
** Stanley SINLCLAIR (born in 1901), the adopted child indicated as nephew in the 1906, 1911 and 1916 census records, is a complete mystery at this time. Was this the Stanley SINCLAIR who later married Olive STEVENSON?
In 1916 daughter Orillia married William Allan LENNIX from Fort Frances, ON, son of Mary DEMPSTER and George Willington LENNIX (b-1861).
In 1927 daughter Katie married John Robert EDEN in Selkirk, son of Nellie PHILLIPS & Charles Henry EDEN (1850-1937) from England. 
In 1935 son George married Rose MIDDLETON, possibly a daughter of Ruth and Charles MIDDLETON (b-1876) from Wales.
Alexander SINCLAIR died in 1953. Maria Margaret died on Mar 23, 1968 in Petersfield.
Please post comments & queries at this link: FORUM DISCUSSING the ALEXANDER SINCLAIR FAMILY
======================== Family Details ========================
Children:
1. Dec 6, 1891 MARY ANN CATHERINE SINCLAIR (Died in infancy?)
2. Nov 23, 1898 ORILLIA SINCLAIR (m. William Allan LENNIX)
3. Jan 26, 1906 KATHERINE ANNE (KATIE) SINCLAIR (m. Robert "Bobby" EDEN)
4. May 9, 1909 GEORGE LAWRENCE (JORDY) SINCLAIR (m. Rose MIDDLETON)
Adopted:
1. Mar 1901 STANLEY SINCLAIR (?m. Olive STEVENSON)