WILLIAM SINCLAIR (1857-)
ANN ELIZABETH FAVEL (1856-)
(Last Updated: November 12, 2012)
William SINCLAIR was born May 1, 1857 (or Dec 25, 1860), son of Maria LAMBERT & George SINCLAIR (1831-1890), both half-breeds. William grew up in St Andrews Parish not far south of the Old St Andrew Church (Lambert's Point).
Canadian Confederation
A Métis Rebellion
Manitoba becomes a Province
1867-1870
On July 1, 1867 the British colonies in North America were united under the British North American Act to become the Dominion of Canada. Sir John A MacDONALD (1815-1891) was appointed as Canada's first Prime Minister.William McDOUGALL (1822-1905) became the Minister of Public Works, and he began negotiations to acquire Rupert's Land from the HBC.
In August of 1869, as the transfer of the region drew near, a surveying crew under Colonel John Stoughton DENNIS (1820-1885) was dispatched by McDOUGALL to survey the settlement in anticipation of an influx of settlers.On Oct 11, 1869, Louis RIEL (1844-1885) placed his foot on the surveyors' chain to tell them their work was finished! He began to organize resistance to the transfer of the North-West to the Dominion of Canada without prearranged terms. This marked the beginning of another Red River Métis Rebellion.
On July 15,1870 Manitoba became the fifth province of Canada, the Canadian Government having acquired the territory previously governed by the HBC. In December of 1870 a Census of Red River was completed. The results recorded 5, 757 French-speaking Métis; 4, 803 white settlers and 558 Indians in the census region. This information would be later used to determine who would be eligible for Land Grants and Scrip.
In 1878 John NORQUAY (1841-1889), a half-breed, became the first Premier of Manitoba.
On July 15, 1879 William received a Half-breed grant for a parcel of land located about three miles SW of what would later become Petersfield. However, until he married he continued to live with his parents at Lambert's Point where he was recorded in the Census of 1881 as age 24.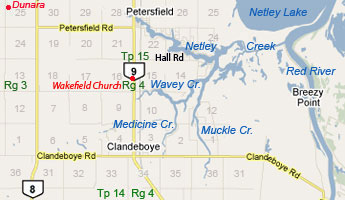 William's land grant was on 18-15-4-Epm, about three miles
SW of what would later become Petersfield.
Marriage to Ann Elizabeth FAVEL
1882
On Feb 6, 1882 William married in St Andrews to Ann Elizabeth FAVEL, daughter of Sophia COCHRANE & Humphrey FAVEL (1821-1888).
William SINCLAIR (age 32) and Ann (age 32) were recorded in St Andrews Parrish  in the census of 1891. At that time a child named Humphrey, age 12 (b-1879) is with them. ** Note there is no further information to be found regarding a Humphrey SINCLAIR. This is a one-time record. He may not have been their child.
In Census 1901 William (age 40) and Annie E (age 40) were recorded again in their farm SW of Petersfield. At this time there is no evidence that they have had any children of their own. They do however have an 'adopted' child named Catherine SINCLAIR (age 12). ** Note: This is their niece; a daughter of Ann Elizabeth's sister Jane Harriet FAVEL who married William's brother, Peter SINCLAIR (1855-1923).
Around 1905 William's brother, Archie SINCLAIR, got work clearing land for Louis ST LOUIS (1859-1909), a businessman from Quebec, who was building a summer resort and a townsite that was known as St Louis, named after its founder. Later, St Louis became the Village of Petersfield (SW ¼ of 27-15-4-Epm).
For the next 15 years (in the census records of 1906, 1911 and 1916) Ann Elizabeth & William SINCLAIR were recorded on the same property (three miles SW of Petersfield) alone, with no children.
** Note: Bonnie (on the Forum) was told that her great grandmother, Elizabeth "Mope" SINCLAIR (b-c1880) was their child. Nothing in the above supports that contention.
Please post comments & queries at this link:
FORUM for DISCUSSING ANN ELIZABETH FAVEL & WILLIAM SINCLAIR