THOMAS THOMAS (1810-1847+)
JANE (Indian) (1810-1895)
(Last Updated: August 02, 2014)
Thomas THOMAS, an Indian, was born around 1810 in Red River (probably in the St Peters Indian Reserve).
** This narrative is being developed in cooperation with Marilyn (Merrily) ANDERSON, herself a descendant of this Thomas THOMAS through his daughter Maria THOMAS who married Marilyn's  great grandfather, Morrison WEST (1821-1881+).
In Sprague & Frye (S&F) ID-4900, Thomas THOMAS is referred to an Indian. In all likelihood he was born with an Indian name and probably later gained the European surname 'THOMAS' when/if he was baptized). In those days native children were often baptized with European names. It is unlikely that we will find any documented records for his birth because prior to 1820 there simply weren't any clergymen and therefore no such church-records.
It wasn't until 1820 that Reverend John WEST (1778-1845) arrived as the first HBC chaplain in Rupert's Land.
** MORE ABOUT REVEREND JOHN WEST and the FIRST RED RIVER CHURCHES & SCHOOLS

Thomas marries Jane (Indian)
1834
In 1834 Thomas and Jane (both Indians, were first baptised on Oct 1; and married a week later, Oct 8, 1834 at St Johns (Wpg). In the 1870 census record Jane indicated her father's name as 'inconnu' (unknown).
In 1846 daughter Harriet married James SMITH, son of Jane McNAB and Jacob SMITH (1800-1870).
** MORE ABOUT JACOB SMITH
Thomas THOMAS died sometime after 1847 when last recorded child (Catherine) was born. ** Note: Some of the children from the Mormons genealogy site, authored by Margaret Lee.
In 1852 son Thomas Jr. married in St Peters to Nancy SANDERSON of uncertain origins.
In 1854 daughter Maria married Morrison WEST (1821-1881+), an Indian. ** MORE ABOUT MORRISON WEST
Around 1861 daughter Margaret married Robert HARPER, son of Elizabeth CUMMINGS & Thomas HARPER (1807-1877). ** MORE ABOUT THOMAS HARPER
Canadian Confederation
A Red River Rebellion
Manitoba becomes a Province
1867-1870
On July 1, 1867 the British colonies in North America were united under the British North American Act to become the Dominion of Canada.  Sir John A MACDONALD (1815-1891) was appointed as Canada's first Prime Minister.William McDOUGALL (1822-1905) became the Minister of Public Works, and he began negotiations to acquire Rupert's Land from the HBC; surveyors were sent to Red River to prepare the way for an expected influx of settlers.
On Oct 11, 1869, Louis RIEL (1844-1885) placed his foot on the surveyors' chain to tell them their work was finished! This marked the beginning of the historic Red River Métis Rebellion. The Rebellion ended when RIEL's Provisional Government accepted the terms of the Manitoba Act and on July 15,1870 Manitoba became the fifth province of Canada.
Census of 1870 in St Peters: Widow Jane THOMAS, age 60. She's recorded right next to son Thomas Jr. and his family.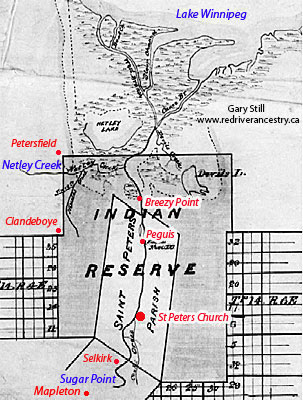 Boundaries of the St Peters Reserve upon the signing of Treaty One in 1871
Census of 1881 in St Clements Parish: Jane THOMAS (age 60, probably should be age 70) was recorded with the family of her grandson Simon THOMAS(1832-1926) who was married to Nancy SANDERSON. ** Simon was the son of Thomas THOMAS Jr.
On Dec 3, 1895 Jane THOMAS died in St Clements Parish.
Comments and queries at this link:  FORUM DISCUSSING this THOMAS THOMAS FAMILY
=========================== Family Details ===========================
Children:
1. 1832 THOMAS THOMAS (m. Nancy SANDERSON)
2. 1834 HARRIET THOMAS (m. James SMITH)
3.  c1836 MARIA THOMAS (m. Morrison WEST)
4. 1840 ISAAC THOMAS (Died in infancy)
5. 1842 MARGARET THOMAS (m. Robert HARPER)
6. 1845 HENRY THOMAS (Died age 5)
7. 1847 CATHERINE THOMAS