JACOB SMITH (1800-1870)
JANE McNAB (1800-1874)
(Last Updated: October 28, 2014)
Jacob SMITH, an Indian, was born on Feb 23, 1800 in the St Peters Indian Settlement (Parish). He was most likely a child of Nancy SANDERSON & Alexander SMITH (1789-1860) who were also both Indians. Alexander SMITH is the earliest SMITH Indian listed in the Tables of Sprague & Frye.
It was only by baptism that Indians acquired European surnames such as SMITH, and there were precious few clergymen who arrived in Rupertsland until the early 1800's. Of course the terms "Treaty Indian" and "Indian Reserve" were meaningless until the 1870's. For early historical documented references we have to rely on the Journals of early fur traders and explorers. Sprague & Frye's Genealogy of the First Métis Nation is often the only other source for information about the 1700's.
Union of the North West Company (NWC) and the Hudson's Bay Company (HBC)
Arrival of Reverend John WEST and Reverend David JONES
1820-1823
On Aug 13, 1820, Reverend John WEST (1778-1845) arrived at York Factory destined for Red River, the first Chaplain appointed by the HBC to Rupertsland.
1821 was the year that the North West Company (NWC) merged with the Hudson's Bay Company (HBC) ending many bitter years of rivalry between the two companies.
In 1823 Reverend David JONES (1796-1844) arrived in Red River to replace Reverend WEST who departed that year. In 1825 Reverend William COCKRAN (1798-1865) arrived as an assistant to Rev. JONES at the Upper and Middle Churches.
In 1831 the first Anglican log church (1831-49), referred to as "The Rapids Church" and a school were established by Reverend COCKRAN in the St Andrews area. 
Jacob marries Jane McNAB
1832
On Jan 23, 1832 Jacob SMITH married Jane McNAB of uncertain origins.
In 1836 Reverend William COCKRAN (1798-1865) built the first St Peters Church (of log) near the mouth of Cook's Creek and it wasn't officially opened until Jan 4, 1837. Only after that did the term St Peters Reserve and St Peters Parish come into being.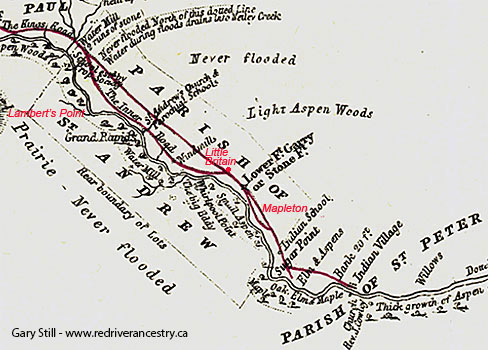 St Andrews and St Peters Parishes from Hind's Map of 1857
In 1839 the arrival of Reverend John SMITHURST (1807-1867) relieved Rev COCKRAN from the burden imposed by the exclusive charge of the Indian Settlement. One of SMITHURST's first baptisms was that of Jacob SMITH's daughter Margaret on Dec 25, 1939. ** MORE ABOUT REVEREND JOHN SMITHURST in DCBO

SMITHURST had to wait until 7th October, 1840, for his first Wedding, but it was a notable one: Chief PEGUIS (1774-1864) and "Victoria", and  in his Registry at the top of the next page of and right opposite to it, is the entry of the marriage of "Henry PRINCE" (the youngest son of the famous Chief) to "Sarah BADGER."
Around 1840 son Peter married Mary McNAB, daughter of Mary McALLISTER and Timothy McNAB (1816-1846) of uncertain origins.
.In 1846 son James married Harriet THOMAS, daughter of Jane (Indian) and Thomas THOMAS (1810-1847+).
** MORE ABOUT THOMAS THOMAS
Around 1848 eldest son Henry married Marguerite WELLS in St Boniface, daughter of Louise LAFRAMBOISE and John WELLS (1815-1890), a retired HBC voyageur.
In 1855 son Peter married Mary McNAB at St Johns, daughter of Mary McALLISTER & Timothy McNAB (1816-1846) of uncertain origins.
On Sep 30, 1870 Jacob SMITH died in St Peters; Jane in 1874.
Comments and queries at this link: FORUM DISCUSSING JACOB SMITH and his FAMILY
=========================== Family Details ===========================
Children:
1. 1824 HENRY SMITH (m. Marguerite WELLS)
2. 1825 JAMES SMITH (m. Harriet THOMAS)
3. Apr 14, 1830 PETER SMITH (m. Mary McNAB)
4. 1835 DAVID SMITH (m. UNKNOWN)
5. Dec 25, 1839 MARGARET SMITH
6. Apr 20, 1842 MARY SMITH