THOMAS HARPER (1807-1877)
ELIZABETH "ELIZA" CUMMINGS (1821-1893)
(Last Updated: August 02, 2014)
Thomas HARPER was born about 1807 in the Upper Nelson River District, the son of a Cree Woman & John HARPER (1767-1830), a Scot. 
Thomas HARPER and Elizabeth CUMMINGS
1837
Around 1837 Tom began a life-long union with Eliza CUMMINGS, daughter of Elizabeth (Indian) & Robert CUMMINGS (1795-1863) from the Orkneys.
Their first child, Clementina was born at Berens River in the spring of 1838.  Tom was still at Berens River when their 3rd child, Catherine, was born there in 1850.
In 1853, their son William was born in St Paul (Middlechurch).
St Peters Indian Reserve
At some time in the mid to late 1850's Thomas resided on Lot 84 in the St Peters Indian Reserve.
Around 1858 eldest daughter Clementine became the wife of John McLEOD (1835-1912) from Scotland.
In 1859 their last child, Jane, was born in St Peters.
Around 1861 eldest son Robert married Margaret THOMAS, an Indian, daughter of Jane and Thomas THOMAS (1810-1847+). ** MORE ABOUT THOMAS THOMAS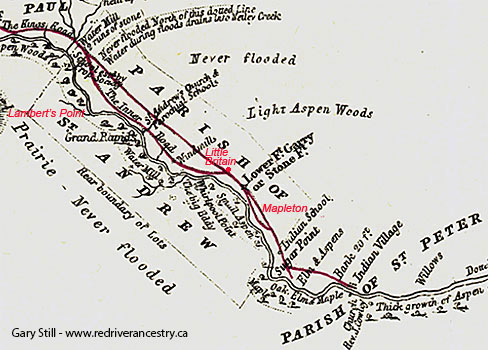 St Andrews and St Peters Parishes from Hind's Map of 1852
Canadian Confederation
A Red River Metis Rebellion
Manitoba becomes a Province
1867-1870
On July 1, 1867 the British colonies in North America were united under the British North American Act to become the Dominion of Canada. Sir John A MACDONALD (1815-1891) was appointed as Canada's first Prime Minister. William McDOUGALL (1822-1905) became the Minister of Public Works, and he began negotiations to acquire Rupert's Land from the HBC, sending out surveyors to prepare the way for an expected influx of settlers.
In 1869 the Red River Rebellion began. ** MORE ABOUT the RED RIVER REBELLION in WIKIPEDIA

On Aug 31, 1869 Thomas was church-wed to Elizabeth CUMMINGS at St Peters Dynevor. That same day daughter Catherine married Philip MONKMAN, son of Isabella SETTER and Joseph "Ole Joe" MONKMAN (1810-1899).
On July 15, 1870 Manitoba became the fifth province of Canada.The Rebellion was essentially over and Louis RIEL fled to Montana in fear of his life.
In 1870 John's family was recorded on Lot 83 in St Peters; children as: William (age 18) and Jane (age 11).
Treaty Number One
1871
In 1871 Wemyss SIMPSON (1824-1894) was selected by DIA as General Indian Agent, to make Treaties with the Indian Tribes, and to represent the Government in the Northwest.
On Aug 3, 1871 Treaty Number One was signed by Chief Henry (Red Eagle) PRINCE (1819-1902) on behalf of the St Peters Indian Band. ** MORE ABOUT CHIEF HENRY PRINCE and TREATY ONE
In 1873 son William HARPER married Annabella PRINCE, daughter of Sarah BADGER and the above noted Chief Henry "RED EAGLE" PRINCE.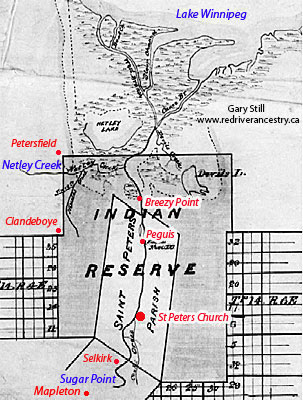 Plan showing St Peters Reserve No.1
Tom Dies in the St Peters Reserve
1877
On Sep 6, 1877 Thomas HARPER died in St Peters.
In 1880 youngest daughter Jane married Andrew SINCLAIR, a Treaty Indian, the son of Maria SINCLAIR and Francois SINCLAIR (1812-1890). They moved in with her mother (Widow Eliza HARPER) on Lot 84 and the three of them were recorded together in the 1881 census.
From 1885 to 1887 son William served his first term as a Councillor of the St Peters Indian Band. At that time his father-in-law Henry PRINCE was still the Band Chief.
In the 1891 census Widow Eliza HARPER was recorded in St Andrews Parish (St Peters) as a 69 year old midwife.
On Sep 12, 1893 Widow Eliza HARPER died in St Peters. 
Comments and Queries at this link: FORUM DISCUSSING the THOMAS HARPER FAMILY
=========================== Family Details ===========================
Children:
1. May 4, 1838 CLEMENTINA HARPER(m. John McLEOD)
2. Jan 21, 1842 ROBERT HARPER (m. Margaret THOMAS)
3. Feb 11, 1850 CATHERINE HARPER (m. Phillip MONKMAN)
4. Aug, 1853 WILLIAM (WD) HARPER (m. Annabella "Annie" PRINCE, m.2 Nancy HOPE)
5. May 14, 1859 JANE HARPER (m. Andrew SINCLAIR)