PHILIP MONKMAN(1848-1932)
CATHERINE HARPER (1850-1890)
(Last Updated: December 02, 2013)
Philip MONKMAN was born Apr 11, 1848 in St Peters, son of Isabella SETTER & Joseph "Ole Joe" MONKMAN (1810-1899), both half-breeds. ** MORE ABOUT JOSEPH MONKMAN
Canadian Confederation
Red River Métis Rebellion
Manitoba becomes a Province
1867-1870
On July 1, 1867 the British colonies in North America were united under the British North American Act to become the Dominion of Canada.  Sir John A MACDONALD (1815-1891) was appointed as Canada's first Prime Minister.In 1868William McDOUGALL (1822-1905) became the first Minister of Public Works for the new Dominion of Canada, and he began negotiations to acquire Rupert's Land from the HBC. Surveyors were sent out to prepare the way for an expected influx of settlers.
On Aug 31, 1869 Philip married Catherine HARPER at St Peters, daughter of Elizabeth CUMMINGS & Thomas HARPER (1807-1877). ** MORE ABOUT THOMAS HARPER
On Oct 11, 1869, Louis RIEL (1844-1885) placed his foot on the surveyors' chain to tell them their work was finished! This marked the beginning of another Red River Métis Rebellion. RIELbegan to organize resistance to the anticipated transfer of the North-West to the Dominion of Canada without prearranged terms.His strongest and most ardent and outspoken opponents among the English speaking population were Dr SCHULTZ (1840-1896) and Thomas SCOTT (1842-1870).
On July 15,1870 Manitobabecame the fifth province of Canada, the Canadian Government having acquired the territory previously governed by the HBC.
.
On Aug 21, 1870, Colonel WOLSELY and his soldiers arrived at Fort Alexander. On Aug 24 they forced their way into Upper Fort Garry. RIEL, having learned that the soldiers were planning to lynch him, fled just a few hours before they arrived. He took refuge at St Joseph's Mission, about 10 miles south of the border in Dakota Territory.
By 1870 Catherine and Philip MONKMAN were living on Lots 83-85 in the St Peters Reserve with three children, Catherine (age 4), James (3) and baby Charles.
After Treaty Number One
1871
In 1871 Chief Henry PRINCE or RED EAGLE (1819-1902) signed Treaty Number One on behalf of the St Peters Indians.
Until July 10, 1875, Philip and his family were essentially Treaty Indians. However, on that date both he and Catherine claimed Half-breed Scrip. This meant they would have to move off of the Reserve.
Poplar Park - Scanterbury
Their Scrip Claims entitled Philip and Catherine to parcels of land. They received Land Grants for the SW portion of Section 30-15-6-Epm (2 miles SW of Poplar Park) and also SW-30-16-7-EPM (just north of Scanterbury).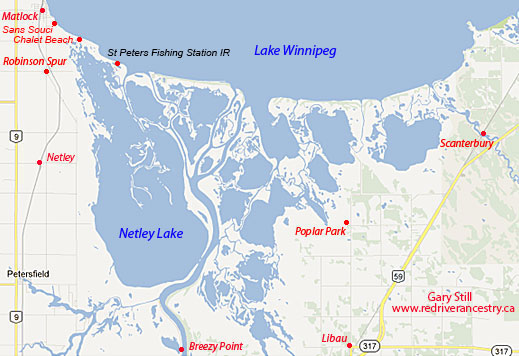 The 1881 Census recorded Philip (age 35), Catherine (age 30) and their children as Catherine (age 15),   James (14), Charles (10), Bella (6), Mary (4) and Alfred (age1). 
In 1882 Philip received another Land Grant, this time back in St Peters Parish (Lot 85, about 100 acres).
In 1883 and 1884 daughters Jessie and Caroline Harriet were born and finally in 1887 son Campbell Rowland was born.

Catherine Dies
1890
On April 20, 1890 Catherine HARPER-MONKMAN died and was buried in the St Peters Cemetery. She was only about 40 years old.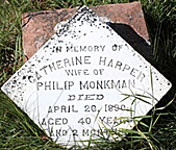 On July 23, 1890 son Charles married Sarah Ann PRUDEN in Kildonan, daughter of Mary ISBISTER & John Edward PRUDEN (1839-1904). ** MORE ABOUT JOHN EDWARD PRUDEN
LAC: Letter dated Jan 8, 1895 from James MONKMAN to Thos. M. DALY, Minister of the Interior, Ottawa. Excerpt: There was a seizure made by one William ANDERSON, Timber Inspector, Winnipeg, in Philip MONKMAN's case, and your Dept saw fit to release said seizure. - - Two years afterwards there was another seizure made (through a little personal spite against Philip MONKMAN on the same property that was released before) without any official authority, ignoring the previous release.
On June 6, 1899 Philip's father, Ole Joe MONKMAN died and was buried in the St Peters Dynevor Cemetery. He would have been almost 90 years old.
In 1908 daughter Caroline Harriet married Peter James FLETT, son of Christina Rose ANDERSON & John Alfred FLETT (b-1862). ** MORE ABOUT JOHN ALFRED FLETT
In 1909 Philip was appointed as the Postmaster at the Scanterbury Post Office.
In the 1911 census Philip was recorded as 61 years old. Daughter Jessie (age 28) was still with him. It is said that Jessie later married a George SPENCE of so far unknown origins.
Around 1924 son Campbell married Agnes WALKER, daughter of Eliza Anne THOMAS & Thomas Daniel WALKER (b-1861).
On Jan 30, 1930 Philip resigned as the Scanterbury Postmaster.
Betty Linklater wrote: A unique postmaster, Philip was a most generous man.  He never had too much in worldly goods, but he shared it with everyone.  When the mail would come in, he never sorted it or put it in the pidgeon holes.  They were filled up with everything but the mail.  He tied the mail with a string and left it on the table.  He always sat in his big easy chair.  When someone came in for their mail, he would tell them to look on the table.  The person would untie the bundle, get his mail, and retie it again.  He always told whoever came in "the tea pot is on the stove" to help themselves, and Tannie (he called every girl Tannie), just made a cake.  The 'cake' was bannock.  He never ordered stamps.  If someone was going to Grand Marais, etc, he would send for $2 worth of stamps.
On May 1, 1932 Philip MONKMAN died and was buried at Scanterbury. He was 83 years old.
Please post comments and queries at this link: FORUM DISCUSSING the PHILIP MONKMAN FAMILY
============================ Family Details ============================
Children:
1. 1866 CATHERINE MONKMAN
2.  1867 JAMES MONKMAN
3. Nov 25, 1870 CHARLES MONKMAN (m1. Sarah PRUDEN, m2. Sally COCHRANE, m.3 Sarah Ann FOLSTER)
4. 1873 WILLIAM ALEXANDER MONKMAN (Died in infancy, same yr)
5. Mar 25, 1876 ISABELLA "BELLA" MONKMAN
6. Apr 1, 1878 MARY MONKMAN
7. 1880 HUGH ALFRED MONKMAN (Died age 13)
8. 1883 JESSIE MONKMAN (m. George SPENCE)
9. Nov 5, 1884 CAROLINE HARRIET "HATTIE" MONKMAN (m. Peter James Alexander FLETT)
10. Jan 9, 1887 CAMPBELL ROWLAND MONKMAN (m. Agnes WALKER)