JOHN ALFRED FLETT (1859-1943)
CHRISTINA ROSS "CHRISTIE" ANDERSON (1860-1921)
(Last Updated: August 11, 2013)
John Alfred FLETT was born Jan 31 (baptized Feb 2, 1860), 1859 in St Paul (Middlechurch), son of Euphemia HALCROW and Peter FLETT (1812-1905). **MORE ABOUT PETER FLETT
In 1870 John (age 12) was recorded with his parents in St Paul Parish.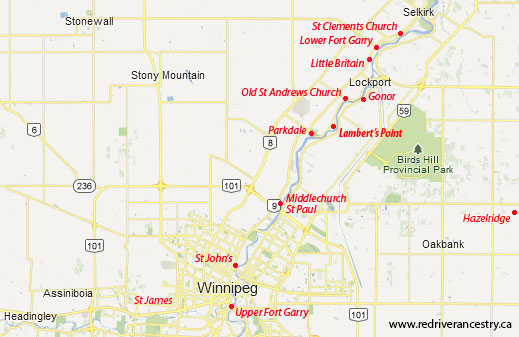 Marriage to Christina Ross ANDERSON
1878
Around 1878, John Alfred married Christie ANDERSON. Christie's father, James ANDERSON, died 1867 in a house fire at Norway House, when Christie was about seven  years old. Her mother (Elizabeth nee ISBISTER) then moved to Prince Albert (SK) where she re-married in 1871 to Eugene DERBY from Quebec. After about 10 years in Prince Albert, the ANDERSON-DERBY family had moved back to St Paul Parish in Manitoba.
In the 1881 Census, John FLETT (age 21) was recorded in St Paul Parish with his wife Christie (age 20) and children: Elizabeth Jane (age 2) and baby Catherine (3 months old).
Grand Marais
1881-1901
By 1881 Christina's mother and step-father, Elizabeth and Eugene DERBY had moved to Balsam Bay at the southeast end of Lake Winnipeg. It seems that daughter Christina and her husband, John FLETT and their family moved there around the same time.
LandGrants: Undated, John Alfred FLETT, NW-22-17-7-EPM (North of Beaconia in Balsam Bay – on map below)
Christian Brethren:  The Assembly first met at the FLETT home in 1890 for Gospel meetings conducted by VARDER & GOFF in a home near Selkirk.  Willie MONKMAN immediately invited the 2 preachers to come north to his district at Balsam Bay.  They came, and shortly 8 more people professed salvation, including Mr & Mrs John FLETT.  The Assembly first met in the FLETT home, then the DERBY home, and then in a local school house at Balsam Bay.
** MORE ABOUT the BALSAM BAY ASSEMBLY
** MORE ABOUT RICHARD VARDER
Census 1891 in the Fort Alexander District: John A FLETT, farmer, age 31; wife Christina, age 30. Children: Elizabeth (age 12), Peter James (8), Mary (6), Caroline (2) and William (age 2 months).
In 1896 daughter Elizabeth Jane married Angus McRAE in Selkirk, son of Elizabeth HARCUS and Alexander McRAE (1849-1916). ** MORE ABOUT ALEXANDER McRAE
Selkirk
1901
In the 1901 Census in the Town of Selkirk: John (age 42), a Carpenter; wife Christina (age 40) and children: Peter (age 17), Mary (15), Caroline (12), Sarah (8); Edith (6), Mabel (3) and baby Alfred.  Later census records have them living on Toronto Avenue in Selkirk (off Eveline Street across from the Selkirk Golf Course).
On May 31, 1902, their last child, George was born in Selkirk. He died in infancy (only 3 months old).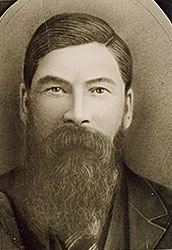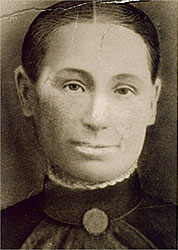 John Alfred Flett – Christina Ross Anderson
(From the Bell Family Tree)
In 1908 son Peter married Caroline Harriet MONKMAN, daughter of Catherine HARPER and Philip MONKMAN (1848-1932). ** MORE ABOUT PHILIP MONKMAN
In 1909 daughter Mary Margaret married in Selkirk to Garnet SHEPARD, son of Elizabeth Sophia FLETT and William Allen SHEPARD (1852-1926).
In 1910 daughter Caroline married Augustus John PEERS in Selkirk, son of Mary Ann MASSEY & Augustus PEERS SR (1848-1905). ** MORE ABOUT AUGUSTUS JOHN PEERS
On Feb 28, 1921, Christine Ross FLETT died in Selkirk at the age of 60.
On Dec 5, 1942 John Alfred FLETT died in Selkirk at the age of 82.
Please post comments and queries at this link: FORUM DISCUSSING the JOHN ALFRED FLETT FAMILY
============================ Family Details ============================
Children:
1. 1879 ELIZABETH JANE FLETT (m. Angus McRAE)

2. Jan 24, 1881 CATHERINE EUPHEMIA FLETT (Died in infancy)
3. Jun 22, 1883 PETER JAMES ALEXANDER FLETT (m. Caroline Harriet MONKMAN)
4. Jun 25, 1885 MARY MARGARET FLETT (m. Garnet Wolsely Baldwin SHEPARD)
5. Jun 7, 1887 ADA ANN FLORA (LOUISE) FLETT (Died in infancy)
6. Mar 9, 1889 CAROLINE ANABELLA REBECCA "CARRIE" FLETT (m. Augustus John PEERS)
7. Jan 25, 1891 WILLIAM HENRY FLETT (Died in infancy)
8. Sep 22, 1892 SARAH ANN "SADIE" FLETT (m. Clair Ernest MacPHERSON)
9. Aug 12, 1894 EDITH ELLEN FLETT (m. Colin McKay NAPIER)
10. Jan 30, 1898 VIOLET MAY (twin) FLETT (Died in infancy, 6 mos)
11. Jan 30, 1898 MABLE MIRIAM (twin) FLETT
12. Aug 8, 1899 JOHN GEORGE FLETT (Died in infancy, 5 mos)
13. Sep 17, 1900 ALFRED FREDERICK FLETT (m. Irene Beatrice WILSON)
14. Mar 31, 1902 GEORGE HAROLD FLETT (Died in infancy)