ALEXANDER McRAE (1849-1916)
ELIZABETH "ELIZA" HARCUS (1851-1924)
(Last Updated: July 21, 2015)
Alexander McRAE was born 1849 in Little Britain (Red River), son of Charlotte SMITH and the renowned stonemason, Duncan McRAE (1818-1898) from Scotland. ** MORE ABOUT DUNCAN McRAE
Marriage to Eliza HARCUS
1865
In 1865 Alex married Eliza HARCUS at St Andrews, child of a lady named Flora (origins unknown) and John HARCUS (1835-1905) both half-breeds.
In 1866 Eliza's father (John HARCUS) re-married to Nancy BUDD, daughter of Peggie COOPER and Jacob BUDD (b-c1800).
Canadian Confederation
A Métis Rebellion
Manitoba becomes a Province
1867-1870
On July 1, 1867 the British colonies in North America were united under the British North American Act to become the Dominion of Canada.  Sir John A MACDONALD (1815-1891) was appointed as Canada's first Prime Minister. William McDOUGALL (1822-1905) was appointed as the Lieutenant Governor Designate of the North-West Territories (Rupert's Land). McDOUGALL sent surveyors to Red River in anticipation of an influx of settlers.On Oct 11, 1869, Louis RIEL (1844-1885) placed his foot on the surveyors' chain to tell them their work was finished. This led to the historic Red River Rebellion.
On July 15,1870, the Rebellion was essentially over, and Manitoba became the fifth province of Canada, the Canadian Government having acquired the territory previously governed by the HBC.
On July 23, 1878 Alex McRAE received Patent for 35-14-4-Epm. The map below indicates that location at the junction of McRae Road and Clandeboye Road, east of Clandeboye.
The 1881 Census recorded Alex (age 31); wife Eliza (age 28), and their children asDavid (age 10); Duncan (8); Charlotte (6); Flora (4); and William (age 1).
On June 15, 1882the Town of Selkirk was incorporated.
Wakefield School Built
1888
The children in what is now the Petersfield area first went to the Wakefield School which was built in 1888. A petition by Peter SINCLAIR (1855-1923) and others (not named) was originally drawn up May 3, 1888. This school was also used for church services before the Wakefield Church was built. The area included at this date was Sections 1 to 6 inclusive, and 18 to 36 both inclusive of Township 15, Range 4, Epm.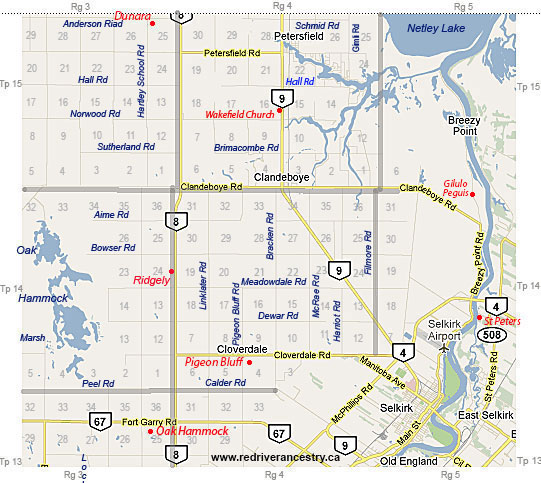 In 1895 son Duncan married Sarah Ann HALL, daughter of Annie JOHNSTON and Henry HALL (1834-1919) from England. They settled in the Bull Head – Matheson Island area.
In 1899 son Angus married Annie NORQUAY, daughter of Caroline FIDLER and George NORQUAY (1852-1942). They settled in Mapleton/ Old England (south of Selkirk).
When the 1901 Census was taken, Alex's family was complete. Children at home were recorded as David (age 30), Charlotte (27), William (21), Colin (18), Allan (17), Sarah (14), Alexander (12), Alice (8) and James (age 2). Of course sons Duncan & Angus were married and on their own by this time. 
A CPR Railroad line to Lake Winnipeg
1903
In 1903 construction was underway for the CPR railroad line to Lake Winnipeg.
In 1909 son Allan married Jessie Jane COCHRANE, daughter of Fanny THOMAS and Edward COCHRANE (1884-1935).
In 1912 daughter Sarah Ann married William KIRTON, son of Justine GLADU and Peter KIRTON (1839-1926).
In 1913 son Colin married his sister-in-law, Mary Emily NORQUAY, daughter of Caroline FIDLER & George NORQUAY (1852-1942).
World War I
1914-1919
On Aug 4, 1914 Great Britain (Canada on Aug 5) declared war on Germany and Austria-Hungary to uphold treaties with France and Belgium which were under German attack. This marked the beginning of World War I.
On Jan 2, 1916 Alexander McRAE died in Selkirk, age 65. When the census was taken on June 3 that year, Widow Elizabeth (recorded as Isabel, age 65) and son James (age 18) were recorded on 14-4-Epm.
On Feb 17 and Feb 19, 1917 sons Alexander and James enlisted for War service; both stating their next of kin as their mother, Elizabeth McRAE of Clandeboye.
On Apr 8, 1917 son James married Dorothy SINCLAIR of uncertain origins.
Son William Robert McRAE presents a mystery. It seems that in 1918 he enlisted in the US Army in Walloway, Oregon at the age if 38 (his birth date matches exactly). His Draft Registration indicates he was a Canadian citizen at the time and he had a wife. In 1921 he became a Naturalized American citizen at Clark, Washington State.
In 1919 daughter Charlotte married John BLACK, son of Mary BRYDEN and Robert BLACK (1818-1906) from Scotland.
Around 1919 son Alexander married Sarah NABES, daughter of Philomene (Annie) FIDLER and Roger NABES (1861-1952).
November 11, 1919, Armistice Day (Remembrance Day) marked the end of the First World War.
On Dec 23, 1924 Mary Elizabeth McRAE died in St Andrews.
Please post comments & queries at this link: FORUM DISCUSSING the ALEXANDER McRAE FAMILY
========================== Family Details ==========================
Children:
1. Dec 26, 1870 DAVID J McRAE
2. July 11, 1872 DUNCAN McRAE (m. Sarah Ann HALL)
3. Feb 4, 1874 CHARLOTTE McRAE (m. John BLACK)
4. Mar 1, 1876 ANGUS McRAE (m1. Elizabeth Jane FLETT; m2. Ann Elizabeth NORQUAY)
** MORE ABOUT ANGUS McRAE
5. 1877 FLORA McRAE
6. Mar 9, 1880 WILLIAM ROBERT McRAE (m. Unknown)
7. June 16, 1882 COLIN V. McRAE (m. Mary Emily NORQUAY)
8. July 13, 1884 ALLAN McRAE (m. Jessie Jane COCHRANE)
9. May 24, 1886 SARAH ANN McRAE (m1. William KIRTON, m2.Peter BEATTY)
10. Nov 5, 1888 ALEXANDER GEORGE McRAE (m. Sarah NABES)
11. Nov 26, 1890 JOHN NORQUAY McRAE (Died in infancy)
12. Dec 13, 1891 ALICE LENORA GERTRUDE McRAE (m. Alfred COOK)
13. Aug 7, 1894 MALCOLM McRAE (Died in infancy)
14. May 14, 1898 JAMES McCULLOCH MONTGOMERY McRAE (m. Dorothy SINCLAIR)