DUNCAN McRAE (1818-1898)
CHARLOTTE SMITH (1825-1894)
(Last Updated: October 12, 2016)
Duncan McRAE was born around 1813-18 in Stornoway Parish, Scotland. While little is known of his early life, it can be assumed that it included at least eight years of apprenticeship under the supervision of a journeyman mason.
Duncan's wife-to-be, Miss Charlotte SMITH, was born 1825in Lincolnshire, England, daughter of Sarah Ann & William SMITH (b-1807). In 1836 Charlotte sailed to North America with her parents from Lincolnshire aboard the Hudson's Bay Company (HBC) ship Prince Rupert. The family settled in Red River where her father was an HBC Farm Instructor on an Experimental Farm.
Duncan in the service of the Hudson's Bay Company
1837-1842
On June 5, 1837 Duncan McRAE also entered the service of the HBC as a Stonemason, General Charges (no specific posting). It is said that he was contracted by the HBC while he was still in Scotland to build two forts in Red River. The ship which brought him across the Atlantic left England on the day Queen Victoria was crowned (that would be June 28, 1838).
Marriage to Charlotte SMITH
1842
In 1842, when his HBC contract expired, McRAE left the Company's service and began his long career as an independent tradesman and contractor, stretching over three decades, during which he worked on churches and houses throughout the Red River District. On Nov 2, 1842 Duncan married the aforementioned Charlotte SMITH who was then a 17 year old School Teacher.
After their marriage Duncan settled in a log home at Little Britain in St Andrews Parish (See map below).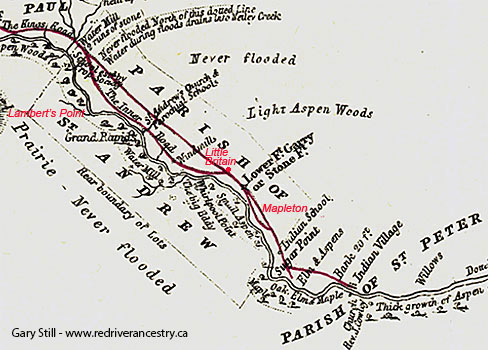 St Andrews Parish from Hind's Map of 1857
It is thought that Duncan spent the remaining years of his contract engaged in the construction of the wall around the Lower Fort before St Andrews Rapids and may have worked on some of the buildings within the Fort proper.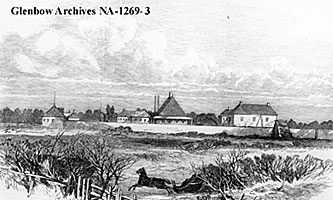 Stone Fort at Lower Fort Garry, dated 1869
** See also the Header at the top of this page showing the
Southwest Bastion, Lower Fort Garry around 2008 (after restoration)
The Old St Andrews Anglican Church on the Red
1844-1849
The new St Andrews Church was begun in 1844, and McRAE worked on it steadily for three years. At this time he was severely injured when a scaffold broke and he fell 70 feet to the ground.  Following this accident, he was unable to perform the heavier tasks, and as a consequence, often dressed stone and supervised other masons on various projects.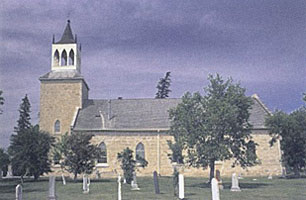 The Old St Andrews Anglican Church on the Red. Manitoba Provincial Heritage Site No. 53
The building was designed by Archdeacon William COCKRAN (1798–1865)
to serve the local community of retired HBC personnel and English mixed bloods.
If Walls Could Talk: Spring of 1845 - According to legend, McRAE argues that the church (St Andrews) COCKRAN envisions is far too long for the human voice, specifically that of the Archdeacon's to carry. But COCKRAN disagrees. He insists the mason stand where the back of the church is projected to be. He blazes forth his first sermon on that very spot. "Duncan McRAE," he bellows, "they tell me that you drink more rum than is good for you. In future, curb your bestial desires and try to live like a sober, righteous and Godly life." McRAE, stung, but still in control of his wit, replies that in fact, contrary to his former opinion, "the church is nae long enough."
On Oct 15, 1845 Charlotte gave birth to their first child, Mary Ann.
The Diocese of Rupert's Land was founded in 1849 and Bishop David ANDERSON (1814-1885) was sent from England to be the first bishop thereof.
Upper Fort Garry Gate
Old Kildonan Presbyterian Church
1850-1852
The year before McRAE arrived, the HBC had decided to construct a fort at the junction of the Red and Assiniboine Rivers and it was on this project that he was first set to work. The massive north gate, which still stands, is credited to McRAE, who added to it in 1850, as an independent craftsman. 
On July 31, 1851, Reverend John BLACK (1818-1882) set out for Red River (the day after his ordination in Toronto), arriving Sept 19 when he was received as a guest in the extended household of Alexander ROSS (1783-1856), the "Scottish chief" who kept petitioning the HBC and the Kirk of Scotland for a Presbyterian minister.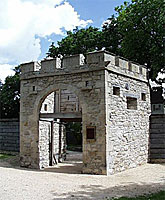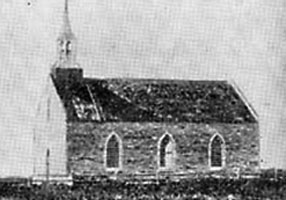 Left: McRAE is credited with building the massive Upper Fort Garry Stone Gate in 1850
(the walls of the fort were wooden).
Right: Kildonan Presbyterian Church at the time of its opening in 1852
This was followed by the Kildonan Presbyterian Church, located in North Kildonan, finally filling Lord SELKIRK's promise of their own Kirk that was made to the Kildonan Settlers many years before.  When it was completed, McRAE confidently predicted that if the parishioners cared for the property, it would stand for a "hunner years or mair'".
St Peter's Church
1853
In the 1850's McRAE was engaged in construction of St Peters Church on the Chief PEGUIS' Reserve. The name "St. Peter's" was bestowed upon the stone Church by Bishop ANDERSON when he laid the foundation stone of it on May 23, 1853. From a time, certainly no later than 1836, the district was simply known as "The Indian Settlement".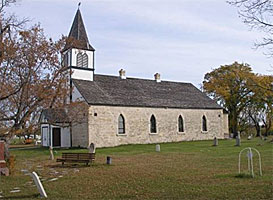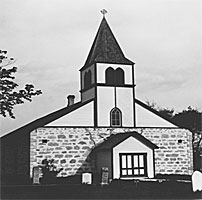 St Peter's Church
Manitoba Provincial Heritage Site No. 7
At the end of the decade McRAE built one of the most graceful buildings in Red River, Miss DAVIS' School, known as Twin Oaks, and now a Historic Site.  This Georgian mansion has delighted generations of travellers on the River Road.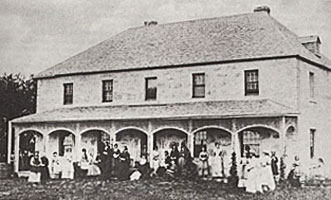 Miss Davis School Residence 1858 / Twin Oaks National Historic Site
Note: Duncan McRAE is often unduly credited with building the old St Clements Church at Mapleton. That church was actually built in 1860-61 by Samuel TAYLOR (1812-1894), another Stonemason from the Orkneys.
St Peter's Anglican Church Rectory
1862-65
OnJuly 11, 1862 John CLOUSTON and Duncan McRAE commenced to build a stone house (now Dynevor Hospital) for Reverend Abraham COWLEY (1816-1877).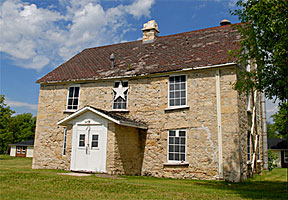 St Peter's Anglican Church Rectory built 1862-65 for Reverend Cowley (1816-1887)
Manitoba Provincial Heritage Site No. 33
In 1862 eldest daughter Mary Ann married Alexander McDONALD (1836-1877) from Scotland.
In 1865 son Alexander married Elizabeth HARCUS, daughter of Flora & John HARCUS (1837-1905).
Captain Kennedy House
1866
Other examples of McRAE's skills still remain: the William Kennedy House and that of Donald Murray, where the first classes of Manitoba College were held.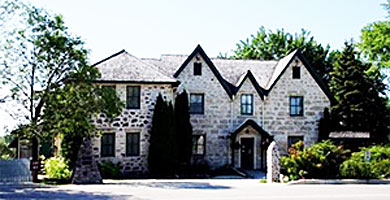 Captain William Kennedy House, 417 River Road, St Andrews
The house was built in l866 for Captain William Kennedy,
using stones quarried from the Red River banks at nearby St. Andrews Rapids.
Manitoba Provincial Heritage Site No. 16
Canadian Confederation
A Métis Rebellion
Manitoba becomes a Province
1867-1870
On July 1, 1867 the British colonies in North America were united under the British North American Act to become the Dominion of Canada.  Sir John A MACDONALD (1815-1891) was appointed as Canada's first Prime Minister. William McDOUGALL (1822-1905) was appointed as the Lieutenant Governor Designate of the North-West Territories (Rupert's Land). McDOUGALL sent surveyors to Red River in anticipation of an influx of settlers.On Oct 11, 1869, Louis RIEL (1844-1885) placed his foot on the surveyors' chain to tell them their work was finished. This led to the historic Red River Rebellion.
In 1867 daughter Mary Ann married Captain Angus MORRISON (1842-1900) from Scotland.
In 1868 daughter Catherine married John MATHESON, son of Margaret GUNN & Angus MATHESON (1813-1893).
On July 15,1870, the Rebellion was essentially over, and Manitoba became the fifth province of Canada, the Canadian Government having acquired the territory previously governed by the HBC.
In 1870 John CLOUSTON (1825-1902), another noted Stonemason arrived in St Andrews from the Orkneys of Scotland.
In 1870 the family was recorded on Lot 112 in St Andrews; children as Charlotte (age 15), Duncan (13), Elizabeth (11), Malcolm (9), William (7), Christine (5) and Marguerite (age 2). Lot 112 was not far from Little Britain Road.
Little Britain United Church
1872-74
McRAE labored on his favorite project, Little Britain United Church, on whose Management Committee he also served.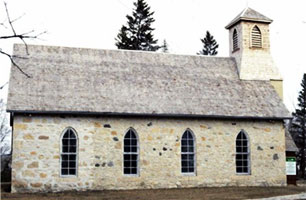 Little Britain United Church, built between 1872 and 1874, is the oldest United Church
building in Manitoba. Initially Presbyterian, the original congregation was served by
Reverend John Black. He was the first Presbyterian minister at the Selkirk Settlement.
The church was constructed by John Clouston and Duncan McRae.
Manitoba Provincial Heritage Site No. 36
Little Britain History: The contract for the stone masonry was signed by John CLOUSTON, but Duncan McRAE was working with him. Some of WOLSELY's men from Lower Ft Garry also helped raise the walls. In 1920, when the bell-tower was dedicated, there was a newspaper account which listed the names of prominent men who had worked on the walls. They were: Hon Robert GUNN, Captain KENNEDY, Dr David YOUNG, P.R. YOUNG, Roderick McPHERSON, Hon D.A. SMITH [later Lord Strathcona], Hon Alfred BOYD, Hon Alexander MORRIS and Dr. John SCHULTZ, several of whom later held office as Lieutenants-Governor of Manitoba. - - The church windows were made by John McLEOD, a man 6' 10" tall, who died in 1932 at the age of 99 (b-c1833) ** See JOHN McLEOD 1832 **.
In 1875 son John married Henriette SETTEE, daughter of Sarah COOK & Reverend James SETTEE (1809-1902).
** MORE ABOUT REVEREND JAMES SETTEE
Much of his work obligated McRAE to be away from his home for long periods of time, and it thus fell on his wife, Charlotte and their children, of whom 11 of 12 survived into adulthood, to manage the farm and provide the security that permitted him to practice his craft.  It was to the farm that he retired to spend the last 15 yrs of his life as an invalid.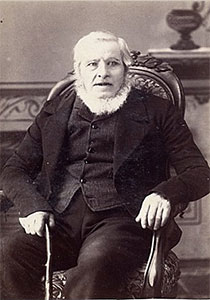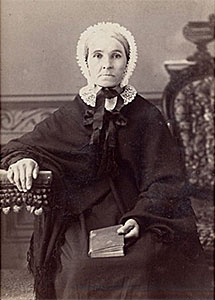 Duncan and Charlotte (nee Smith) McRae
In 1877 daughter Elizabeth married George KINGSBERRY (1849-c1910) from Ontario.
Around 1881 daughter Charlotte married George ROLPH (born 1848 in Quebec).

In 1882 son Duncan Jr. married Jane Mary BALLENDINE, daughter of Elizabeth SMITH & Samuel BALLENDINE (1839-1903). ** MORE ABOUT SAMUEL BALLENDINE
In 1887 son Malcolm married Isabella Catherine "Kate" NORQUAY, daughter of Elizabeth MILLER and Thomas NORQUAY (1843-1892). ** MORE ABOUT THOMAS NORQUAY
Retirement
1888
In 1888, at the age of 70, Duncan retired. His legs had become afflicted and he was unable to move about without extreme difficulty. His son, Duncan McRAE Junior (1857-1921) would care for his aging parents for the rest of their lives.
Recollections of Christopher JOHNSTONE (1881-1951): - - Then on to the lateDuncan McRAE's home. He was the mason who built on the Lower Fort and all the early churches, of which we have numerous records. I remember well, my Mother taking me, on a Sunday afternoon, to visit at the McRAE home. Mrs. McRAE was an English woman of a very jolly disposition and most hospitable. Mr. McRAE who was a Scotsman, became paralyzed in middle life and had lost the use of his legs. Not withstanding, he was quite happy and used to sit on a long wooden settee which had a tobacco knife attached to one end. I liked to watch him cut up his big plug of T and B tobacco for pipe use. He enjoyed his visitors very much. As a small boy, I thought he had a very loud voice. Mrs. McRAE used to bring her knitting when she came to our home, knitting all the way there and back. I was fascinated with the speed at which she plied her needles.
In 1889 son William married Mary McKAY, daughter of Mary McDONALD & Neil McKAY (1820-1914) from Scotland.

In 1890 daughter Christine married William J HUGHES (1857-1914), a Lighthouse Keeper from New Brunswick.
Death of Charlotte & Duncan
1894-1898
Charlotte died in 1894, and Duncan died on Feb 4, 1898at the age of 85 and was buried in the Little Britain Churchyard. Family history has it that Duncan carved his own tombstone.
Please post comments & queries at this link: FORUM DISCUSSING the DUNCAN McRAE FAMILY
============================= Family Details =============================
Children:
1. Oct 15, 1845 MARY ANN McRAE (m. Alexander McDONALD)
2. Nov 13, 1846 SARAH ANN McRAE (m1. Captain Angus MORRISON, m2. Henry George BIRSTON)
3. Oct 29, 1849 ALEXANDER McRAE (m. Elizabeth "Eliza" HARCUS)
** MORE ABOUT ALEXANDER McRAE
4. c1851 JOHN McRAE (m. Henriette SETTEE)
5. 1852 CATHERINE McRAE (m. John MATHESON)
6. 1855 CHARLOTTE McRAE (m. George ROLPH)
7. Oct 21, 1857 DUNCAN McRAE JR (m. Jane Mary BALLENDINE)
8. Feb 29, 1860 ELIZABETH McRAE (m. George KINGSBERRY)
9. July 15, 1862 MALCOLM McRAE (m1. Isabelle Catherine NORQUAY, m2. Annie WRIGHT)
10. May 21, 1864 WILLIAM McRAE (m. Mary McKAY)
11. Jul 29, 1867 CHRISTINE McRAE (m. William J HUGHES)
12. 1869 MARGARET JANE McRAE (Died 1879, age 10)