THOMAS NORQUAY (1843-1892)
ELIZABETH MILLER (1846-1918)
(Last Updated: December 25, 2016)
Thomas NORQUAY was born Jan 26, 1843, probably south of Lockport in St Andrews Parish, son of Isabella TRUTHWAITE and John NORQUAY (1810-1889). ** MORE ABOUT JOHN NORQUAY
** MORE ABOUT THOMAS NORQUAY in MHS – MEMORABLE MANITOBANS

Tom's mother (Isabella) died soon after he was born, and Tom and his sisters (Jane and Mary Ann NORQUAY) were taken in by their grandparents, Elizabeth and Jacob TRUTHWAITE (1786-1873). ** MORE ABOUT JACOB TRUTHWAITE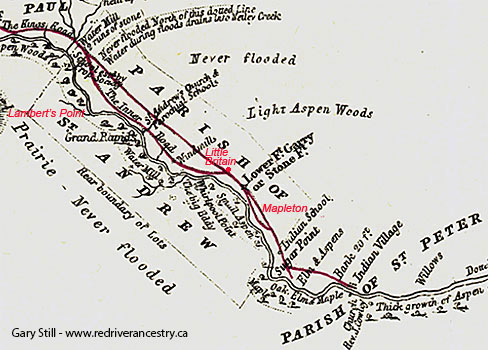 St Andrews Parish from Hind's Map of 1857
Around 1845, Tom's widowed father (John NORQUAY) re-married to Nancy WARD, daughter of Angelique BRUYERE and Jacques John WARD (1805-1916). Tom would have been about two years old then, and we might assume that he returned to be with his father and new step-mother (Nancy nee WARD).
After a few children with WARD, Tom's father (John) died in 1849 (about 39 years old) and his step-mother, Nancy (nee WARD) re-married around 1853 to Archibald FLETT, son of Betsy and William FLETT (1786-1852). Tom would have been about 10 years old at that time.
Tom attended the St John's School (College) in Kildonan along with his older brother, John (later Premier John NORQUAY).
As a young man, Tom taught school at "The Rapids" (Lockport), St Andrews.
Marriage to Elizabeth MILLER
1866
On May 10, 1866 Tom NORQUAY married in St Andrews to Elizabeth MILLER, daughter of Elizabeth SETTER & Robert MILLER (1802-1867), a retired HBC voyageur. ** MORE ABOUT ROBERT MILLER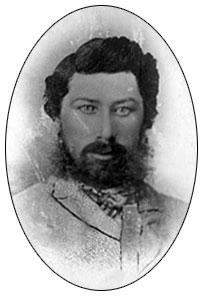 Thomas Norquay
Canadian Confederations
Red River Rebellion
Manitoba becomes a Province
1867-1870
On July 1, 1867 the British colonies in North America were united under the British North American Act to become the Dominion of Canada.  Sir John A MacDONALD (1815-1891) was appointed as Canada's first Prime Minister; a month later he won the first federal election. William McDOUGALL (1822-1905) became the Minister of Public Works, and he began nnegotiations to acquire Rupert's Land from the HBC; surveyors were sent out to prepare the way for an expected influx of settlers.
In 1869 Louis RIEL (1844-1885) began to organize resistance to the transfer of the North-West to the Dominion of Canada without prearranged terms. This marked the beginning of the historic Red River Metis Rebellion.
** MORE ABOUT the RED RIVER REBELLION in WIKIPEDIA
Thomas acted as an emissary for Reverend John BLACK (1818-1882) during the Anglophone militancy against RIEL. Upon delivering a letter, RIEL tore it up and jailed Thomas.
** MORE ABOUT REVEREND JOHN BLACK in DCBO

On July 15,1870 Manitoba became the fifth province of Canada, the Canadian Government having acquired the territory previously governed by the HBC.
On Dec 27, 1870 Manitoba held its first provincial election. John NORQUAY (Tom's brother) was elected for High Bluff District. ** MORE ABOUT PREMIER JOHN NORQUAY
In 1875 Tom and Elizabeth claimed Half-breed Scrip for themselves and for their daughters (Isabella and Sarah).
In 1878 Tom's brother, John NORQUAY, became the Premier of Manitoba.
The 1881 Census in St Andrews Parish: Census 1881: Thomas NORQUAY (age 38; Clerk of the County Court); wife Elizabeth (age 34). Children: Isabelle Catherine (age 13), Sarah (12), Thomas (8), Alexander Charles (7), Margaret Rosaline (3) and twins Alice Maude Mary and William Alfred (both age 1).
In 1884 son Jacob was born.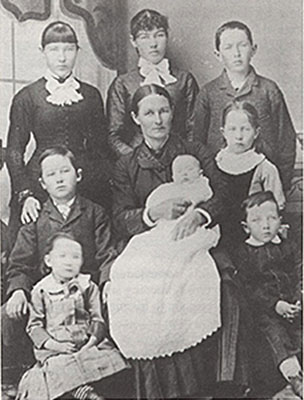 Elizabeth and her children in 1884
Back L-R: Sarah Anne Elizabeth (age 25), Isabella Catherine (27) and Andrew Thomas (age 12)
Middle: Alexander Charles (age 8), Elizabeth Norquay holding baby Jacob) and Margaret Rosaline (age 7)
Front: Twins Alice Maude Mary and William Wilfred (both age 5)
 (Photo from Gordon A Norquay)
In 1887 eldest daughter Catherine married Malcolm McRAE, son of Charlotte SMITH and Duncan McRAE (1818-1898). ** MORE ABOUT DUNCAN McRAE
From 1888 to 1890 Tom was Reeve of St Andrews.
In 1889 daughter Sarah married Donald McLENNAN, son of Ann Margaret SUTHERLAND and Murdoch McLENNAN (1825-1916). ** MORE ABOUT MURDOCH McLENNAN
Elected to the Manitoba Legislature
1890
In February of 1890 Thomas NORQUAY was elected to the Manitoba Legislature.
The 1891 Census in St Andrews: Thomas NORQUAY (MPP and farmer, age 48), wife Elizabeth, (age 44). Children: Andrew (age 18), Charles (17); Rosa (13), Alice (11), William (11), Jacob (7), Lawrence (5) and John (age 1).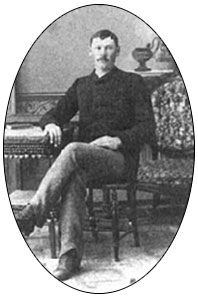 Thomas Norquay
Tom's Death
1892
On June 9, 1892 Thomas NORQUAY died as the result of a serious train accident on North Main in Winnipeg, He was only 49 years old.
Widow Elizabeth moves to Cloverdale
1895
In 1895 Widow Elizabeth and her children moved to Cloverdale (still in St Andrews Parish), west of Selkirk (See map below).
In 1897 son Alexander Charles married Helen TAYLOR, daughter of Ellen ISBISTER and John TAYLOR (1844-1926).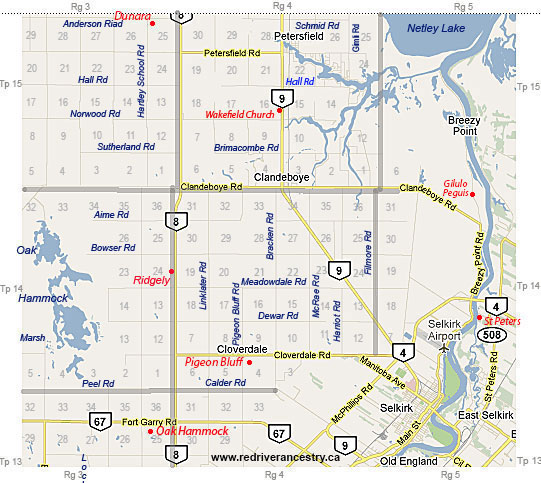 In 1901 son Andrew married in Winnipeg to Helen Lucy PROCTOR of unknown origins.
Census 1901 St Andrews Parish: Widow Elizabeth NORQUAY (age 54). Children: Rose (age 23), Alice (21), William (21, Jacob (16), Lawrence (14) and John (age 11).
In 1906 son Willie married Christine ANDERSON, daughter of Annabella FOLSTER and James ANDERSON (1857-1943).
In 1913 daughter Alice married Edward James LANCELEY (born 1876 in England).
In 1916 son Jacob married Ethel SCOTT in Winnipeg, daughter of Josephine Florence FULSHER & William SCOTT (1860-1933).
In the 1916 Census in the Pigeon Bluff area: Widow Elizabeth (age 69) and her sons Lawrence (age 30) and John (age 26). Granddaughter Bessie McRAE (age 11) is also with them (daughter Catherine's child with Malcolm McRAE).
In 1918 Widow Elizabeth NORQUAY died.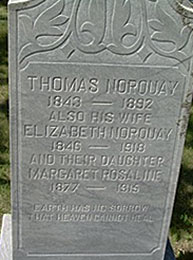 Gravestone in St Matthews Anglican Church Cemetery
Thomas Norquay (1843-1892), Elizabeth Norquaay (1846-1918)
and their daughter Margaret Rosaline (1877-1915)
(From C MacKenzie)
In 1927 son John married in Winnipeg to Catherine Clara BIRD, daughter of Ann Harriet LOGAN and Henry BIRD (born 1862 in England).
Comments and queries at this link: FORUM DISCUSSING the THOMAS NORQUAY FAMILY
========================= Family Details =========================
1. Jun 13, 1867 ISABELLE CATHERINE "KATE" NORQUAY (m. Malcolm (Duncan) McRAE)
2. Jan 4, 1869 SARAH ANNE ELIZABETH NORQUAY (m. Donald McLENNAN)
3. 1870 ROBERT JOHN NORQUAY (Died in infancy)
4. Jun 15, 1872 ANDREW THOMAS "TOMBO" NORQUAY (m. Helen Lucy PROCTOR)
5. 1875 HENRY GEORGE NORQUAY (Died in infancy)
6. Apr 2, 1876 ALEXANDER CHARLES "CHARLIE" NORQUAY (m. Helen "Nellie" TAYLOR)
7. Jun 4, 1877 MARGARET ROSALINE "ROSIE" NORQUAY
8. Jun 6, 1879 ALICE MAUD MARY (twin) NORQUAY (m. Edward James LANCELEY)
9. Jun 6, 1879 WILLIAM ALFRED "WILLIE" (twin) NORQUAY (m1. Christine ANDERSON)
10. May 13, 1884 JACOB TRUTHWAITE NORQUAY (m. Ethel SCOTT)
** MORE ABOUT JACOB TRUTHWAITE NORQUAY
11. May 27, 1886 LAWRENCE PERCIVAL NORQUAY
12. Nov 28, 1889 JOHN NORQUAY (m. Catherine Clara BIRD)