MURDOCH McLENNAN (1825-1916)
ANN MARGARET SUTHERLAND (c1832-1864)
ANNIE BIRD (1848-c1881)
(Last Updated: March 08, 2017)
Murdoch McLENNAN (also spelled MACLENNAN) was born Mar 14, 1825 at Stornoway, Scotland, Isle of Lewis, Outer Hebrides of Scotland. In 1847 he signed on with the Hudson's Bay Company (HBC) as a Contract Labourer. Sailing aboard the chartered ship Westminster, he arrived that year at York Factory on Hudson Bay.
Murdoch joins Dr John RAE in Search of Sir John FRANKLIN
On May 19, 1845, Sir John FRANKLIN, the famous Arctic naval officer and explorer, sailed from the River Thames with the ships Erebus and Terror, 134 men (soon after reduced to 129), and provisions for three years. He was last seen, by whalers, in northern Baffin Bay on July 26. FRANKLIN was never seen again and no trace of his expedition would be found for another five years. ** MORE ABOUT SIR JOHN FRANKLIN in DCBO
Dr. John RAE (1813-1893), another famous explorer, made four Arctic expeditions between 1846 and 1854, during which he travelled more than 10, 000 miles on foot or in small boats, and surveyed about 1, 800 miles of coastline. On his third expedition (1846-47) RAE discovered that King William Island was an island and that the strait separating it from the mainland, which is now known as Rae Strait, was the last piece in the Northwest Passage puzzle which the Europeans had been trying to solve since the 17th century.  ** MORE ABOUT DR JOHN RAE in DCBO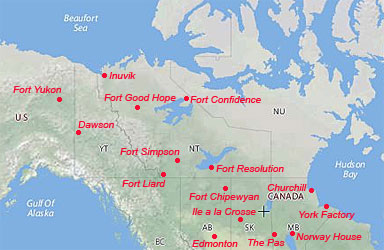 Fort Confidence was used as an overwintering base for the Arctic expeditions
In 1848 twenty men (including Murdoch MACLENNAN) and four boats were sent ahead from York Factory on an overland expedition to search for FRANKLIN who had disappeared in the Arctic in 1845.. On June 28 RAE, as second-in-command to Sir John RICHARDSON (1787-1865) caught up with their men at Methy Portage. On Aug 3 they reached the mouth of the Mackenzie, and from there they searched the coast for FRANKLIN as far east as Cape Kendall in Coronation Gulf. Leaving their boats at Icy Cove, they traveled overland to northeast Great Bear Lake, where an advance party had built Fort Confidence to serve as their winter quarters. RICHARDSON then returned to Britain after delegating John RAE to continue the search. On June 7, 1849, RAE set off with six men up the Dease River to reach the mouth of the Coppermine on July 14. By September they had arrived back at Fort Confidence before continuing on to Fort Simpson and the Mackenzie River.
Franklin's Tragedy Revealed
1853-54
On June 24, 1853 Murdoch was again with RAE when he departed from York Factory with 12 men and two boats, intending to travel to the head of Chesterfield Inlet, make an overland journey to the Back River, and then descend that river to the coast. Unfortunately, no suitable route could be found toward the Back River. Sending six of his men back to Churchill in one boat, RAE continued with the others to Fort Hope in Repulse Bay. Arriving there on Aug 14, he spent the fall hunting and fishing, accumulating sufficient food to keep his party well fed and healthy throughout the winter. Although the stone house built in 1846 was still in good condition, RAE chose to live instead in snow houses, which he found to be much more comfortable.
Mills: Leaving Fort Hope on Mar 31, 1854, RAE had reached Pelly Bay in the Gulf of Boothia when he was informed by an Inuit of a large party of white men who had starved to death near a large river some way farther west. Purchasing from him a gold cap band  – said to have come from one of the bodies – RAE decided to press on with his survey rather than investigate the report for himself. After locating the cairn built by SIMPSON at Castor and Pollux River, he spent the next nine days mapping the coast as far as Cape Porter, in the process discovering Rae Strait and thus providing King William "Land" to be an island. In his mind, however, he kept thinking of what he had been told. If true, this must be FRANKLIN's expedition, for whom he and many others had searched do long. If so, it was clearly his duty to carry the news back to London as quickly as possible to forestall further search expeditions or at least direct them where to look. Arriving back at Repulse Bay on May 26, he was visited by a party of Inuit with more detailed knowledge of the dead men. From them, he learned that a group of Inuit had met about 40 white men on the southern coast of King William Island. The men were clearly starving and were overjoyed to be able to acquire seal meat from the Inuit. Later in the same year, 30 bodies were found on the mainland and five more on a nearby island, which RAE identified as Montreal Island off the Back River. Although none of his party had seen the kabloonas (white men), they had with them objects clearly acquired from the bodies, including monogrammed silverware and a medal later identified as belonging to Sir John FRANKLIN himself. There could be no doubt that his was indeed the expedition that had met a tragic end farther west.
Son Frank said "He (Murdoch) was away from home for seven years that trip. - - On one expedition, they were near starvation many times, and if anyone talked about food at these times, the leader Dr RAE, threatened to shoot him to ward off any attempt at cannibalism, as they were near to losing their minds at such times. - - At the end of the expedition, RAE presented him (Murdoch) as an "excellent servant, and a good hand on a boat, either at sea or on a river. - - He received 260 pounds as a share of the reward made to RAE for the success of the expedition."
The Back River Expedition of ANDERSON & STEWART
1855
Before McLENNAN knew of his reward from the RAE expedition, he and MISTIGAN had volunteered to join the Arctic Expedition under James ANDERSON (1812-1867) and James Green STEWART (1825-1881). On Feb 11, 1855 they set out, travelling down the Great Fish Back River to make further searches for the lost FRANKLIN party.
On July 31, 1855 ANDERSON, with STEWART (whom he found "utterly useless") and 14 voyageurs in two canoes, attained the sea. They searched the shoreline "as if we were looking for pins," and on Montreal Island and elsewhere found scattered tools and wood fragments, one bearing the name Terror; RAE's report was thus confirmed. The deterioration of his canoes prompted ANDERSON to start up Great Fish River on August 14.
Marriage to Ann Margaret SUTHERLAND
1856-1864
Upon the completion of this expedition, Murdoch MACLENNAN returned to Red River and by 1856 he was married to Ann Margaret SUTHERLAND,daughter of Elizabeth CALDER & James SUTHERLAND (1803-1844).
** MORE ABOUT JAMES SUTHERLAND
On Apr 13, 1864, Ann Margaret passed away on Apr 13,1864. At that time her children would have been Christina (age 8), James (age 6), Roderick (age 4), William (age 3) and Donald (3 months old).
Marriage to Annie BIRD
Canadian Confederation
The Riel Rebellion
Manitoba becomes a Province
1867-1870
Around 1867 Murdoch remarried to Annie BIRD, the 19 year old daughter of Isabella Sophie GIBSON & James BIRD (1824-1892).
On July 1, 1867 the British colonies in North America were united under the British North American Act to become the Dominion of Canada.

On Nov 2, 1868 daughter Annie was born in St Andrews.
Between 1869 and 1870, The Red River Rebellion occurred; led by Louis RIEL (1844-1885).On July 15,1870 Manitoba became the fifth province of Canada, the Canadian Government having acquired the territory previously governed by the HBC.
In 1870 the McLENNAN family was recorded on Lot 64-70 in St Clements Parish (West side of the river, south of the Old St Andrews Church): Children recorded that year: Christine (age 13); James (12); Roderick (10); William (8); Donald (6); Ann (4) and Murdoch (age 2).
Around 1875 daughter Christina married William GALE.
On Jul 9, 1875 Ann (nee BIRD) McLENNAN of St Clements claimed Scrip for herself and for two children: Ann and Murdoch Jr. (deceased).
The Advent of the Railroad
In 1875 the Town of Selkirk came into existence when the Railway located its offices there. Considerable construction took place there the following year, of stores and hotels, in anticipation of its future importance as a railway centre. At that time there was nothing more than a telegraph line along the proposed railway route from the Great Lakes. As fate would have it the main transcontinental railway never did pass through Selkirk.
** See RAILS ACROSS THE RED – SELKIRK or WINNIPEG?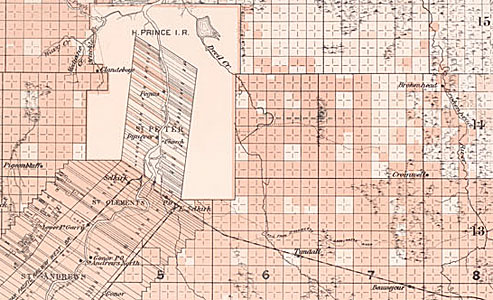 This map illustrates the location of the first railway lines
In 1879 Murdoch received patent for a farmstead NE of Beausejour (NW of 17-13-8-Epm)
On Oct 18, 1877, eldest son James married Charlotte SMITH, teenage daughter of Elizabeth MOORE & John Lee Lewis SMITH (1820-1910) from St Peters Parish.
By 1878, there was only a short railway line, the Pembina Branch, from Selkirk down to the American border to connect up with the American railway system. Construction commenced in the meantime of the four hundred mile stretch between Selkirk and Fort William on Lake Superior, with rail being laid eastward from Selkirk and westward from Fort William. Progress was painfully slow.
In April of 1879 Sir John A MACDONALD announced that the Prairie Section of the railway would be built along a more southerly route (Winnipeg) than had been projected by the previous MACKENZIE government. In May of 1879 a branch line was built from Winnipeg to Selkirk.
Son Frank would later recall "Father (Murdoch) worked along the railroad line for years. They cut wood for use in the engines when the railroad was going through. I just remember father took some cows along when they camped on the open prairie at Winnipeg. Grandfather BIRD (Murdoch's father-in-law, William BIRD, who was living at Poplar Point) went along too, to help them get away. Father went over to see my brother Roderick, who was at St Johns College at the time."
Sprague & Frye Table 5, Riverlot Occupants: Year of Patent: 1880; Murdoch McLENNAN: Lot 89 St Peters, 89 acres.
Murdoch Widowed
1881
On Feb 17, 1881 the Canadian Pacific Railway Act was formally announced.  That year the railroad section from St Boniface through East Selkirk to Telford near the Ontario-Manitoba boundary was completed.
I do not have a death date for Murdoch's second wife (Annie BIRD), but she apparently died before the census was taken in 1881 at which time he was recorded as a widower; and their children,Ann (age 13), Charles (age 10), Frank (age 8), John (age 6), James (age 4) and Bella (age 2) were all living with their maternal grandparents (Isabella & James BIRD) in St Andrews where they remained till adulthood.
Census 1881: Keewatin (Eastern Extension, MB), SD-(From Rat Portage to the Eastern Boundary of; along the line of the CPR): Murdock McLENNAN b-1827, widowed, age 54, farmer, Reformed Presbyterian (birthplace Scotland). That year, son Roderick (age 21) was living in the St John Student Residence in Kildonan (Household of Edward DRURY).
On June 15, 1882 the Town of Selkirk was incorporated.
On Aug 26, 1886 son Roderick married at The Pas to Maria Elizabeth BADGER, daughter of Victoria SINCLAIR & Rev Peter BADGER (1842-)
On Mar 20, 1888 daughter Annie married Harry HAMPTON in St Andrews.
On Feb 21, 1889 son Donald  married in St Andrews to Sarah Ann Elizabeth NORQUAY, daughter of Elizabeth MILLER & Thomas NORQUAY (1843-1892). ** MORE ABOUT THOMAS NORQUAY
In the Census of 1891 we find a 65 year old widower Murdoch McLENNAN, a "Boot & Shoe Maker", in Southwold, Ontario.
On Oct 17, 1895 son William married in St Francois Xavier, MB, to Alice KIRTON, daughter of Justine GLADU & Peter KIRTON (1839-1926).
Frank said:  He (Murdoch) hurt his foot while visiting in Scotland in 1896, and gangrene set in his toe. That's what finally killed him in his 90th year. 
On Mar 20, 1899 son James Alfred married Mary Elizabeth BEAR.
In 1900, daughter Isabella married in St Clements to Moses Wallace BLAKE, an American.
Also in 1900 son Donald married a second time to Florence Catherine DAVIS in St Andrews, daughter of Catherine BIRSTON and George DAVIS (1824-1904). ** MORE ABOUT GEORGE DAVIS
In the 1901 census Murdoch (age 76) was with his son Frank in the Matlock area.
In 1901 son Robert married Elizabeth McRAE, in Selkirk, the daughter of Jane Mary BALLENDINE and Duncan McRAE (1857-1921). ** MORE ABOUT DUNCAN McRAE
Census 1906:  Murdoch is (age 81) with 55 year old James McCORRISTER, near Gonor, MB. This is James McCORRISTER (1850-)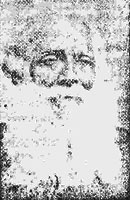 Murdoch McLennan
From Winnipeg Free Press
As the last survivor of the Franklin Expedition, Murdoch McLENNAN was interviewed by Free Press in 1908; quote: "The old gentleman seemed as full of life and fire as men twice score years his juniors. A bright, fresh-complexioned face shrined in a wonderful head of silvery white hair, and a long white beard both of which seemed to have brought away with them the frost of the Arctic, where he has so often wintered, he is a man to impress the visitor with the fact that the dangers of the Polar sea cannot be so great when men survive as hale and hearty as himself, at such a great age.
Frank said:  Father (Murdoch) worked on the Locks in 1910. 
Census 1911: Widower Murdoch McLENNAN (age 85) with Harriet & Henry FAVEL (1869-1944) at Matlock.
On Jan 17, 1916 Murdoch McLENNAN died in Selkirk.
** Please post queries and discussions about this family at: FORUM DISCUSSIONS ABOUT MURDOCH McLENNAN
=========================== Family Details ===========================
Children by Margaret SUTHERLAND:
1. Dec 11, 1856 CHRISTINA McLENNAN (m1. William GALE, m2. LANE)
2. Mar 14, 1858 JAMES McLENNAN (m. Charlotte Mary SMITH)
3. Feb 17, 1860 REV RODERICK McLENNAN (m1. Maria Elizabeth BADGER, m2. Charlotte Florence LOUTIT)
4. Nov 22, 1861 WILLIAM McLENNAN (m. Alice H KIRTON)
5. Jan 20, 1864 DONALD MacLENNAN (m1. Sarah Anne Elizabeth NORQUAY, m2. Florence Catherine DAVIS)
Children by Annie BIRD:
1. Nov 2, 1868 MARY ANN "ANNIE" McLENNAN (m. Harry HAMPTON)
2. July 1, 1870 MURDOCH McLENNAN JR (Died in infancy, age 3)
3. c1872 CHARLES McLENNAN (?m. Frances Constance MITCHELL)
4. Jan 22, 1873 FARQUHAR "FRANK" McLENNAN (m. Mary Olive TELLIER)
5. Aug 16, 1876 JOHN ANGUS McLENNAN
6. 1877 JAMES ALFRED McLENNAN (m. Mary Elizabeth BEAR)
** MORE ABOUT JAMES ALFRED McLENNAN
7. Dec 22, 1878 ISABELLA McLENNAN (m. Moses Wallace BLAKE)