JAMES ALFRED McLENNAN(c1876-1941)
MARY ELIZABETH BEAR (c1879-1958)
(Last Updated: March 23, 2015)
James Alfred McLENNAN was born around 1876-77, son of Annie BIRD & Murdoch McLENNAN (1825-1916).
Around 1881 James' mother, Annie (nee BIRD) McLENNAN died. When the census was taken that year, he and his siblings were recorded with their maternal grandparents (Isabella & James BIRD) in St Andrews. Their father (Murdoch McLENNAN), a railroad worker, was recorded the same year as a 54 year old widower living somewhere along the railroad between Telford and East Selkirk. That section of the CPR railway was completed on Feb 17 that year. James and his siblings would remain with their BIRD grandparents until adulthood.** MORE ABOUT MURDOCH McLENNAN
Marriage to Mary BEAR
1899
Thanks to Cathy on the Forum I can quote the details of James' marriage directly from the Marriage Record: On Mar 20, 1899 James married Mary BEAR "at Duncan McLEAN's" in St Peters by Reverend John G ANDERSON".Groom: James Alfred McLENNAN, bachelor, age 22, settler born in St Peters, son of Annie & Murdoch McLENNAN. Residence at the time of marriage: Elk Island, Lake Winnipeg. Bride: Mary Elizabeth BEAR, spinster of St Peters, age 20, born in St Peters, daughter of Maria BEAR & John James BEAR, both of St Peters. Witnesses: Bedson McIVOR and Lizzie McLEAN, both of St Peters. This was at the home of Duncan Alexander McLEAN (1840-1918), a well-known fur trader from Scotland. Witnessing the marriage was Duncan's daughter, Lizzie McLEAN. Also revealed in this record are the parents of Mary BEAR; Maria FLETT & John James BEAR (1856-1888), information I did not have before.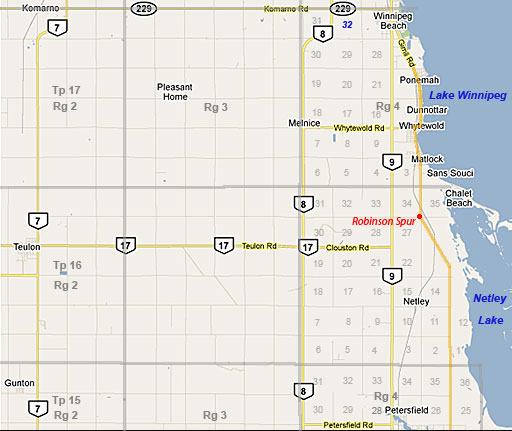 Old Gimli Road (orange line)
LandGrants (1870-1930):  Undated, James Alfred McLENNAN, SW-22-16-4-EPM (2 mi N of Netley, next to his brother Frank)
Census 1901: Selkirk (#11), SD-L-1 (St Andrews), pg 2, HH-19 (Matlock area). James McLENNAN, age 25 (b-c1876), wife Mary, 22 (b-c1879).  They have a daughter Annie, age 2 (b-c1899). ** Regarding birthdates of all three – "Can't say", so the birthdates must have been simply estimated. Next-door, in HH-18 is his brother Frank (age 28) and his father, Murdoch McLENNAN (age 76). Thomas THOMAS and 8 year old Ventrice are in HH- 22 (Charlie remembered Ventrice at Matlock).
In the censuses of 1906, 1911 and 1916, the McLENNAN family continued to be recorded at the same location (Matlock). In 1916 the children were enumerated as Annie Ella R (age 16); William Robert (14); Elizabeth (12); and Eileen Rose (age 7).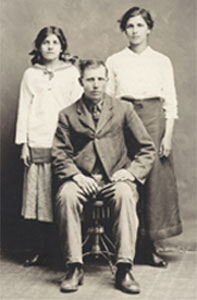 Elizabeth McLennan (left), James McLennan and Ella McLennan
(Many thanks to Cathy for this Photo)
I'm guessing this photo was taken around 1920
On Jun 29, 1921, eldest child, Ella, married Edwin Russell COSENS, son of Catherine ANDREW & Jesse COSENS (1827-1878).
On Jan 18, 1925 daughter Elizabeth married in Selkirk to Palmie GOODMAN, son of Halgerdur OLAFSDOTTIR & Nicholas GOODMAN (1858-1905). ** MORE ABOUT NICHOLAS GOODMAN
James McLENNAN died in 1941; wife Mary in 1958.
Queries and discussions about this family are welcomed; a Forum Topic has been created for this purpose the link: DISCUSSION FORUM for JAMES ALFRED McLENNAN
=========================== Family Details ===========================
Children:
1. c1899 ANNIE  ELLA RUBENA McLENNAN (m. Edwin Russell COSENS)
2. Jun 23, 1901 WILLIAM ROBERT McLENNAN
3. Oct 8, 1903 ELIZABETH "LIZZIE" McLENNAN (m. Palmi GOODMAN)
4. Aug 31, 1905 ALFRED ANGUS McLENNAN (Died at birth)
5. Mar 31, 1909 EILEEN ROSE McLENNAN