NICHOLAS GUDMUNDSSON aka GOODMAN (1858-1905)
HALGETTER OLAFSDOTTIR (1862-)
(Last Updated: February 04, 2016)
Nicholas GUDMUNDSSON aka GOODMAN was born Aug 2, 1858 in Iceland, immigrated in 1891.
On Jul 31, 1892 Nikolas married in Winnipeg to Halgetter OLAFSDOTTIR (who immigrated around 1888).
Before 1901 the family had moved to Selkirk (MB). In the census taken there that year, Nicholas GUDMUNDSSON was enumerated as age 42; wife Hallgerdur as age 38. Children were recorded as Olafur A (age 7), Gudmundur P (Palmie) (6), Kristjan E (3) and Gudridur L (Lillian) (age 1).
In 1901 baby Lillie was apparently taken in (adiopted) by Inga (nee THORSTEINSON) & John JONSSON aka HENRY (1867-1941). In Census 1901 she was enumerated first with her parents, and then/ also as a "Lodger" with the HENRY family in East Selkirk. (That census was enumerated between Apr 1 and May 28).
On Dec 13, 1901 daughter Kristjan died in Selkirk. She was only four years old.
It seems that, perhaps around 1903, Nicholas moved to Netley Lake.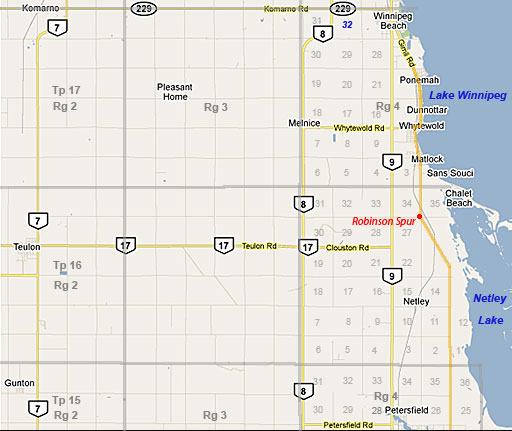 Old Gimli Road (orange line)
Nicholas GOODMAN dies
1905
According to Vital Stats, Nicholas GOODMAN died on Jul 15, 1905 in Winnipeg, age 48 (Note that when he died Vital Stats recorded his name as GOODMAN. Also note that Nicholas died in Winnipeg (probably in a hospital there), while his wife Hallgurder was living at Netley Lake.
In the censuses of 1906 and 1911, Widow H. GOODMAN was recorded at Netley Lake with her three sons, Oliver, Palmie and Alfred. Daughter Lillie remained with the HENRY family.
World War I
1914
On Aug 4, 1914 Great Britain (Canada on Aug 5) declared war on Germany and Austria-Hungary to uphold treaties with France and Belgium which were under German attack. This marked the beginning of World War I.
On Dec 11, 1915, son Palmie enlisted for war service at Selkirk. One week later (Dec 18), son Oliver also enlisted.
In the Census of  1916, Widow Halgar GOODMAN was again recorded at Netley Lake as aged 53. Her children were then recorded as Oliver (age 21), Palmie (age 20), Alfred (age 14) and Erick (age 12). Their neighbours are the aforementioned family of Inga & John HENRY where daughter Lillie GOODMAN was again recorded as an "adopted daughter" of John HENRY. What is puzzling about this record is the first mention of 12 year old son Erick GOODMAN (born about 1804) as a child. Where was he when the censuses of 1906 and 1911 were taken?
On June 4, 1918, son Palmie re-enlisted for war service (this time in Winnipeg). His previous military service was then indicated as 11 months with the 108th Battalion.
November 11, 1919, Armistice Day (Remembrance Day) marked the end of the First World War.
On Jan 18, 1925, son Palmie married in Selkirk to Elizabeth McLENNAN, daughter of Mary Elizabeth BEAR & James Alfred McLENNAN (1876-1941).** MORE ABOUT JAMES ALFRED McLENNAN.
By 1940 son Alfred was married to Julia BIY, daughter of Fanny and Steven BIY who was born about 1887 in Austria.
** Comments and queries at this link: FORUM DISCUSSING THE NICHOLAS GOODMAN FAMILY
=========================== Family Details ===========================
Children:
1. Aug 18, 1893 OLAFUR (OLIVER) A GUDMUNDSON/ GOODMAN (m. Catherine CRAFT)
2. Feb 21, 1895 PALMI GOODMAN (m. Elizabeth McLENNAN)
3. Jul 31, 1897 KRISTJAN ELDYARIN GUDMUNDSON/ GOODMAN (Died age 4)
4. Apr 13, 1900 GUDRIDUR LILLIE GUDMANSON/ GOODMAN
5. Mar 10, 1902 ALFRED JOHAN GUDMUNDSON/ GOODMAN (m. Julia BIY)
?6. 1904 ERICK GOODMAN