GUDMUNDUR PALMI (PAUL) GUDMUNDSSON aka GOODMAN (1895-1949)
ELIZABETH "LIZZIE" McLENNAN (1903-1957)
(Last Updated: March 27, 2015)
Gudmundur Palmi (Paul) GOODMAN was born Feb 23, 1895 in Winnipeg, son of Hallgerdur OLAFSDOTTIR & Nicholas GOODMAN (1858-1905) who emigrated from Iceland to Canada in 1891.
** MORE ABOUT NICHOLAS GOODMAN
In 1901 this GOODMAN family moved to Selkirk, Manitoba. Palmi was six years old then (from the census that year).
This narrative is presented in memory of Charles "Charlie" GOODMAN (1932-2015), a long-time friend of the STILL family, and from the perspective of Charlie's life. It was inspired by Charlie's son Dale and my sister, Yvonne STILL.
Netley Lake
1903
Around 1903 (before 1906), when Palmi was about 8-10 years old, the family moved to Netley Lake (Matlock area).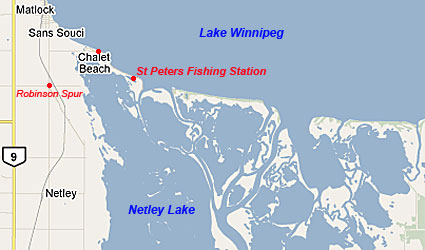 Mouth of the Red River – The Lake Winnipeg Marsh
In 1905 Palmi's father (Nicholas) died. Palmi would have only been about six years old then. His mother, Widow Helga (nee OLAFSDOTTIR) GOODMAN, remained at Netlsy Lake with her children for at least the next nine years and in the Censuses of 1906, 1911 and 1916 Palmi (age 11, 16 and 20 respectively) and his two brothers (Oliver & Alfred) were recorded with her there. This suggests a good possibility that Palmi and his brothers may have received some of their early schooling at the nearby Netley Mission.
Early settlers built a church and school called the Netley Mission near the spot indicated on the above map as Robinson Spur (so-named later, after the railroad reached the area). It is very difficult to determine exactly when the first Netley Mission was built, but we do know that Benjamin McKENZIE (1837-1928) served as the first rector and school-teacher, frequently travelling there from his home in Mapleton. The congregation was composed of about 26 families.
** MORE ABOUT REVEREND BENJAMIN McKENZIE
The family of Mary (nee BEAR) and Alfred McLENNAN (1876-1940) was also recorded in the Netley Lake area in the Censuses of 1906, 1911 and 1916; their daughter Lizzie (Palmi's childhood sweetheart and wife-to-be) as age 2, 7 and 12 respectively.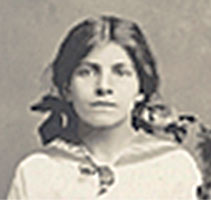 Elizabeth McLennan from a photo taken around 1920 (Photo from Cathy)
World War I
1914-1919
On Aug 4, 1914 Great Britain (Canada on Aug 5) declared war on Germany and Austria-Hungary to uphold treaties with France and Belgium which were under German attack. This marked the beginning of World War I.
On Dec 11, 1915 Palmie GOODMAN enlisted with the Canadian Armed Forces at Selkirk (108th Battalion). His attestation record indicated that he was 28 years old; 5' 3 ½", fair complexion, blue eyes, fair hair. Next of kin: his mother, Mrs H GOODMAN, address: St Louis P.O. (Petersfield). A second Attestation record is dated Feb 23, 1895 at Winnipeg with similar details.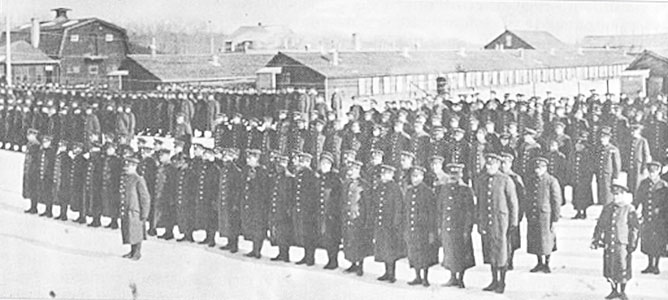 Soldiers at Red Feather Farm barracks (Eveline Street in Selkirk) during World War I
YOUTUBE VIDEO: WORLD WAR ONE HISTORY – CANADA 1/5
November 11, 1919, Armistice Day (Remembrance Day) marked the end of the First World War.
Marriage to Elizabeth McLENNAN
1925
On Jan 18, 1925 Palmi married Elizabeth McLENNAN in Selkirk, the daughter of Mary Elizabeth BEAR & James Alfred McLENNAN (1876-1941). ** MORE ABOUT JAMES ALFRED McLENNAN
By 1934 Palmi and Lizzie had four children; Jimmy (age 9), Freddie (7), Charlie (age 2) and baby Edna, all probably born at Netley Lake.
The GOODMAN family lived near the old Gimli Road, Netley and son Charlie recalled going to the Netley Lake School as a youngster. ** MORE ABOUT NETLEY LAKE SCHOOL in MHS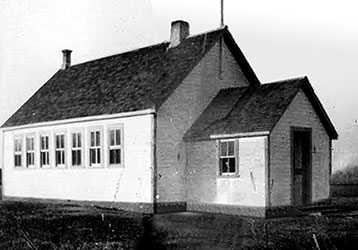 Netley Lake School No.775 (RM of St Andrews - SW22-16-4-Epm)
(Some photo restoration by Chris Still)
The Goodman Family moves to Selkirk
1938
Recollections of Yvonne STILL: In 1938 he GOODMAN family moved from their Netley Lake farm to Selkirk where their last/ youngest child, Johnny, was born in 1941. Charlie mentioned that his family lived for a time near the Red Feather Farm on Eveline Street in Selkirk. They became neighbours of the Roddy SPENCE family. Roddy and Palmi knew each other as veterans of the First World War. ** MORE ABOUT YVONNE and the RODDY SPENCE FAMILY
Yvonne: I met Charlie and his sister Edna when they enrolled at the Daerwood School during the mid-term year. Charlie started school in my class, Grade 6 - Miss GARDNER was our teacher - she was a little old lady who was very strict. Charlie was always big for his age. On his first day in the class room he entered smiling as usual and walked in his army boots shuffling making a big noise.  At recess he stomped in and out of class - then Miss GARDNER told him that he would spend his lunch hour indoors learning how to walk properly - lift your feet she said......this was my first introduction to Charlie.  From that day forward Charlie, his sister Edna and I became friends for a lifetime. On a Saturday nights as teenagers we all loved to go to country dances in Petersfield, Netley Creek and surrounding communities in either Charlie's car or our friend Ernie STILL's car.
In 1946 son Wilfred (Freddie) married Jean SHEARD in Selkirk, daughter of T.A. SHEARD from Ontario.
Mapleton (Old England)
In the mid 40's and early 50's Palmi and some of his family were living in Mapleton (Old England).
In 1948 eldest son James "Jimmy" married Agnes LEIBRECHT in Selkirk, the daughter of Emily and Conrad LIEBRECHT (1889-1953) from Russia who were farming west of Lower Fort Garry (Mapleton).
I (Gary) can remember Lizzie and Palmi visiting our place with Edna in the late '40's. Lizzie was suffering from cancer at that time.
Yvonne: Charlie did not complete high school so he went to work at the Manitoba Rolling Mills in 1947. 
On Sep 26, 1949 Palmi GOODMAN died on Lot 8 in Old England (Mapleton), aged 54. He was buried in the St George's Anglican Churchyard at Wakefield.
Youngest son Johnny lived with his sister Edna after their father died. I (Gary) remember Johnny when we were both youngsters and school-mates at the old Mapleton School. I was the local paper-boy at that time and I recall delivering papers to Edna at her little house near the school.
Tragic Death of Freddie GOODMAN
1952
In the summer of 1952 son Wilfred (Freddie) was working at a Lynn Lake construcion project 47 miles north of Sherridon, Manitoba. An article that appeared in the Winnipeg Free Press on July 2, 1952, indicated that an explosion occurred when shots that were fired at a bear missed the bear and accidentally hit a building that stored explosives. The entire work camp was levelled and two consturction workers were killed; Wilfred GOODMAN(age 24) of Selkirk (MB) and Phillip SEQUIN (age 30) of Pinewodd (MB). Another man, Lex MONTGOMERY of Lac du Bonnet (MB), survived. The explosives cache was about 200 yards from five camp builiings and the blast created a crater that was 60 feet across, 30 feet wide and 23 feet deep.
On Nov 8, 1952 daughter Edna married James (Jimmy) LAW in Selkirk, son of Mabel THURSTON and Charles Ronald "Bud" LAW (1905-1956). ** MORE ABOUT CHARLES RONALD LAW
Yvonne: The Manitoba Rolling Mill was sold in 1955 and renamed Stelco Steel Mills. At this time Stelco began building a Steel mill in Edmonton and were in need of experienced Steel workers for the new mill so they invited Charlie to transfer to Edmonton to help start up the new mill in Edmonton if he was interested. Charlie accepted the offer the transfer to Edmonton..
On Aug 30, 1957 Elizabeth (nee McLENNAN) GOODMAN died at the King Edward Hospital in Winnipeg; buried in the Wakefield Cemetery (south of Petersfield).
Yvonne: In 1958 Charlie moved into his own apartment (in Edmonton) and took care of his brother John after their Mom passed away. John attended high school and Charlie took his role as a parent of his young brother very seriously and encouraged him to stick with his studies. As a method of encouragement he would reward for him with the use of his brand new car (1957 Chevrolet).  Needless to say John was ecstatic and passed with flying colors. He joined the Air Force and became an officer (Navigator).
About 1960 son Charlie married in Edmonton to Jean GATTENS from Manchester, England, daughter of Margaret SUNNE and John GATTENS (1908-1994).
** MORE ABOUT JOHN GATTENS, SPORTS HALL OF FAME
On Feb 14, 2001 son James "Jimmy" GOODMAN died in Chilliwack, BC
On Sep 29, 2012 daughter Edna (nee GOODMAN) LAW died, and on Oct 20, 2013 her husband James "Jimmy" LAW died, both in Selkirk
On Feb 10, 2015 Charlie GOODMAN died in the hospital at Langley, BC. He would have been about 83 years old. He was survived by his wife Jean, two daughters (Catherine and Linda) and two sons (Dean and Dale).
At Charlie's funeral, Yvonne STILL presented the Eulogy from which much of the above narrative is based. See her eulogy on the Forum at the link below.
Comments and queries at this link: FOURM DISCUSSING the PALMI GOODMAN FAMILY
=========================== Family Details ===========================
Children:
1. Dec 24, 1925 JAMES PALMI "JIMMY" GOODMAN (m. Agnes LIEBRECHT)
2. 1927 "FREDDIE" GOODMAN (m1. Marion THURSTON, m2. Jean SHEARD)
3. Feb 1, 1932 CHARLES "CHARLIE" GOODMAN (m. Jean GATTENS)
4. Dec 6, 1934 EDNA GOODMAN (JAMES "JIMMY" LAW)
5. JOHN "JOHNNY" GOODMAN