RODERICK ESMOND "RODDY" SPENCE (1886-1960)
FLORENCE ADELINE GRAY (1892-?)

(Last Updated: March 24, 2015)

Roderick Esmond "Roddy" SPENCE was born on Dec 18, 1886 in Mapleton, son of Catherine KIPLING and Magnus SPENCE (1857-1890), both half-breeds.

More about Roddy's childhood and bachelor years can be gleaned by reviewing the story of his parents at the following link: MAGNUS SPENCE

In brief: His father (Magnus SPENCE) died in Mapleton when Roddy was only about four years old; his mother (Catherine) remarried to Alfred INKSTER who died in 1896. Widowed again, Catherine struggled to raise four surviving children (Robert SPENCE, Roddy SPENCE, Mary Louise SPENCE and Gordon INKSTER).

My own information about Roddy's life is pretty sketchy; limited to a few tidbits that I picked up here and there. I am hoping some family members will provide us with more details and stories. This page will be updated accordingly, hopefully in the near future.

Manitoba Historical Society - The Hudson Bay Railway Survey, 1910-1911: A Memoir by W. H. HUNT (Part 2) Manitoba History, Number 38, Autumn / Winter 1999-2000:  Shooting the Rapids: Our fleet consisted of two York boats, eight freight canoes, and two small prospector's canoes. The four freight canoes allotted to each of the two survey parties, in addition to the dunnage of the occupants, carried four men. In our canoe we had an HBC steersman, Roderick SPENCE. At the bow sat Alex LYONS, a very fine man from Selkirk. This is probably our Roddy and Alex LYONS b-1879, son of Alice "Granny" & WILLIAM LYONS (1856-1939) of Mapleton. Alex LYONS became a Dredge Master.

World War I
1914-1919

On Aug 4, 1914 Great Britain (Canada on Aug 5) declared war on Germany and Austria-Hungary to uphold treaties with France and Belgium which were under German attack.

YOUTUBE VIDEO: WORLD WAR ONE HISTORY – CANADA 1/5


On Dec 13, 1915, Roddy's step-brother Gordon INKSTER enlisted as a soldier at Selkirk; stating his next of kin as his mother, Catherine INKSTER of Selkirk. Gordon's Attestation Record is available online.

WW I Attestation for Roddy:  Archivianet lists a Roderick Emonde (Esmond) SPENCE, Reg No 2293509. Roddy served overseas during the War with the Strathcona Horse.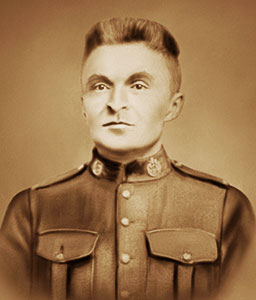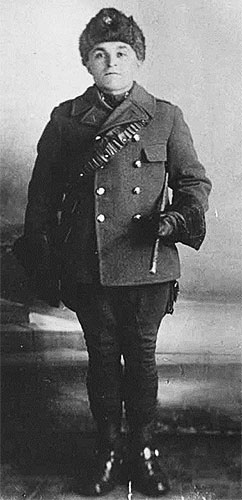 Soldier Roderick Spence (Courtesy Catherine Lynd)
When the census was taken in 1916 Roddy was enumerated at 233 Stanley Ave in Selkirk as a 26 year old "Wholesale Salesman".  With him are his mother (Widow Catherine INKSTER); his step-father (Thomas KIPLING).
Roddy marries Florence GRAY
1919
On July 10, 1919 Roddy married in St Boniface to Florence Adeline GRAY, daughter of Jane (nee SINCLAIR)-GRAY (1863-1945). More about GRANNY JANE GRAY
November 11, 1919, Armistice Day (Remembrance Day) marked the end of the First World War.
Census 1921, Village of Clandeboye: Roderick SPENCE (age 34), wife Florence (age 27) and daughter Violet May (age 2).
In 1922 Roddy became the Light House Keeper at the mouth of the Red River.
By about 1929 Florence & Roddy had three children (Violet, Inez and Dudley)
Perhaps around 1936-37 Florence & Roddy took in a foster child, Yvonne SHAND, who would have been around three to five years old at that time. She had previously been a foster child of Mary Ann (nee FIDLER) & Frank REID (1879-1936). More about Yvonne and FRANK REID
Yvonne's memories of Roddy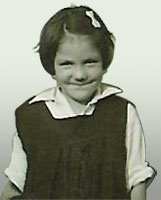 Roddy was a light house keeper at the mouth of the Red River for over 20 years. He used to row and sail in his boat the 21 miles to the mouth of the Red River (from Breezy Point) and lived there from the time of the spring ice break up to late fall. He took care of two light houses, one was nearby the house we lived in which was on stilts - and the big Light house was about a half a mile up the river overlooking Lake Winnipeg- he would light this lamp with coil oil I guess. Every evening and every morning we went in the row boat to blow the lamps out. As a youngster I (Yvonne) used to travel with him to light the lights and was always terrified climbing up the metal ladder to the Big Light House, but Daddy SPENCE would always encourage me by saying "come on my baby just don't look down" - he also used to catch fish - he would throw nets into the lake and would send them to market with Roy STEPHENSON's fishing boat - often Dudley and I would accompany him at 5:00 am when he threw out the nets and brought the fish in. Sometimes those waves on Lake Winnipeg were so high it was a very scary task.
Mom SPENCE (Florence) and I would go there for the summer holidays. I used to play under the house by myself - they had chickens in nests under there and I would spend hours chasing the Rooster because he was bothering the chickens. We also had a dog. I learned to swim there and also had my own row boat that I used to row through the weeds etc. I loved it there and was never lonesome for my friends.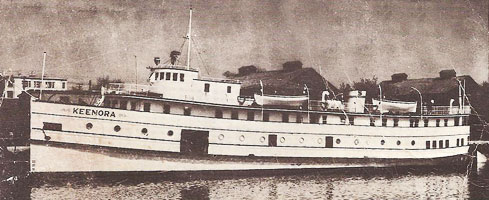 Vi SPENCE worked on the SS Keenora while she was attending University - when the Keenora passed by our light house on the Red River she would throw off candy bars, papers etc in a glass jar and we would row out to pick up the goodies.
During the winters, Roddy was a bookkeeper for the SUTHERLANDs in Clandeboye.
In 1950 Roddy retired from his duties as Light House Keeper.

==========================================
In 1952 Yvonne SHAND married at the St Clements Church in Mapleton to Ernest STILL (1928-2004), son of Bessie CONRAD & James STILL (1894-1980). More about JAMES STILL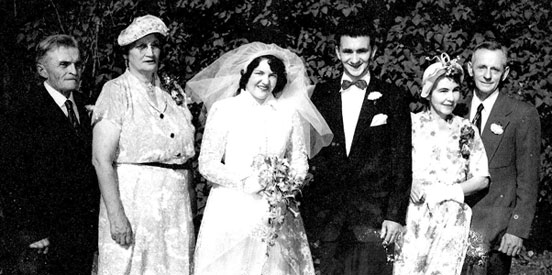 From wedding picture of Aug 9, 1952
L-R: Roddy & Florence Spence; Yvonne & Ernie Still; Bessie & Jim Still
In 1960 Roddy died at his home (483 Stanley Ave) in Selkirk at the age of 74. 
Roddy's step-brother, Alexander Gordon INKSTER, died on Mar 24, 1972 in Vancouver, BC, age 74.
Please post comments & queries at this link: FORUM DISCUSSING RODDY SPENCE and his FAMILY
=========================== Family Details ===========================
Children:
1. 1919 VIOLET MAY SPENCE (m. Langtry LYND)
2. c1925 INEZ SPENCE (m. Leland P "Lee" BANNISTER)
3. 1929 ROBERT DUDLEY SPENCE (m. Noreen "Nonie" MORRISON)
Foster Child:
1. Oct 3, 1933 YVONNE SHAND (m. Ernest Wilbert STILL)
** MORE ABOUT YVONNE & ERNIE STILL