DANIEL "DAN" GRAY (1853-1930)
JANE "GRANNY GRAY" SINCLAIR (1863-1945)
(Last Updated: October 18, 2014)
Daniel "Dan" GRAY was born Jun 2, 1853 in Ireland. As a young boy he went to South Dakota, USA, which was his home for the next 25 years.
Around 1863 Daniel's wife-to-be, Jane SINCLAIR, was born in Red River. ** In a Scrip affidavit filed many years later she indicated that her father was John SINCLAIR and that she received Half-Breed Scrip only after she was 'Discharged from Treaty' and received $240 less $50 in 'commutation of Indian Annuities' she had received. This clearly indicated that she was at one time on the Treaty Pay List as a member of the St Peters Band of Indians.
Canadian Confederation
A Red River Metis Rebellion
Signing of Treaty Number One
Manitoba becomes a Province
1867-1871
On July 1, 1867 the British colonies in North America were united under the British North American Act to become the Dominion of Canada.  Sir John A MacDONALD (1815-1891) was appointed as Canada's first Prime Minister; a month later he won the first federal election. William McDOUGALL (1822-1905) became the Minister of Public Works, and he began negotiations to acquire Rupert's Land from the HBC.
On Oct 11, 1869, Louis RIEL (1844-1885) placed his foot on the surveyors' chain to tell them their work was finished! This marked the beginning of the Red River Métis Rebellion.
On July 15, 1870 Manitoba became the fifth province of Canada, the Canadian Government having acquired the territory previously governed by the HBC.
Census of 1870 in St Clements Parish (Lot 45): John SINCLAIR, age 45; wife Mary, age 40. Children: Samuel (age 13) and Jane (age 9). ** Here the assumption is made that this is our Jane SINCLAIR who would later marry Daniel GRAY.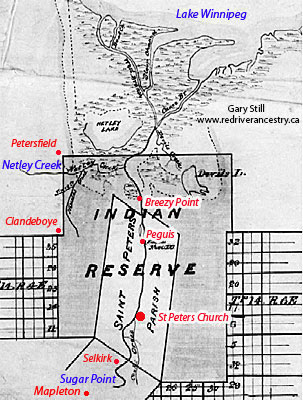 St Peters Reserve Boundaries after the signing of Treaty Number One in 1871
On Aug 3, 1871 Red Eagle - Mis-koo-ki-new or Henry PRINCE (1819-1902) signed Treaty Number One on behalf of the St Peters Band of Indians. ** MORE ABOUT CHIEF HENRY PRINCE
In an article in the Daily Free Press (Manitoba) dated Feb 13, 1875 a list of the names of Indians who were paid annuities includes a John SINCLAIR.
In 1872 the Dominion Lands Act and the Homestead Act were passed, to encourage settlement in Canada's Prairie Provinces. Anyone over 21 could make entry for a quarter-section of land. If the homesteader built a house and made improvements on his land, after three years he would receive full title to the property.
The Town of Selkirk comes into Existence
1875
The Town of Selkirk only came into existence in 1875 when the Canadian Pacific Railway (CPR) located its offices there. Considerable construction took place the following year; stores and hotels, in anticipation of its future importance as a railway centre. Construction of the segment of the railroad that would link Thunder Bay to Winnipeg had only just begun.
Daniel GRAY Arrives in Winnipeg
A Homestead near Molson, Manitoba
1877
In 1877 Daniel GRAY (age 25) moved from North Dakota to Winnipeg where he made his home at 527 Pacific Avenue. Tthis was during a period when there was a great influx of immigrant settlers from all over the world who came to Manitoba, enticed by government offers of land grants and homesteads.
Western Land Grants: Daniel A GRAY; NE-23-13-9-E1 (undated); an area designated for Homesteads. This location is about 5 miles north of Molson (a CPR railway station), MB and west of Milner Ridge; an area surrounded by swamp lands. It was not likely a suitable site for development and was probably abandoned; the patent expired. There is no indication that Dan ever received patent for the property.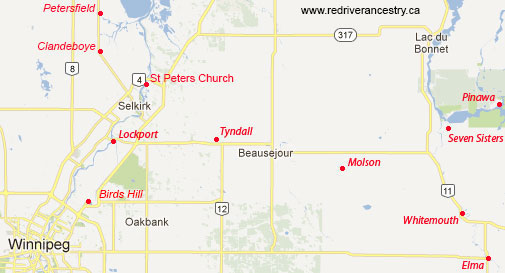 There were very few good roads in the area that Daniel GRAY selected for his homestead. Most travel was done along the waterways in the early days. The Brokenhead River was one of the waterways through that area and thus it was often referred to as the Brokenhead District.

On Sep 4, 1877 CPR Engine No.1, the Countess of Dufferin, arrived in Winnipeg. A stagecoach was established with round trips from Winnipeg to Selkirk taking two days. There was also a railroad branch line in full service from Winnipeg to Colville Landing (East Selkirk).

Daniel GRAY and Jane SINCLAIR
1878

Around 1878 Dan was married to the aforementioned Jane SINCLAIR. Most of Dan's story is revealed in Census records, beginning with the one in 1881. That year he was enumerated in St Clements Parish in the household of James TYGE, also an Irishman. Dan was then recorded as a 28 year old Labourer in the USA. His wife's name is Jane (age 18) and he has a one year old daughter named Katie. St Clements Parish at that time covered a fairly vast area, so doesn't really tell us much about the specific area where they were living.
For most of his life, Dan worked itinerantly as a Cook.

Dan and Jane SINCLAIR Estranged?
1885+

By 1885 we know that Jane & Dan had a family of three daughters (Katie, Sarah and baby Olive). It is important to note that none of the censuses after 1881 record Dan and Jane living together. Although Jane was recorded many times thereafter as Jane GRAY, and until the day she died she was affectionately known as "Granny GRAY", one has to wonder if Dan was actually the father of those children born after 1885.

With the Census of 1891 we find Jane and Dan recorded separately. Dan is nowhere to be found in that census while Jane is recorded as a Housekeeper and lodger in the home of Thomas PIERSON, a Wood & Lime Merchant in East Selkirk (a married man with four children of his own). Jane has her three daughters lodged with her there. It seems that Dan GRAY had a permanent residence at 527 Pacific Avenue in Winnipeg for most of his life.

From Library of Archives Canada:  Dated Oct 27, 1893 for Jane GRAY, wife of Daniel GRAY and daughter of John SINCLAIR. Being 240.00$ less 50.00$ the amount already received by Miss GRAY in commutation of her Indian annuities) - Scrip number 0381 - Amount 190.00$.

On Dec 30, 1896 eldest daughter Katie married James Duncan DEWAR in Selkirk, son of Johanna McKAY and William DEWAR SR (1828-1910) from Scotland. In 1900 Duncan DEWAR died in Selkirk.

In Census 1901 we find Dan employed as a cook and still in the Brokenhead District (Tyndall). He has his 16 year old daughter Olive with him. However, Jane was recorded separately that year as well, in the Town of Selkirk, where she has daughter Florence (age 8) and a one year old son named Lawrence GRAY, a new addition to the family. The major employer in Tyndall around that time was the Stone Quarry.

In 1903 daughter Sarah married William John CATHCART in Winnipeg, son of Emmeline EVOY and Alexander CATHCART (b-1834).

Around 1904 daughter Marion (Alberta) GRAY was born, according to the Census of 1906 which lists her (age 2) with her mother (Jane) on Vaughan Avenue in Selkirk, along with her siblings Florence (age 13) and Lawrence (age 5) . Interestingly, in this census Jane states that she is a 'widow'. She certainly wasn't the widow of Dan GRAY who was alive and well, and yet again recorded separately in the Tyndall area household of Anna & Victor LINDQUIST, this time as a 32 year old "bachelor" (another puzzler).

In 1909 widowed daughter Katie DEWAR remarried to Walter John HUNTINGFORD in Winnipeg, son of Louisa KINGETT and Walter Frederick HUNTINGFORD (b-1854).
In 1909 daughter Olive married Harry HOSKINSin Winnipeg, son of Anna THORN and William George HOSKINS (1835-1904).

Now we come to Census 1911 that records a 47 year old Jane GRAY, yet without a hubby, still on Vaughan Ave in Selkirk with her children: Florence (age 18), Lawrence (age 10) and Marion (age 7). The same census records Dan GRAY in the Macdonald District, employed as a cook with a plowing outfit under the ownership of one Robert B CHRISTIE, an Irishman from the USA.

World War I
1914-1919

On Aug 4, 1914 Great Britain (Canada on Aug 5) declared war on Germany and Austria-Hungary to uphold treaties with France and Belgium which were under German attack. This marked the beginning of World War I.

In 1915 son Lawrence and son-in-law Harry HOSKINS enlisted.
Future son-in-law Roderick SPENCE also enlisted (don't have date).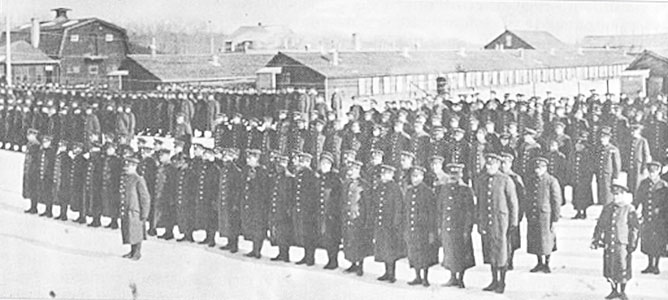 Soldiers at Red Feather Farm barracks (Eveline Street in Selkirk) during WW I
Census of 1916 at 250 Vaughan Avenue in Selkirk: Jane GRAY (age 52) with her children: Florence (age 22), Lawrence (age 16) and Marion (age 12). Dan GRAY is nowhere to be found in this census.
November 11,1919, Armistice Day (Remembrance Day) marked the end of the First World War.
In 1919 daughter Florence married Roderick SPENCE in St Boniface, son of Catherine KIPLING and Magnus SPENCE (1857-1890). ** MORE ABOUT MAGNUS SPENCE
Census of 1921 at 250 Vaughan Avenue in Selkirk:  Widow Jane GRAY, Housekeeper,, age 57. Children: Lawrence (age 20) and Marion (age 19).
In 1922 son Lawrence married Wilhelmina CROSSLEY in Selkirk.
Daniel GRAY Dies in Winnipeg
1930
On Aug 11, 1930 Daniel GRAY died at the Winnipeg General Hospital at the age of 78. His obituary indicated that he had been a resident of 527 Pacific Avenue for the past 53 years (since 1877). Daughter Sarah CATHCART lived with him ther for some time prior to his death. He was buried in the Brookside Cemetery.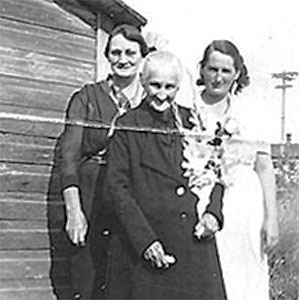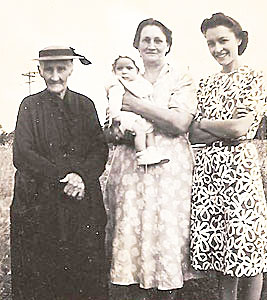 Jane (nee Sinclair) 'Granny Gray with daughter Florence Spence, etc
In 1945 Jane (nee SINCLAIR) 'Granny' GRAY died in Selkirk.
Comments & queries at this link: FORUM DISCUSSING DESCENDANTS of JANE SINCLAIR and DANIEL GRAY
=========================== Family Details ===========================
Children of Jane GRAY:
1. 1879 KATIE A GRAY (m1. James Duncan DEWAR; m2. Walter John HUNTINGFORD)
2. 1882 SARAH VICTORIA GRAY (m. William John CATHCART)
3. Feb 25, 1885 OLIVE FLORENCE GRAY (m1. Alvin SAWYER, m2. Harry HOSKINS)
4. Oct 24, 1892 FLORENCE ADELINE GRAY (m. RODERICK ESMOND "RODDY" SPENCE)
** MORE ABOUT RODDY SPENCE **
5. Nov 7, 1900 JOHN ERNEST LOUIS LAWRENCE GRAY (m. Wihelmina CROSSLEY)
6. Nov, 1903 MARION (ALBERTA) GRAY (m. UNKNOWN)
=========================== Notes & References ===========================