MAGNUS SPENCE (1857-c1890)
CATHERINE (nee KIPLING) SPENCE-INKSTER (1863-1941)
ALFRED WILLIAM INKSTER (1868-1896)
(Last Updated: February 04, 2016)
Magnus SPENCE was born Aug 9, 1857 in Mapleton, the eldest son of Sarah BIRSTON & Jacob SPENCE (1830-1906). He undoubtedly was named Magnus after his maternal grandfather, Magnus BIRSTON (1811-1875).
Canadian Confederation and a Red River Rebellion
Creation of the Province of Manitoba
1867-1870
On July 1, 1867 the British colonies in North America were united under the British North American Act to become the Dominion of Canada.  Sir John A MacDONALD (1815-1891) was appointed as Canada's first Prime Minister.
On Oct 11, 1869, Louis RIEL (1844-1885) placed his foot on the surveyors' chain to tell them their work was finished! This marked the beginning of another Red River Métis Rebellion. Magnus was 12 years old when the rebellion occurred.
When it was all over, RIEL's Provisional Government accepted the terms of the Manitoba Act andon July 15,1870 Manitoba became the fifth province of Canada, the Canadian Government having acquired the territory previously governed by the HBC. In December of 1870 a Census of Red River was completed. This information would be later used to determine who would be eligible for Land Grants and Scrip.
In 1875 anyone claiming status as a half-breed living in Manitoba when the 1870 census was taken became eligible to apply for Half-breed Scrip which entitled them to a Land Grant of 240 acres. Over the next few years the government was busy taking applications and issuing Scrip certificates and land grants.
The Town of Selkirk comes into Existence
1875
In 1875 it was thought that the CPR mainline from the Great Lakes to the far west was going to pass right through Mapleton. Land speculators rushed to grab up land in the area; a construction boom followed (new stores and hotels, etc) in anticipation of its future importance as a railway centre. Mapleton essentially became a mere suburb when the Town of Selkirk was incorporated that year. Unfortunately for many of these entrepreneurs, within a few years it was decided that the main railway line would pass through Winnipeg instead. Nevertheless, a flood of immigrant settlers began to arrive and the entire region would soon be inundated with homesteaders and land-grabbers.
It is uncertain whether Magnus received Half-breed Scrip (his name does not appear in the Archive scrip records), but on Nov 17, 1877 he obtained a land grant (perhaps a Homestead Grant) for a 240 acre property located a few miles north of Tyndall. This was not far from the CPR railway line that was under construction from the Great Lakes region west through Rat Portage (Kenora) and Whitemouth to East Selkirk.
Many people from the Lower Fort Garry and Selkirk areas chose land grants in this same general area, including Jane & Thomas KIPLING (1834-1921) who located just down the road from Magnus' property. Magnus soon began a courtship with their teenage daughter Catherine.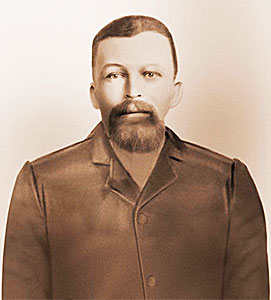 Magnus Spence (Courtesy of Catherine Lynd)
Magnus marries Catherine KIPLING
1879-1890
By 1879 Catherine KIPLING and Magnus SPENCE were married. Their first child, Robert Magnus, was born in June of 1880. Catherine & Magnus moved back to Mapleton soon after they were united. Their home was located between that of his father (Jacob) and Charles BEGG. Catherine was the daughter of Jane HOURIE and Thomas KIPLING (1834-1921).
** MORE ABOUT THOMAS KIPLING
Daughter Gertrude was born in 1884, son Roderick (Roddy) in 1886.
In 1888 Magnus SPENCE is listed renting a pew at St Clements Church in Mapleton.
Daughter Rebecca was born on Jan 19, 1889.
 Years of Tragedy
1890-1891
On Apr 23, 1890 six year old daughter Gertrude died and on July 24 baby Rebecca died, only six months old. Two months later, on Sep 21, 1890, daughter Mary Louise was born.
On Jan 7, 1891 Magnus SPENCE died. He was only 33 years old. We don't know what caused Magnus' death at such a young age but grief and stress most certainly would have been mitigating factors. When the census was taken later that year it recorded 27 year old Widow Catherine SPENCE in Mapleton with two sons, Robert & Roddy, and a six month old daughter Mary Louise.
Widow Catherine marries Alfred INKSTER
1892-1896
Alfred INKSTER was born 1868 in Kildonan (Winnipeg), son of Mary TODD & William INKSTER (1836-1868). His father (William), a Schoolmaster, died of Typhoid around the time Alfred was born. He grew up in Kildonan with his widowed mother (Mary).
On July 7, 1892 Widow Catherine SPENCE and Alfred INKSTER were married in Winnipeg. Alfred was about 24 years old when they married; Catherine about 28 years old. They began their married life in Selkirk.
In March of 1894 Catherine SPENCE received a 240 acre Land Grant (by virtue of her Halfbreed Scrip entitlement) for S ½ 28-13-7 E1 (NE of Tyndall; SW of Ladywood).
Lets face it, Alfred INKSTER was not cut out to be a farmer; he was a born and raised as a city boy without the benefit of a father to guide him. In 1894 his step-sons, Robert & Roddy SPENCE would have been about 13 and eight years old respectively and probably had more experience with this life style than their step-father.
During the next few years, Alfred and his step-sons undoubtedly got to know the family of Daniel GRAY (1853-1930) who lived not far from their farmstead. Son Roddy would have met his future wife (Florence GRAY) for the first time during this period; they probably played together as youngsters. ** MORE ABOUT DANIEL GRAY
Around 1895 Catherine's sister-in-law, Catherine SPENCE became the wife of Captain Adam BLACK (1840-1911). The same year sister-in-law Frances SPENCE married Peter FIDLER (1867-1955).
Tragedy repeats itself
1895-1897
On June 24, 1895 Catherine gave birth to a baby boy (Reynolds Todd INKSTER) who only lived a few months (died Sep 11, 1895).
On Oct 15, 1896 Alfred INKSTER died in Winnipeg, leaving pregnant wife Catherine a widow yet again. Five months later (Mar 14, 1897) she gave birth to another boy (Alexander James Gordon INKSTER). She returned to Mapleton where she and her children were taken in by her aging parents, Jane (age 60) & Thomas KIPLING (age 63).
A Widow Again
Life was certainly not kind to Catherine KIPLING-SPENCE-INKSTER, but she faced the blows and carried on with admirable courage and tenacity.
In the Census of 1901 Widow Catherine and three year old son, Gordon INKSTER, were living with her parents in Mapleton. She was recorded as a 'Charwoman'. Eldest son Robert SPENCE (age 19) was working as a "Store Clerk" and he was living in a Hotel room in Selkirk. The names of 15 year old son Roddy SPENCE and his 10 year old sister Mary Louise SPENCE don't appear anywhere in this census.
In 1906 Widow Catherine was recorded as a "Servant" in the Selkirk household of Lumber Merchant Frank HOOKER (1860-1935), widowed at the time with several youngsters who needed care. Eldest son Robert SPENCE was still living in his hotel room nearby. Son Roddy SPENCE (age 20) was now a "boarder" in the household of Ed QUICKFALL. Son Gordon INKSTER (age 8) remained with his KIPLING grandparents (now in their 70's) in Mapleton.
On June 2, 1910 daughter Louisa SPENCE married at the FIDLER home in St Paul (Middlechurch) to Joseph Cornelius FIDLER (1887-1975), son of Annie Caroline BIRD & Joseph FIDLER (1863-1934).
In 1911 Catherine and son Gordon INKSTER were living right next door to the Mapleton School. Their nearby neighbour was her brother-in-law, Old Jake SPENCE (1878-1953).
World War I
1914-1919
On Aug 14, 1914 Great Britain declared war on Germany and Austria-Hungary to uphold treaties with France and Belgium which were under German attack.
On Dec 13, 1915, son Gordon INKSTER enlisted as a soldier at Selkirk; stating his next of kin as his mother, Catherine INKSTER of Selkirk.
Census 1916: All with son Roddy SPENCE (a 26 year old "Wholesale Salesman") at 233 Stanley Avenue in Selkirk: Widow Catherine INKSTER (age 47); her father (Tom KIPLING, age 83); and soldier son Gordon INKSTER (age 18).
We know that Roddy SPENCE also enlisted during WW I. His name can be found in the Military Attestation Records, but unfortunately no other details are provided.
On July 10, 1819 son Roddy SPENCE married in St Boniface to Florence GRAY, daughter of Jane (nee SINCLAIR) GRAY. ** MORE ABOUT FLORENCE SINCLAIR and DANIEL GRAY
On Aug 22, 1921 Catherine's father (Thomas KIPLJNG) died in St Peters at the age of 89. Her mother (Jane) died Dec 19, 1922 in Selkirk.
In the 1921 Census Widow Catherine SPENCE (age 50) was recorded at 233 Stanley Ave. in Selkirk with her youngest son, Alexander INKSTER (age 23).
On Feb 16, 1941 Catherine INKSTER died in Selkirk, age 77.
Please post comments & queries at this link: FORUM DISCUSSING MAGNUS SPENCE & his FAMILY
=========================== Family Details ===========================
Children of Catherine KIPLING & Magnus SPENCE:
1. June 30, 1881 ROBERT MAGNUS SPENCE
2. Apr 4, 1884 GERTRUDE SPENCE (Died in infancy, age 6)
3. Dec 18, 1886 RODERICK ESMOND "RODDY" SPENCE (m. Florence GRAY)
4. Jan 19, 1889 REBECCA MYRA SPENCE (Died in infancy, age 1)
5. Sep 21, 1890 MARY LOUISE SPENCE (m. Joseph Cornelius FIDLER)
Children of Catherine KIPLING & Alfred INKSTER:
1. Jun 24, 1895 REYNOLDS TODD INKSTER (Died in infancy)
2. Mar 4, 1898 ALEXANDER JAMES GORDON INKSTER