THOMAS KIPLING (1834-1921)
JANE HOURIE (1837-1922)
(Last Updated: February 04, 2016)
On Nov 10, 1834 Thomas KIPLING was born (and raised) in St Clements/ St Andrews Parish (near Little Britain), the son of Isabella LANDRY and George KIPLING (1805-1878).  ** MORE ABOUT GEORGE KIPLING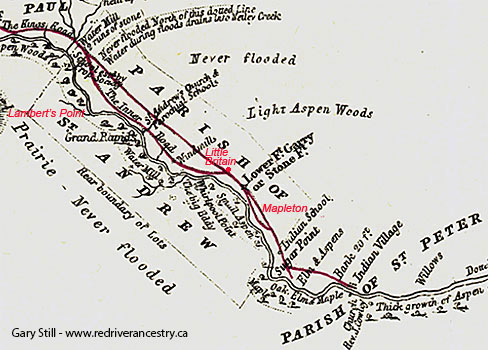 St Andrews Parish from Hind's Map of 1857
In 1857 Thomas was employed by the Hudson's Bay Company (HBC) on a five-year work contract (until 1862) as a voyageur (middleman in a canoe).
Marriage to Jane HOURIE
1859
On Feb 10, 1859 Tom married Jane HOURIE in St Andrews, the daughter of Jessie DENNETT and John HOURIE (1810-1896). ** MORE ABOUT JOHN HOURIE
Canadian Confederation
Creation of the Province of Manitoba
1867-1870
On July 1, 1867 the British colonies in North America were united under the British North American Act to become the Dominion of Canada.  Sir John A MacDONALD (1815-1891) was appointed as Canada's first Prime Minister.
In 1869 Louis RIEL (1844-1885)began to organize resistance to the anticipated transfer of the North-West to the Dominion of Canada without prearranged terms.
On July 15,1870 Manitoba became the fifth province of Canada, the Canadian Government having acquired the territory previously governed by the HBC. In December that year a Census of Red River was completed. The results recorded 5, 757 French-speaking Métis; 4, 803 white settlers and 558 Indians in the census region. This information would be later used to determine who would be eligible for Land Grants and Scrip.
Census of 1870 in St Clements Parish (Lot 38):  Thomas KIPLING, age 39; wife Jane, age 32. Children: Mariann (age 11), Catherine (9), Flora (6), Marguerite (4) and Jessie (age 1).
The Town of Selkirk comes into Existence
1875
In 1875 it was thought that the CPR mainline from the Great Lakes to the far west was going to pass right through Mapleton. Land speculators rushed to grab up land in the area; a construction boom followed (new stores and hotels, etc) in anticipation of its future importance as a railway centre. Mapleton essentially became a mere suburb when the Town of Selkirk was incorporated that year. Unfortunately for many of these entrepreneurs, within a few years it was decided that the main railway line would pass through Winnipeg instead. Nevertheless, a flood of immigrant settlers began to arrive and the entire region would soon be inundated with homesteaders and land-grabbers.
In 1875 anyone claiming status as a half-breed living in Manitoba when the 1870 census was taken became eligible to apply for Half-breed Scrip which entitled them to a Land Grant of 240 acres. Over the next few years the government was busy taking applications and issuing Scrip certificates and land grants.
On Jul 7, 1875, both Thomas KIPLING and his wife Jane (of St Clements Parish) applied for their Scrip.

By 1879 daughter Catherine was married to Magnus SPENCE and living in Mapleton, the eldest son of Sarah BIRSTON and Jacob SPENCE (1830-1906). ** MORE ABOUT JACOB SPENCE
In 1882 daughter Flora married Thomas SINCLAIR in Mapleton, son of Sarah WALLER and William SINCLAIR (1838-1924).
In 1888 Thomas KIPLING is listed renting a pew at St Clements Church in Mapleton.
Census of 1891 in St Andrews (Mapleton): Thomas KIPPLING, age 58; wife Jane, age 54. Children: Jessie (age 21) and Flora SINCLAIR (age 24) with her children: Alex SINCLAIR (age 8) and Isabella SINCLAIR (age 6).
In 1891 son-in-law Magnus SPENCE died, and in 1892 daughter Catherine remarried to Alfred INKSTER, son of Mary TODD and William INKSTER (1836-1868).
In 1892 daughter Flora SINCLAIR died. She was only 27 years old. ** Unable to determine what became of her two children (Alex and Isabella) – help would be appreciated.
Census of 1901 in St Andrews (Mapleton): Thomas KIPLING (age 69 and wife Jane (age 65). With them is widowed daughter Catherine INKSTER and her three year old son Gordon Alex INKSTER.
Census of 1906 in St Andrews (Mapleton): Thomas KIPPLING (age 73) and wife Jane (age 70). Grandson Gordon Alex INKSTER (age 8) is still with them, but not his mother (Catherine).
Census of 1911 in St Peters Parish: Thomas KIPPLING, age 79; wife Jane, age 76. They seem to be next-door to the Dynevor Hospital.
Census of 1916 in Selkirk (233 Stanley Ave): Thomas KIPLING (age 83) is the household of grandson Roddy SPENCE (age 26) and his mother, daughter Catherine (now INKSTER) and grandson Alex Gordon INKSTER.
Census of 1921 on River Lot 11 St Andrews Parish: Thomas KIPPLING (age 89) and his wife Jane (age 86).
On Aug 22, 1921 Thomas KIPLING died in St Andrews at the age of 89.
On Dec 19, 1922 Jane (nee HOURIE) KIPLING diedin Selkirk at the age of 88.
Comments and queries at this link: FORUM DISCUSSING THE THOMAS KIPLING FAMILY
=========================== Family Details ===========================
Children:
1. c1860 MARY ANN KIPLING
2. Mar 22, 1863 CATHERINE KIPLING (m1. Magnus SPENCE, m2. Alfred William INKSTER)
** MORE ABOUT MAGNUS SPENCE and ALFRED INKSTER
3. 1865 FLORA KIPLING (m. Thomas SINCLAIR)
4. c1867 MARGUERITE KIPLING
5. 1870 JESSIE KIPLING