JACOB SPENCE (1830-1906)
SARAH BIRSTON (c1831-1905)
(Last Updated: February 04, 2016)
Introduction
It is interesting to note that many of the prominent first settlers of Mapleton had previously been co-residents at Brandon House in 1812 when the first Selkirk Settlers began to arrive at Red River (Kildonan). Peter FIDLER (1769-1822) arrived that same year with his family to take charge of Brandon House and to assist the settlers by surveying lots and assist in building houses for them in the Kildonan area. The arrival of these settlers brought about the first Métis Rebellion led by Cuthbert GRANT (1796-1854) that lasted until about 1817.
Some names of men who lived around Brandon House during this period who can be later associated with Mapleton include the following: Peter FIDLER's sons, brothers Thomas Jonathan FIDLER (1795-1875) & Charles FIDLER (1798-1886); John LYONS (1786-1875); brothers Humphrey FAVEL (1775-1850) & Thomas FAVEL (1781-1848); brothers John KIPLING (1774-c1850) & George KIPLING (1805-1878); Magnus SPENCE (1755-1845); George SPENCE (1773-1859).
Just prior to their settling in Mapleton, most of the foregoing (and their children) were residents in a little village known as Birsay Village or "Orkney Town" (later St Francois Xavier, Manitoba), established in 1817, around the time the Métis Rebellion ended.
============================
Jacob "Jake" SPENCE was born on June 16, 1830 in Mapleton, the youngest child of a Cree woman and George SPENCE (1773-1859) from the Orkneys of Scotland, one of the first settlers in Mapleton as described in the above Introduction. ** MORE ABOUT GEORGE SPENCE
Construction of Lower Ft Garry was begun in 1832. This new fort became an important trading center for supplying goods to northern fur trading posts and packing furs for shipment to York Factory.
It wasn't until 1838 that construction of the bastions and stone walls around Lower Fort Garry was begun, under orders from Governor George SIMPSON (1786-1860). The Sixth Regiment of Foot completed them between 1846 and 1848. The fort became an important trading center for supplying goods to northern fur trading posts and packing furs for shipment to York Factory. It was definitely the hub of activity for the residents of Mapleton. This is where Jacob grew up, only a short walk from the fort.
By the time Jake reached school-age the only school in the Mapleton area was the Indian School (located just north of the St Clements Church as shown on the map below). This was a small log structure (20' x 40') that was established by Rev William COCKRAN (1798-1865). Joseph COOK (1788-1848), son of Chief Factor William COOK of York Factory, was the settlement's first Teacher. However, this school was soon abandoned because most of the Indian population had moved further north. The project was then moved a few miles down the river, to a situation where a creek joins it on the east side, which has long been known as Cook's Creek. Here in 1836, sufficient progress had been made to build the first St Peters Church which was used until 1854, and here Mr. COOK and the school were located. Chief PEGUIS (1774-1864) was baptized there in 1838. Soon after, COCKRAN departed for England.
In 1839 Rev John SMITHURST (1807-1867) arrived to replace COCKRAN. He was given exclusive charge of the St Peters Church and Parish.
In 1844 Jake's sister (Catherine) married Charles Robert BEGG (1814-1902). In 1852 his brother Peter SPENCE (1827-1902) married Clara SABISTON.
In 1853-54 the Church Missionary Society (CMS) re-established the Indian School at Sugar Point, only this time students would include children of white settlers (the St Clements stone church would later be built in the same area). Donald McDONALD became the schoolmaster; and Rev Charles HILLYER (Rev COCKRAN's son-in-law) undertook regular afternoon church services there.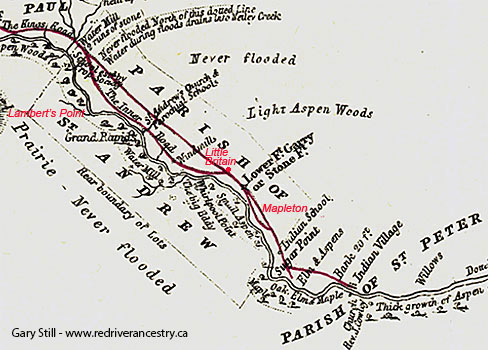 Jacob's home was on River Lot 6 (Mapleton) in St Andrews Parish
Jacob marries Sarah BIRSTON
1857
On Apr 30, 1857, Jacob SPENCE married Sarah BIRSTON. Sarah was four months pregnant at the time, with son Magnus who was born in August that year. Sarah was the daughter of Nancy LYONS & Magnus BIRSTON (1811-1875) who lived in a log house where Craig Avenue is today. ** MORE ABOUT MAGNUS BIRSTON
In 1857 Samuel TAYLOR (1812-1894), an HBC stonemason, arrived in Mapleton from the York Factory District to establish a home in Mapleton where he would begin construction of the St Clements Anglican Church.
On June 8, 1859 Jacob's father (George SPENCE) died in Mapleton.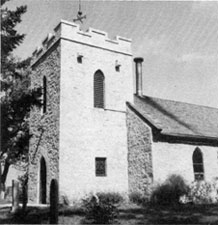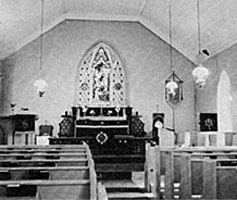 St Clements Anglican Church
On Dec 1, 1861 the St Clements Church was opened for divine worship by Lord Bishop of Rupertsland and Mr HUNTER. By this time, Jake had three young children; Magnus (age 4), Catherine (age 2) and baby Roderick.
In 1865 Jake's mother (Catherine) died in Mapleton.
Daughter Mary was born in 1863 in Mapleton; son George was born 1866 in St Peters.
Canadian Confederation and another Red River Rebellion
Manitoba becomes a Province
1867-1870
On July 1, 1867 the British colonies in North America were united under the British North American Act to become the Dominion of Canada.  Sir John A MacDONALD (1815-1891) was appointed as Canada's first Prime Minister.

Daughter Eliza was born around 1868.
On Oct 11, 1869, Louis RIEL (1844-1885) placed his foot on the surveyors' chain to tell them their work was finished! This marked the beginning of another Red River Métis Rebellion.
Jacob was about 39-40 years old during the Rebellion and he had six young children. There are no indications that he became directly involved in the affair. The Provisional Government established by RIEL was composed mostly of the French-speaking population from along the Assiniboine River, St Boniface and southern parts of the province.
From Kildonan north along the Red River the residents were almost all English-speaking half-breeds and members of the St Peters Indian Band under Chief Henry PRINCE (1819-1902).  Mapleton's representative in RIEL's Provisional Government was Thomas BUNN (1830-1875) who lived directly across the river from the St Clements Church.
MORE ABOUT THOMAS BUNN and the RED RIVER REBELLION
When it was all over, RIEL's Provisional Government accepted the terms of the Manitoba Act and on July 15,1870 Manitoba became the fifth province of Canada, the Canadian Government having acquired the territory previously governed by the HBC.
In December of 1870 a Census of Red River was completed. The results recorded 5, 757 French-speaking Métis; 4, 803 white settlers and 558 Indians in the census region. This information would be later used to determine who would be eligible for Land Grants and Scrip.
When the 1870 Census was taken, Jacob & Sarah and their family were recorded in what was then St Clements Parish with three children: Magnus (age 14); Catherine (age 11) and George (age 5). Daughters Annie and Frances were born in 1871 and 1873 respectively.
On Jul 9, 1875 both Sarah & Jacob claimed their Halfbreed Scrip. About1876-78 Jake applied for patent for Lot 6 Parish of St Clements. 
The Town of Selkirk comes into Existence
1875
In 1875 it was thought that the CPR mainline from the Great Lakes to the far west was going to pass right through Mapleton. Land speculators rushed to grab up land in the area; a construction boom followed (new stores and hotels, etc) in anticipation of its future importance as a railway centre. Mapleton essentially became a mere suburb when the Town of Selkirk was incorporated that year.
By 1879 son Magnus was married to Catherine KIPLING, the daughter of Jane HOURIE and Thomas KIPLING (1834-1921). ** MORE ABOUT THOMAS KIPLING
The 1881 Census indicated the addition of their last child, Jacob Jr. (born in 1878). Children of my generation would remember him as 'Old Jake SPENCE the Bachelor'. Eldest son Magnus was married now (to Catherine KIPLING) and had a baby boy (Robert Magnus). He was homesteading north of Tyndall (MB). Their next eldest, Catherine (Kate) SPENCE, about 22 years old, wasn't living at home in 1881, nor were their other children, Rod (20), Mary (18), and George (15).  So far, I have little info regarding these children.
In 1888 Jacob SPENCE is listed renting a pew at the St Clements Church. In 1891 five of their children were yet living with them (Catherine, George, Anne Mary, Frances and Jacob). By 1901 daughter Frances was married to Peter FIDLER and was living a short distance away, along the River Road.
Around 1895 daughter Catherine was the wife of Adam BLACK, son of Mary BRYDEN and Robert BLACK (1818-1906).
** MORE ABOUT ROBERT BLACK
In November of 1905 Sarah SPENCE died at the age 74. The Census of 1906 recorded Jacob as 76 years old. Three children were with him (George, Annie and Jake) as well as two grandchildren (children of daughter Catherine), Sarah & Rebecca BLACK (ages 10 and seven respectively). Sarah would later become Sadie CAMPION.
On July 31, 1906 Jacob SPENCE died in Mapleton. He was buried in the St Clements Cemetery.
Please post comments & queries at this link: FORUM DISCUSSING JACOB SPENCE & his FAMILY
=========================== Family Details ===========================
Children: 
1. Aug 9, 1857 MAGNUS SPENCE (m. Catherine KIPLING)
2. May 23, 1859 ANN CATHERINE "KATE" SPENCE (m. Adam BLACK)
3. June 2, 1861 RODERICK SPENCE
4. Nov 8, 1863 MARY ELIZABETH SPENCE
5. Sep 22, 1866 GEORGE SPENCE
6. c1868 ELIZA SPENCE
7. May 18, 1871 ANNE MARY "ANNIE" SPENCE
8.  July 5, 1873 FRANCES EDITH SPENCE (m. Peter FIDLER)
9. Mar 13, 1878 JACOB "OLD JAKE" SPENCE (never married)