ADAM BLACK (1840-1911)
ANNE CATHERINE "KATE" SPENCE (1858-1913)
JESSIE (nee BIRD) SMITH (c1859-1914)
(Last Updated: July 21, 2015)
Adam BLACK was born Dec 12, 1840 in Fergus, Ontario, the eldest son of Mary BRYDEN & Robert BLACK (1818-1906). Fergus is located in the Great Lakes region of Ontario, west of Toronto. His father, Robert BLACK (1818-1906) and his grandfather, Hugh BLACK (1777-1855) were born in Scotland and immigrated to Fergus around 1834.
As young men Adam and his younger brother Hugh BLACK (1846-1918) became sailors aboard boats and ships that plied the waters of the Great Lakes. They also gained experience as boat builders.
Canadian Confederation
Manitoba becomes a Province
1867-1870
On July 1, 1867 the British colonies in North America were united under the British North American Act to become the Dominion of Canada.  Sir John A MACDONALD (1815-1891) was appointed as Canada's first Prime Minister. On July 15, 1870 Manitoba became the fifth province of Canada, the Canadian Government having acquired the territory previously governed by the Hudson's Bay Company (HBC).
By about 1871 the entire BLACK family (his parents and 11 siblings) had moved from Ontario to the Red River frontier where they settled in what is now East St Paul (River Lot 8).
In 1872the Dominion Lands Act and the Homestead Act were passed, to encourage settlement in Canada's Prairie Provinces. Anyone over 21 could make entry for a quarter-section of land. If the homesteader built a house and made improvements on his land, after three years he would receive full title to the property.
In 1874 the firm of Stobart, Eden & Co. (fur traders), was established in opposition to the Hudson's Bay Company in Winnipeg.
On Sep 17, 1875, Treaty Commissioners Alexander MORRIS (1826-1889) and James McKAY left Fort Garry aboard the Hudson's Bay Company (HBC) steamer Colville, the first steamer to ply the waters of Lake Winnipeg.
In 1876 Adam's younger brother (Hugh BLACK) bought his own vessel to carry freight on Lake Winnipeg for the firm of Stobart, Eden & Co. and for the Indian Department.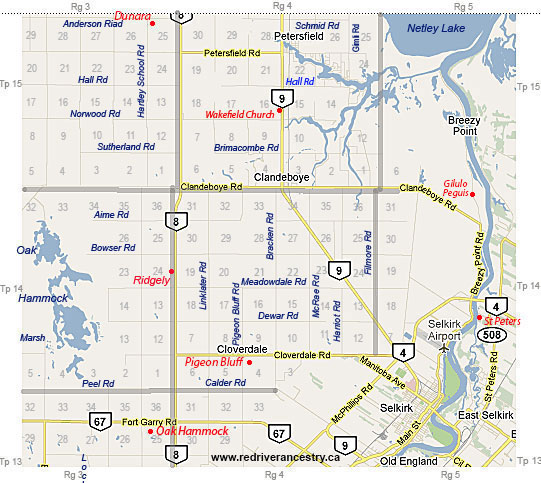 In 1878 a railway line reached East Selkirk (Colville's Landing) from St. Boniface, and the Hudson's Bay Company soon saw its significance for their steamboat operations. Until this time the Company had used Cook's Creek for wintering their boats and Lower Fort Garry as their warehouse and docking facility
In the Census of 1881 brothers Adam (age 50) and Hugh (age 45) were recorded living together in the Petersfield area along Netley Creek.The two brothers were essentially partners in the freighting business at that time. Hugh BLACK eventually built a three-story house on the west side of Wavey Creek, just south of where it empties into Netley Creek. I was fortunate enough to have visited that historic old house before it was torn down around 2000.
About 1883-84 the HBC (after one year of operation) appears to have stopped operating its store and warehouse at Colville Landing (East Selkirk). It seems to have been sold to Captain William ROBINSON (1850-1936) who was involved in fishing and fish processing, freighting, lumbering and the North West Navigation Company which had shared the facilities there with the HBC.
In the Census of 1891, Adam BLACK was recorded as a 49 year old "Steam Boat Captain" living with his parents in East St Paul.
Adam & Catherine SPENCE
1895
By 1895 Adam, in his mid 50's, was in a connubial relationship with Catherine SPENCE from Mapleton who was in her mid-thirties. He undoubtedly met her at Lower Fort Garry (just south of Mapleton/ Old England) which was a main freighting centre for the HBC and the hub of social activity in the region. Catherine was a daughter of Sarah BIRSTON & Jacob SPENCE (1830-1906).  ** MORE ABOUT JACOB SPENCE
On Jan 14, 1896, daughter Sarah (Sadie) was born; and on Feb 13, 1899, daughter Rebecca was born.
Adam & Widow Jessie (nee BIRD) SMITH
1899
================ About Jessie BIRD and Frank SMITH ================
Jessie BIRD was born around 1860 at Bad Throat (Manigotagan, Manitoba), daughter of Eliza and James BIRD. The BIRD family were members of the Black River Indian Band. Around 1882 Jessie began a common-law marriage with Frank SMITH (1853-1896), a white man from Ontario.
Frank SMITH died in 1896 in Selkirk, leaving Jessie with about five children. In 1899 Jessie obtained a Discharge from Treaty, in order to receive Half-breed Scrip.
========================= // ============================
Around October of 1899 Adam BLACK conceived an illegitimate child with Widow Jessie (nee BIRD) SMITH. At that time he was still in a common-law relationship with Catherine SPENCE.
On July 25, 1900 (according to Vital Stats) Jessie (nee BIRD) SMITH gave birth to a baby boy (William Robert SMITH aka BLACK). He obviously wasn't Frank SMITH's child (he died in 1896), and in later censuses recorded him as William BLACK (Adam BLACK was undoubtedly the father).
On April 9, 1901, when the Census was taken in the Town of Selkirk, Adam BLACK was recorded as age 60. His wife was still Catherine (Kate), age 42; their children as Maud (Sarah Sadie), age 5 and Rebecca, age 1. In the same Census, Kate was also enumerated (as Catherine SPENCE, age 41) at her parents' home in Mapleton (Sarah & Jacob SPENCE).
We don't know where Jessie BIRD-SMITH and her illegitimated son (William) were in 1901. I cannot find any record of them in the Manitoba census that year. Interestingly son Colin SMITH (age 11) was recorded with his birth-father's brother (Hugh BLACK) on Netley Creek, east of Petersfield. Her 14 year old son (Frank SMITH Jr) was recorded that year at the Catholic School in St Boniface.
In the Census of 1906, Adam BLACK was recorded on Robinson Avenue in Selkirk, age 61. Now his wife is Jessie (age 46) and with him is son William Robert BLACK (age 6) and two 'step-sons', Ira SMITH (age 14) and Frank SMITH JR (age 21). In the same census his children by Catherine (Sadie & Rebecca) were recorded in Mapleton with their grandfather, Jacob SPENCE. Where was Catherine?
On Jan 24, 1911 Adam BLACK died, probably in Selkirk. In the Census of 1911, Widow Jessie BLACK was recorded on Eveline Street in Selkirk with children Robert SMITH (age 20) and William BLACK (age 10).
In 1914 Jessie BLACK died in Selkirk, age 44.
 On Dec 24, 1917 daughter Sadie BLACK married Alfred John CAMPION (1892-1970).
Please post comments & queries at this link: FORUM DISCUSSING ADAM BLACK and his FAMILY
=========================== Family Details ===========================
Children of Adam BLACK & Catherine SPENCE:
1. Jan 14, 1896SARAH ANN MAUDE "SADIE" BLACK (m. Alfred John CAMPION)
** MORE ABOUT ALFRED CAMPION
2. Feb 13, 1899 REBECCA BLACK
Child of Adam BLACK & Jessie (nee BIRD) SMITH:
1. Jul 25, 1900 WILLIAM ROBERT SMITH aka BLACK