ALFRED JOHN CAMPION (1892-1970)
SARAH ANN MAUDE "SADIE" BLACK (1896-1981)
(Last Updated: February 13, 2013)
In the winter of 1892 Alfred John CAMPION was born in the town of Brixham, Devon County, England.  (Beyond the Gates of Lower Fort Garry, pg 226)
In 1912, as a young lad of 20, Alfred immigrated to Canada in search of employment.

In the 1916 Census Alfred was enumerated at Arm River, SK (26-28-W2). He was a 'farm servant' in the household of Sarah & Charles KITCHERAN.  Arm River is north of Regina.
Alfred was a strong man and a hard worker.  Though times were hard, he had little trouble finding work in the Winnipeg area around 1916-17.  There he met a beautiful 20 year old blond lady named Sarah Ann Maude "Sadie" BLACK, a secretary at the T Eaton Company's Mail Order House.This marked the beginning of a loving relationship that would benefit their family as well as the church and community of Mapleton for the next five decades.
Sadie BLACK was born Jan 14, 1896, probably in Mapleton. Her mother was Anne Catherine "Kate" SPENCE (1858-1913), of Cree heritage. Her father was Steamboat Captain Adam BLACK (1840-1911) from Fergus, Ontario, a son of Scottish immigrants. ** MORE ABOUT ADAM BLACK
Alfred marries Sarah "Sadie" BLACK
1917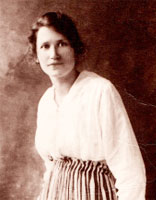 Sadie Black
(Courtesy of George & Kathy Freeman)
On Dec 24, 1917 Alfred married Sadie at St Mathews Church in Winnipeg.  Shortly after their wedding they moved to the Carman (MB) area and farmed the land there for several years. 
Following this, they made the journey homeward and took up residence in Sadie's old homestead in Mapleton.  Alfred quickly secured work cooking for the CNR; his job took him to many different Northern Manitoba communities such as Thomson, Churchill and Gillam.
In Mapleton, Sadie kept herself busy by taking piano lessons from a neighbour, Miss Edith THOMPSON. When she became quite adept at this, she was asked to play the organ at St Clements Church.  Although operating the antique pipe organ was completely different from the old piano she was used to playing, Sadie loved it and continued to play for them. For the next 14 years she would play the organ as often as she could, taking time off to have 5 children.
A side-note re Edith THOMPSON, who lived next to the CAMPIONS at Mapleton, as I discovered in the 1906 Census:  Edith was born in 1886 in the USA (she was 24 in 1906).  Her parents were Henriette from Ontario, and her father was Charles THOMPSON, born 1848 in Scotland, arrived in 1866 and lived at Mapleton in 1906, at which time they had 2 "hired men" from New York:  William BOND, 35, and John SHARP 19 born in England and Scotland respectively. 'Miss THOMPSON' was another lady that we all remember; she was on the Mapleton School Board, and sometimes acted as a substitute teacher. She always wore dark shaded glasses.
Alfred a Wheelsman on the Bradbury
1925
Tannis: This is a letter of reference given to my grandfather, Alfred CAMPION. Submitted by his granddaughter, Tannis BARKER (nee FREEMAN):
May 10th, 1926
Sir.
To Whom it may Concern.
This is to certify that A.Campion acted as wheelman on the C.G.S Bradbury, during the season of 1925, from April, 13th to November 1st. I found him to be a first class Wheelman and a willing worker, steady, sober and industrious. I can cheerfully recommend him to any one requiring his seamen services.
I am sir,
H.A.W.Bryan, Cer, No 6783
O.C. C.G.S. Bradbury
Selkirk, Manitoba
Radville, Saskatchewan
1936-37
In 1936 Alf and Sadie took their family to Radville (SK) for a year. They returned once again however to Mapleton, and he continued to work for the CNR. 
In 1940 Alf was hired by the Dept of Public Works to cook on such boats as the Baldur, Govt Dredge #205 and the Chicama, a small excursion boat which plied its way from Selkirk to Norway House.
Sadie began playing the organ steadily, and for the next 40 years her smiling face and lilting voice would greet the parishioners of St Clements as they knelt to pray.  She worked faithfully for the church Sunday School and with the choir.  She was a lifetime member of the vestry and the women's association.  For many years she cleaned the church after services.  Life wasn't always work though.  For entertainment the community would hold dances in a local hall.  Often Sadie would provide the music for these dances, ably accompanied by Reuben BEGG and Horace MOWATT on the fiddle.  On top of all her many activities, Sadie turned her hand to midwifery and assisted several of the neighbour's children into the world.  If ever anyone was sick or in need, Sadie's door was always open and you knew you were welcome there.  Alf and Sadie were charitable people.  Sadie's aunt, Miss Annie SPENCE, who was the caretaker of Mapleton School for many years, lived with them until her death in 1940.  Sadie's uncle, Jacob SPENCE, who was also a Sexton and Caretaker of St Clements for many years, also stayed with them until his death in 1953.
All of us who grew up in Mapleton will fondly remember this petite lady with her warm smile and friendly manner. Sadie walked with a distinct swaying limp, often seen walking along the highway (almost a mile to the church); rarely did she miss a service. Many church ministers came and went during Sadie's lifetime, but she was always there; probably the most memorable person ever to grace the environs of the St Clements Church.
Of course all of the school-kids of my generation (in the 1840-50's) also remembers her son, Kenneth "Buddy" CAMPION, the caretaker of the church and graveyard, the 'grave-digger'.
Then too there was 'Old Jake SPENCE', Jacob SPENCE (1878-1953), Sadie's uncle. Old Jake lived in a little shack in the woods out behind Sadie's home. He was a dark, stocky, scruffy and grumpy old boozer who was a caretaker at the church. When I went to Sunday school at the church hall, I remember Old Jake standing threateningly beside the old pot-bellied stove in the middle of the room, holding a long willow switch and glaring at us youngsters who, rest assured, maintained our best  behaviour at such times. As the local paper-boy, every Saturday I delivered the Free Press to Jake at his little shack.
Alfred died Oct 31,1970 in Mapleton.
Sadie died Feb 18,1981 in Selkirk.
Please post comments & queries at this link: FORUM DISCUSSING FAMILY OF SADIE & ALFRED CAMPION
============================ Family Details ============================
Children of Sadie & Alfred CAMPION:
1. c1919 KENNETH "BUDDY" CAMPION (Never married)
2. Jan 20, 1923 BONNIE CAMPION (m. Harry FREEMAN)
3. 1924 RONALD SPENCE CAMPION (m. Muriel Blanche BURCH)
4. CHESTER CAMPION
5. c1930 MARSHAL CAMPION