MAGNUS "SANDY" BIRSTON (1811-1875)
NANCY LYONS (1815-1893) 
(Last Updated: March 19, 2014)
Magnus "Sandy" BIRSTON was born around 1811 at Norway House, the youngest child of an Indian woman and Alexander BIRSTON (1775-1829) from the Orkneys of Scotland, a voyageur with the Hudson's Bay Company (HBC). ** MORE ABOUT ALEXANDER BIRSTON
Magnus' Indian mother died around 1815 when he was only about four years old. We don't know who cared for young Magnus after his mother died. It seems most likely that he was taken in by one of his mother's relatives, perhaps at Norway House because he and his siblings were baptized there on Aug 12, 1821, by Reverend John WEST (1778-1845). At that time, his father (Alex) was a fisherman, having retired from the HBC around the same time.
By 1827, according to the census taken that year, the BIRSTON family had settled on Lot 9 at Mapleton, Red River, becoming one of the very first half-breed settlers in the area just south of Sugar Point (see map below) at the southern edge of the Indian Settlement. By that time his father had established a successful farming operation; a house, three stables, a horse, swine and cattle, farm equipment, three canoes, and he was farming six acres of land. Magnus was about 16 years old at that time.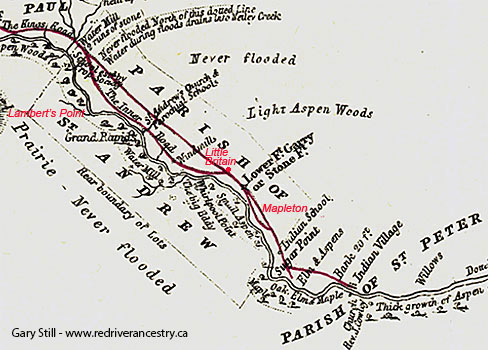 Part of Henry Hind's Map based on his observations of 1857
The most prominent families of note who all settled in the Mapleton area around the same time include: Magnus' father, Alexander BIRSTON (1775-1829), George SPENCE (1773-1859); John LYONS (1786-1875); Thomas Jonathan FIDLER (1795-1875), John KIPLING (1774-1850) and Joseph COOK (1788-1848). All of these men were English-speaking retired HBC employees, almost all veteran voyageurs (boat men).
In 1829 his father died and Magnus inherited a part of his estate.
Magnus marries Nancy LYONS
1830
In 1830, Magnus married Nancy LYONS, half-breed daughter of Marguerite KIPLING & John LYONS (1786-1875). They built a log house somewhere between the River Road and what is now the corner of Craig Ave and #9 Hwy in Old England. Nancy could claim paternal Jewish ancestry, a rarity among early settlers of Rupert's Land.
In 1831, the first Anglican log church (1831-49), referred to as "The Rapids Church", and a school were established by Rev William COCHRANE (1798-1865) in the St Andrews area. COCHRANE preached his first sermon there on May 1, 1832. The stone church was not built until the 1840's.
Construction of Lower Fort Garry begins
1832
Construction of Lower Ft Garry was begun in 1832. This new fort became an important trading center for supplying goods to northern fur trading posts and packing furs for shipment to York Factory. This would become the social hub for settlers of the region. This was the era when HBC Governor George SIMPSON (1786-1860) still ruled in Assiniboia and Rupert's Land and Chief PEGUIS (1774-1864) was the leader of the Indian Settlement that would later became the St Peters Reserve.
A school under Joseph COOK (1788-1848) was opened in 1834 at Sugar Point (32 children attended); the natives were encouraged to build houses and learn to farm. The log school-house (6 x 12 meters) also functioned as a teacher's residence, and had a loft that doubled as a granary. By 1837 a log church (the first St Peters Church) and school had been built on the east side of the river near Cook's Creek. Joseph COOK moved there to continue his teaching.
By 1854 Magnus' family consisted of Nancy, Sarah, Catherine, Henry George, Letitia and Mary. Several others died in infancy or very young. Daughter Nancy was married by then to George ROWLAND, son of Elizabeth FLETT & Robert ROWLAND (born c1784 in the Orkneys).
In 1855 daughter Catherine married George DAVIS, son of Ann HODGSON & John DAVIS (1795-1840), an Englishman.
In 1857 daughter Sarah married Jacob SPENCE, son of a Cree woman named Catherine and George SPENCE (1773-1859) from the Orkneys.
St Clements Church built at Mapleton
1857-1861
It was around 1857 that Samuel TAYLOR (1812-1894), an HBC Stonemason from the Orkneys, arrived in Mapleton to begin building the stone church at Mapleton.
Sam TAYLOR wrote in his journal "On December 1861, Sunday 1st, the Church of St Clements was opened for divine worship by Lord Bishop of Rupertsland and Mr HUNTER.  The church was full of people from up above and down below. Indeed, many had to go home as it was rather cold that evening."
In 1867 daughter Letitia married Alexander DAHL, son of Jane FOLSTER & Alexander DAHL Sr. (1823-1880) of Norwegian origins.
In 1872 daughter Mary married William TAYLOR, son of half-breed Nancy McKAY & Samuel TAYLOR from the Orkneys, the Stonemason who built the St Clements Church. ** MORE ABOUT SAMUEL TAYLOR
Around 1873 son Henry George married Nancy FOLSTER, daughter of Nancy WALLER & Thomas FOLSTER (1830-1912), a Scotch-Half-breed. ** MORE ABOUT THOMAS FOLSTER
Magnus SPENCE dies
1875
Magnus SPENCE died on Mar 5, 1875; on July 9 that year Nancy claimed Half-breed Scrip as his widow.
Census 1881:  Nancy BIRSTON, a 70 yr old widow, living with her son, Henry George BIRSTON and his family at Mapleton.  She's described as "Jewish".
On Apr 27, 1893 Nancy BIRSTON died in Mapleton at the age of 79.
============================ Family Details ============================
Children:
1. Feb 23. 1828 NANCY BIRSTON (m. George ROWLAND)
2. Jan, 1830 SARAH BIRSTON (m. Jacob SPENCE)
3. Feb 13, 1835 CATHERINE BIRSTON (m. George DAVIS)
4. Jan 18, 1849 HENRY GEORGE BIRSTON (m1. NANCY FOLSTER, m2. Sarah Ann McCRAE)
** MORE ABOUT HENRY GEORGE BIRSTON
5. Dec 24, 1851 LETITIA ELIZA "LETTIE" BIRSTON (m. Alexander DAHL JR)
6. July 13, 1854 MARY BIRSTON (m. William McKay TAYLOR)