FRANCIS BEVERIDGE JEB JOHN "FRANK" REID (1879-1936)
MARY ANN FIDLER (1881-1975)
(Last Updated: January 01, 2016)
Francis Beveridge Jeb John "Frank" REID was born Feb 26, 1879 in Mapleton/ Selkirk (MB), son of half-breed Bella BIRD & Murdock James REID from Scotland. ** MORE ABOUT MURDOCH REID
On Jan 26, 1905, Frank (a Teamster at the time) married in Selkirk (Christ Church) to Mary Ann FIDLER, daughter of Sophia SPENCE & William "Bill" FIDLER (1858-1959).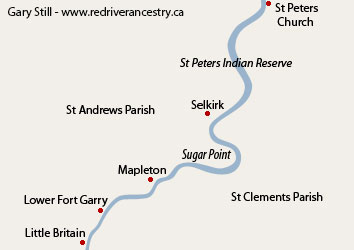 Mary Ann's grandfather, William FIDLER b-1858, was a son of Nancy PRUDEN & Henry FIDLER (1831-1908). Her great-grandfather, Henry FIDLER b-1831 was a child of Nancy HALLETT & THOMAS JONATHAN FIDLER (1795-1875), thus she was a great-great granddaughter of Peter FIDLER of Bolsover (1769-1822).
Frank's father (Murdock) died Oct 29, 1905 in Selkirk. Frank and Mary Anne moved in with his widowed mother (Bella BIRD-REID).
Frank was a Hotel Bartender in Selkirk for most of his life. In 1911 he lived on Greenwood Ave; in 1916 on Main Street, Selkirk.
Census of 1921: Frank REID (age 39) and his wife Mary, age 37. They are with Frank's widowed mother, Isabella (age 71) on Main Street in Selkirk.
Around 1933-34 Mary & Frank REID took in a foster child by the name of Yvonne (OIG) SHAND. Yvonne was born Oct 3, 1933, an illegitimate child of Winnie SHAND & Howard OIG (1916-1942). ** MORE ABOUT WINNIE SHAND
Frank RIED died on Jul 26, 1936. He was buried in the St Clements Cemetery in Mapleton. Single parents were not allowed to adopt children at that time, so Yvonne was later placed with the family of Florence GRAY and Roderick SPENCE (1886-1960). ** MORE ABOUT RODERICK SPENCE
In 1947 daughter Frances Joyce married Ronald Glen HARBOUR at St Clements Church, son of Hilda RICHARDS and Edwin Victor HARBOUR.
I remember Mary REID in the 1950's living in the old FIDLER house before we bought it for our parents. (I lived there for a time myself; helped tear it down).
On Dec 30, 1975 Mary (nee FIDLER) REID died in Selkirk at the age of 95, buried with husband in the St Clements Church Cemetery at Mapleton.
Comments and queries at this link: FORUM DISCUSSING THE FAMILY OF FRANK REID
============================= Family Details =============================
Child:
1. June 20, 1926 FRANCES JOYCE REID (m. Ronald Glenn "Ron" HARBOUR)
Adopted Child:
2. Oct 27, 1933 YVONNE SHAND (m. Ernest Wilbert STILL)
** MORE ABOUT YVONNE & ERNEST STILL