WINIFRED GERTRUDE "WINNIE" SHAND (1918-1977)
JOSEPH HOWARD OIG (1916-1942)
UNKNOWN (Perhaps GENAILLE? and/or MASON?)
GEORGE SOULSBY (c1915-)
RUSSELL SHERRIT TAYLOR (1916-1979)
HENRY JAENEN (1901-1984)
(Last Updated: March 10, 2015)
On Aug 15, 1915 Raymond SHAND was born in Winnipeg to Rachel (nee THOMAS) SQUIRREL (a Treaty Indian) and her common-law husband James SHAND (1890-1956). Rachel THOMAS was a daughter of Mary Ann STEVENSON and William THOMAS (1846-1931).
** MORE ABOUT WILLIAM THOMAS
** MORE ABOUT JAMES SHAND
On Jul 30, 1918 Winifred Gertrude "Winnie" SHAND was born. It is said that Winnie was born to the aforementioned Rachel at Ericksdale (MB) on the way to Fairford (MB) where Jim SHAND was clearing land for a new homestead.
** Note: I suppose there might be a remote possibility that Winnie was a child of Rachel's first husband, Percy SQUIRREL. When observing the physical attributes of Winnie and her brother Raymond in their photos (Below), Raymond is fair-haired with whiter skin while Winnie appears to be more brown-skinned with black hair.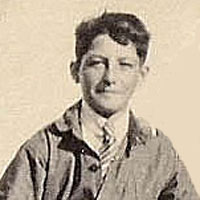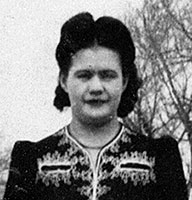 Left: Raymond Shand at the Fort Alexander Residential School around 1927
Right: Winnie Shand (Photo taken in 1942 - From Yvonne Shand - Still)
In the 1921 Census, Winnie (age 3) and her brother Raymond (age 5) were recorded with their parents at Fariford.
In 1922 Winnie's mother (Rachel) died at Fairford. At this time Winnie was only about three years old.
Winnie's father marries Eleanor MAYO
1923
In 1923 Winnie's father, Jim SHAND re-married to Eleanor MAYO, daughter of Caroline SUTHERLAND & Charles Edwin MAYO (1834-1917).  ** MORE ABOUT CHARLES EDWIN MAYO
Wallace MAYO, Eleanor's brother (now brother-in-law of Jim SHAND), and his wife, Agnes Matilda (nee KENNEDY) agreed to care for Jim SHAND's youngsters, Raymond and Winnie SHAND. ** MORE ABOUT WALLACE MAYO
The Selkirk School records indicated that Raymond was in Grade I and II (age 9, 10) during the school years 1925-27. Winnie began school there in 1927 at the age of nine. She is also recorded there during the school term of 1828-29, but not Raymond. Raymond probably began to attend the Fort Alexander Residential School around 1929-30. It was in 1930 that her parents Eleanor and Jim SHAND moved to Point du Bois (MB).
Winnie and Howard OIG
1932-33
On Oct 27, 1933 daughter Shirley Yvonne SHAND was born out of wedlock in Selkirk to 15 year-old Winnie SHAND. On Oct 11, 1934 Yvonne was baptized in Selkirk at the home of her step-mother, Eleanor Florence (nee MAYO) and James SHAND. Her baptismal certificate states her parents as Winnifred Gertrude SHAND and Howard OIG who was the son of Clara STEVENSON and Joseph Albert OIG (1896-1929). ** MORE ABOUT JOSEPH ALBERT OIG
** Yvonne said that Winnie spent time in the Home for Girls in Winnipeg. A little research: In 1929, the Anglican Church began contributing funding and became involved in the operation of the home, which began to be known as the Church Home for Girls. "For most of its lifespan, the Church Home for Girls simply offered accommodation to unmarried women awaiting the birth of their children. These children would then almost always be placed for adoption. By 1959, the Church Home was operated under the supervision and direction of the Provincial Department of Child Welfare. Location: Lot 113 East St Paul (2594 Henderson Hwy), Winnipeg. This from the following link:
STOLEN MOTHERHOOD – WINNIPEG's CHURCH HOME for GIRLS

The following information was obtained by Reverend Murray STILL, from an Anglican Church Archivist: Shirley Yvonne SHAND, date of birth: Oct 27, 1933 at Selkirk. Names of Parents: Winnifred Gertrude SHAND and Howard OIG (not married). Address at the time of baptism: Selkirk, MB. Sponsors: Mrs Eleanor Florence SHAND, James Hamilton SHAND, and Mrs Emmy NEILSON. Date of Baptism: Oct 11, 1934 at home of JH SHAND, baptised by RS MONTGOMERY. ** MORE ABOUT REVEREND ROY MONTGOMERY
Needless to say, Winnie was much too young to properly care for a child. Yvonne soon became a ward of the Children's Aid Society in Winnipeg and soon after that, a foster-child of Mary Anne (nee FIDLER) and Frank REID (1879-1936). To trace the events in Yvonne's life, follow the links provided in the various Family Pages, beginning with Frank REID at this link:  ** MORE ABOUT FRANK REID
Winnie would go on to lead a rather checkered, troublesome and dysfunctional life. In 1935 Winnie gave birth to Glen SHAND in Winnipeg (father unknown) and possibly another son named Thomas Mason SHAND around 1940 (father also unknown).
On Apr 28, 1941 Howard OIG enlisted in the Army and on Nov 28, 1942 he died in a Japanese P.O.W camp in Hong Kong.  He's buried in the Sai Wan War Cemetery in Victoria, Hong Kong. ** Yvonne would have been about eight years old at that time.
An interesting entry in the 1941 U.S. City Directory on ancestry.ca: Name: Winifred Gertrude SHAND OIG. Residence 1941 – Altoona, Pennsylvania. ** That one is a puzzler.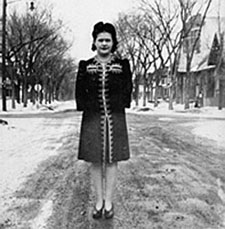 Winnie SHAND in 1942 (age 24, probably in Winnipeg)
Winnie and George SOULSBY
1946
In the mid to late 1840's, Winnie had two children (boys) with a George SOULSBY of uncertain origins. These boys were placed in the Knowles Home for Boys where they essentially grew up.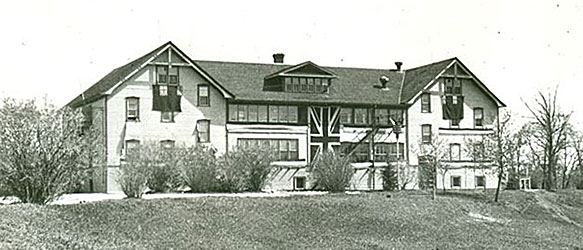 Knowles Home for Boys in North Kildonan
Incorporated in 1910 to accommodate up to 70 boys
Destroyed by fire in 1959
Winnie and Russell TAYLOR
By the mid 1960's Winnie and at least one of her sons were living in Pine Falls, Manitoba. She was living with Russell TAYLOR there, the son of Stella Maude SHERRITT and John Stanley TAYLOR (b-1889) who came from Rossburm RM (SW of Riding Mountain National Park near Foxwarren). Russell was a brother-in-law of both Ross McKENZIE and Johnny BEGG from Mapleton.
Winnie and Henry JAENEN
Winnie Dies in Pine Falls
1968-1977
Voters List 1968, 1974: Winnie JAENEN, housekeeper, Pine Falls.
From a Winnipeg Free Press Obituary: On Apr 5, 1977 Winnifred JAENEN died at the Pine Falls Hospital, aged 58. She leaves to mourn her husband Henry; one daughter, Shirley; three sons, Glen, Garfield and Bruce. ** If anyone knows more about Henry JAENEN was, please let us known on the Forum.
Both Winnie and Russell TAYLOR (Died in 1979) were buried in the cemetery at Pine Falls.
Comments and queries at this link: FORUM DISCUSSING the LIFE of WINNIE SHAND
============================ Family Details ============================
Child by Howard OIG: 
1. Oct 27, 1933 SHIRLEY YVONNE SHAND (m. Ernest Wilbert STILL)
** MORE ABOUT YVONNE and ERNEST STILL
Children by UNKNOWN:
1. Oct 5, 1935 GLEN SHAND (Died in 2003)
?2. c1940 THOMAS MASON SHAND
Children by George SOULSBY:
1. Son (Private; Living) SOULSBY
2. Son (Private; Living) SOULSBY