PERCY SQUIRREL aka WILLIAMS (1877-1966)
RACHEL HARRIET THOMAS (1885-1922)
CLARA FAVEL (1887-1951)
(Last Updated: July 27, 2017)
Percy William SQUIRREL aka WILLIAMS was born on July 4, 1877 at York Factory, the son of Sophia MUSWAGUN and John "Glasseye" SQUIRREL aka WILLIAMS (1820-1902), both Indians.
By 1896 the SQUIRREL family had moved from York Factory down to Grand Marais on the east side of Lake Winnipeg. In the 1901 Census, Percy (age 25) was recorded with his elderly parents (Sophie & John SQUIRREL) in Grand Marais. They were fishermen.
Percy SQIRREL marries Rachel Harriet THOMAS
1901
On Sep 27, 1901 Percy William SQUIRREL married Rachel Harriet THOMAS in St Clements Parish (St Peters Church). ** This is verified in Manitoba Vital Statistics. In 1902 Rachel gave birth to their first a child (Alexander) in St Peters who died in infancy. Rachel THOMAS (b-1885) was a daughter of Mary Ann STEVENSON and William THOMAS (1846-1931). ** MORE ABOUT WILLIAM THOMAS
In the fall of 1902 Percy's father (John SQUIRREL) died at Grand Marais. Soon after, Percy and his wife Rachel moved to St Peters.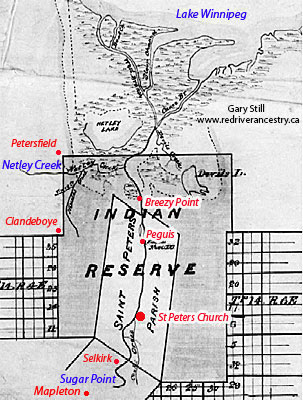 Plan showing St Peters Reserve No.1
In 1903 Percy SQUIRREL and his sister Rebecca were God-parents at the baptism of a child born to Jemima (Sarah Mina) STEVENSON & Thomas FIDLER (1867-1933).
In 1904 Rachel's second child (Roderick) was born; she also died as an infant in in St Peters.
Surrender of the St Peters Reserve
1907-1911
On Oct 7, 1907, after months of haggling over land claims disputes, an agreement was accepted by the Chief and Councillors of the St Peters Indian Reserve that essentially surrendered their land to the Crown in exchange for a new reserve that later became the New Peguis Reserve and the Fisher River Reserve north of Hodgson, Manitoba.
In 1908 daughter Agnes was born. She died at birth.
In the spring of 1909 Percy's widowed mother (Sophia) died.
By 1911 most of the Indians from St Peters parish had moved to Fisher River and elsewhere, and the St Peters Indian Reserve as such was gone forever. However, St Peters Land Claim Disputes would continue unresolved well into the next century. ** PEGUIS FIRST NATION – SURRENDER CLAIM TRUST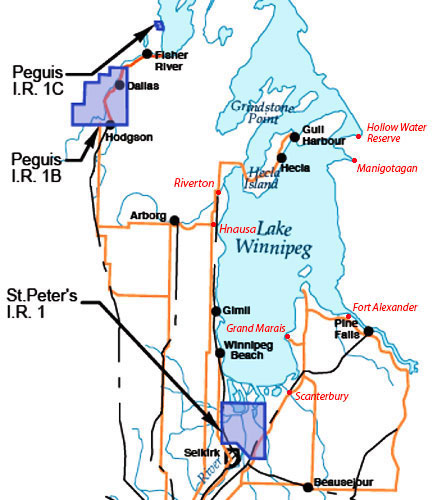 Old St Peters Reserve and the new Fisher River Reserves
It seems possible that Rachel and perhaps Percy SQUIRREL may have moved to Winnipeg sometime after the surrender of the St Peters Reserve.
Common-law Relationship of Rachel THOMAS and James SHAND
1915
In 1915 Rachel (nee THOMAS) SQUIRREL began a common-law relationship with James SHAND in Winnipeg, the eldest son of Agnes KAYE & Thomas SHAND (1868-1915). ** MORE ABOUT JAMES SHAND
Census of 1921 on Section 7-35-6-Wpm: Percy WILLIAMS, age 42 and his daughter Victoria, age 1. ** This location is northeast of Fairford at the north end of Lake St Martin.
In 1922 Rachel (nee THOMAS) SQUIRREL died at Fairford, Manitoba.
Percy SQUIRREL re-marries to Widow Clara (nee PARISIEN) FAVEL
1923
On May 29, 1923 Percy William SQUIRREL married in St Clements (St Peters) to Widow Clara (nee PARISIEN) FAVEL. Clara PARISIEN was born in 1887, daughter of Sarah PRINCE and John PARISIEN (1852-1923), a Cree Indian from the St Peters Indian Reserve. ** MORE ABOUT JOHN PARISIEN
She was the widow of Alexander FAVEL (1883-1914) who died in 1914.
In 1951 Clara (nee FAVEL) WILLIAMS died.
On June 11, 1966 Percy WILLIAMS of Selkirk died at the Winnipeg General Hospital at the age of 89. He was buried in the Old St Peters Cemetery. His obituary indicates that he was predeceased by his wife Clara in 1951, and survived by a daughter, Mrs. Victoria STEVENSON and a son, Ronald FAVEL.
Comments and queries at this link: FORUM DISCUSSING the PERCY SQUIRREL FAMILY
============================ Family Details ================================
Children by THOMAS re VitalStats:
1. Nov 16, 1902 ALEXANDER SQUIRREL (Died in infancy, 2 mos)
2. Apr 27, 1904 RODERICK SQUIRREL (Died in infancy)
3. Aug 30, 1908 AGNES WILLIAMS (Died at birth)
4. 1920 VICTORIA WILLIAMS (m. STEVENSON)