RICHARD ALEXANDER FAVEL (1883-1914)
CLARA PARISIEN (1887-1939)
(Last Updated: June 30, 2015)
Richard Alexander FAVEL was born about 1883, son of Mary ANDERSON and James FAVEL (1849-1926).
** MORE ABOUT JAMES FAVEL
In the Census of 1906 Alex (age 21) was enumerated with his parents in the St Peters Indian Reserve.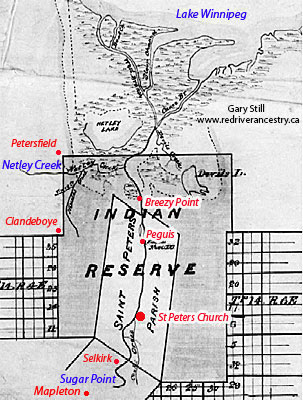 Marriage to Clara PARISIEN
1906
On Sep 5, 1906 Alexander married Clara PARISIEN in St Peters, daughter of Sarah PRINCE and John PARISIEN (1852-1923).
In 1907 the St Peter's Indian Reserve was surrendered to the Crown, and most of the native residents moved to present day Peguis Reserve (Fisher River north of Hodgson) by 1909.
Census of 1911 in the St Peters Reserve:Alexander FAVEL, age 29; wife Clara, age 24. Children: Mary (age 3) and Sarah (age 1).
After 1911 the St Peters Indian Reserve ceased to exist as such.
World War I
1914-1918
Alexander FAVEL Dies
On Aug 4, 1914 Great Britain (Canada on Aug 5) declared war on Germany and Austria-Hungary to uphold treaties with France and Belgium which were under German attack. This marked the beginning of World War I.
On Nov 29, 1914 Richard Alexander FAVEL diedin St Peters Parish at the age of 29. After Alex died his daughter Sarah (age 4) and Ronald (age 2) were taken in (adopted) by his grandparents (Mary and James FAVEL). It is uncertain what became of his daughter Mary (she may have died in infancy).
In the Census of 1916 Alex's children, Sarah (age 7) and Ronald (age 4) were enumerated with their grandparents (Mary and James FAVEL) in the New Peguis Reserve (Fisher River).
November 11, 1918, Armistice Day (Remembrance Day) marked the end of the First World War.
Widow Clara marries Percy SQUIRREL aka WILLIAMS
1923
On May 29, 1923 Widow Clara (nee PARISIEN) FAVEL married Percy SQUIRREL aka WILLIAMS  in St Peters, the son of Sophia MUSWAGUN and John "Glasseye" SQUIRREL aka WILLIAMS (1820-1902), both Indians.
** MORE ABOUT PERCY SQUIRREL
It was probably in the 1930's that son Ronald married Mina Kathleen SINCLAIR, a child (born out of wedlock) of Agnes SINCLAIR and William McIVOR of uncertain origins. In 1930 Mina's mother (Agnes) married Donald George HARDISTY, the youngest son of Christie and John HARDISTY (1866-1929).
** MORE ABOUT DONALD GEORGE HARDISTY
On Nov 24, 1939 Clara (nee PARISIEN) FAVEL-WILLIAMS died in Winnipeg (Manitoba Vital Stats).
Comments and queries at this link: FORUM DISCUSSING THE ALEXANDER FAVEL FAMILY
========================== Family Details ==========================
Children:
1. 1908 MARY FAVEL
2. 1910 SARAH FAVEL
3. 1912 RONALD FAVEL (m. Mina Kathleen SINCLAIR)