JAMES FAVEL (1849-1926)
MARY ANDERSON (c1866-)
(Last Updated: August 01, 2017)
James FAVEL was born around 1849 in Portage la Prairie, son of Euphemia ANDERSON and Richard FAVEL (1812-1873).
Canadian Confederation
A Red River Rebellion
Manitoba becomes a Province
Signing of Treaty Number One
1867-1871
On July 1, 1867 the British colonies in North America were united under the British North American Act to become the Dominion of Canada.  Sir John A MACDONALD (1815-1891) was appointed as Canada's first Prime Minister. William McDOUGALL (1822-1905) became the Minister of Public Works, and he began negotiations to acquire Rupert's Land from the HBC; surveyors were sent to Red River to prepare the way for an expected influx of settlers.
On Oct 11, 1869, Louis RIEL (1844-1885) placed his foot on the surveyors' chain to tell them their work was finished! This marked the beginning of the historic Red River Métis Rebellion.
On July 15, 1870 the Rebellion ended when RIEL's Provisional Government accepted the terms of the Manitoba Act and Manitoba became the fifth province of Canada.
In 1871 Chief Henry PRINCE or RED EAGLE (1819-1902) signed Treaty Number One on behalf of the St Peters Indians.
** MORE ABOUT CHIEF HENRY PRINCE
In 1873 James' father (Richard) died in Portage la Prairie.
James marries Mary ANDERSON
1873
Around 1873 James married Mary ANDERSON of uncertain origins and by 1881 they were living in the Parish of St Clements, somewhere in or near the St Peters Indian Reserve. In the census that year they were recorded as James FAVEL, age 30; wife Mary, age 24. Children: Mary (age 7), Thomas (5), Phinia (4) and Jemima (age 2).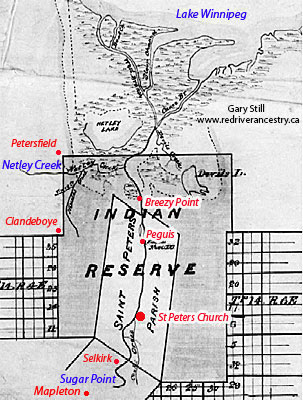 In 1890 daughter Phinia may have married David SMITH, son of Mary McNAB and Peter SIMITH (1830-1912).

Around 1890 eldest daughter Mary married William Charles BIRD (1867-1911+)) of uncertain origins.
** MORE ABOUT WILLIAM CHARLES BIRD
Census of 1891 in St Andrews Parish:James FAVEL, Fisherman, age 34; wife Mary, age 28. Children: Barbara (age 4) and Samuel (age 2). Their exact location is uncertain but is believed to have been in the Netley Creek area east of Petersfield.
Around 1897 daughter Jemima married George SINCLAIR (b-1875).
Census of 1901 in the Netley Lake area: James FAVEL b-1867, age 49; wife Mary, age 34. Children: Barbara Ellen (age 14) and Samuel (age 13).
In 1904 it is said that eldest son Thomas married Catherine MANNINGWAY (of uncertain origins) in St Andrews, Red River. 
Census of 1906 in the St Peters Indian Reserve: James FAVEL, age 56; wife Mary, age 40. Children: Alexander (age 21), Samuel (18), Eliza (17), Joseph (14) and Alfred (10).
In 1906 son Alexander married Clara PARISIEN.in St Peters, the daughter of Sarah PRINCE and John PARISIEN (1852-1923). ** MORE ABOUT JOHN PARISIEN
In 1907 the St Peter's Indian Reserve was surrendered to the Crown, and most of the native residents moved to present day Peguis Reserve (Fisher River north of Hodgson) by 1909, and by 1911 the St Peters Indian Reserve ceased to exist as such.
Fisher River (Peguis) Reserve
1911
Census of 1911 in the Fisher River (Peguis) Reserve: James FAVEL, age 59; wife Mary, age 46. Children: Joseph (age 18), David Alfred (16) and Samuel George (age 14). Curiously, in the same census James FAVEL was also enumerated in 30-16-5-Epm (south end of Lake Winnipeg near the Salsmoniac Channel) as a 52 year old fisherman along with his wife Mary (age 50), his son Samuel George (age 22) and an adopted baby boy, un-named (born March, 1911).  This baby was actually his grandson Ronald FAVEL (child of his deceased son Alex).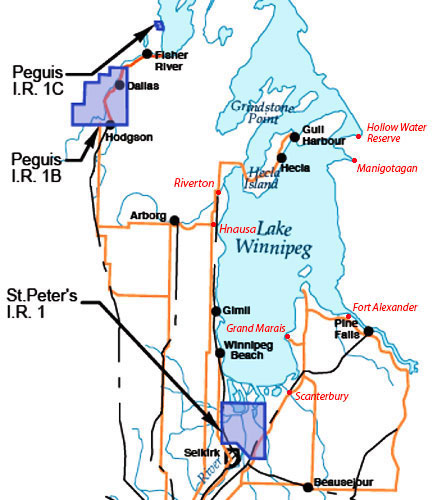 World War I
1914-1918
On Aug 4, 1914 Great Britain (Canada on Aug 5) declared war on Germany and Austria-Hungary to uphold treaties with France and Belgium which were under German attack. This marked the beginning of World War I.
Census of 1916 in the Peguis Indian Reserve (Fiaher River): Cree family of James FAVEL, age 67; wife Mary, age 60. Children: Joseph (age 23) and Samuel George (19). Grandchildren:  Sarah FAVEL (age 7) and Ronald FAVEL (age 4).
In November of 1916 son George enlisted in Winnipeg. At that time his father (James; stated as next of kin) was living at Whytwold Beach (near Matlock).
November 11, 1918, Armistice Day (Remembrance Day) marked the end of the First World War.
In 1920 son George married Bertha Margaret STARR, daughter of Marie Adele DANIELS & Joseph William STARR (b-1872).
Son Joseph married Mary Louisa RUNDLEin the Fisher River Reserve, daughter of Mary McNAB and Jeremiah RUNDLE of uncertain origins.
On Feb 21, 1926 James FAVEL died in Selkirk at the age of 73.
Comments and queries at this link: FORUM DISCUSSING THE FAMILY OF JAMES FAVEL
========================== Family Details ==========================
Children re Censuses:
1. 1874 MARY FAVEL (m. William Charles BIRD)
** MORE ABOUT WILLIAM CHARLES BIRD
2. 1876 THOMAS FAVEL (m. Catherine MANNINGWAY)
3. 1877 PHINIA FAVEL (m. David SMITH)
4. 1879 JEMIMA FAVEL (m. George SINCLAIR)
5. c1883 RICHARD ALEXANDER FAVEL (m. Clara PARISIEN)
6. 1886 BARBARA ELLEN FAVEL
7. Nov 21, 1890 ELIZABETH JANE "ELIZA" FAVEL
8. Mar 25, 1892 JOSEPH FAVEL (m. Mary Louisa RUNDLE)
9. Dec 21, 1895 DAVID ALFRED FAVEL
10. Jun 3, 1897 SAMUEL GEORGE FAVEL (m. Bertha Margaret STARR)
11. Jan 7, 1902 ANN ELIZABETH FAVEL (Died in infancy, 2 mos)
Adopted/ Grandchildren:
1. 1909 SARAH FAVEL
2. March, 1911 RONALD FAVEL (m. Mina SINCLAIR)