WILLIAM CHARLES BIRD (1867-1911+)
MARY FAVEL (1874-1906+)

(Last Updated: August 01, 2017)
William Charles BIRD was born about 1867 at Muckles Creek (northeast of Clandeboye, Manitoba).
Marriage to Mary FAVEL
1890
By 1890 Charles was married to Mary FAVEL, the daughter of Mary ANDERSON and James FAVEL (1849-1926).
** MORE ABOUT JAMES FAVEL
Census 1906: Selkirk (#8), SD-21 (St Peters Reserve), pg 6, HH-48: Floence BIRD (age 6) and Victorie (age 5). ** Unable to retrieve the missing pg 5 which should have been the parent(s) of these girls.
In 1907 the historic and controversial Surrender of the St Peters Indian Reserve occurred. By 1909 most of the native residents of St Peters had moved to the New Peguis Reserve at Fisher River, north of Hodgson, MB.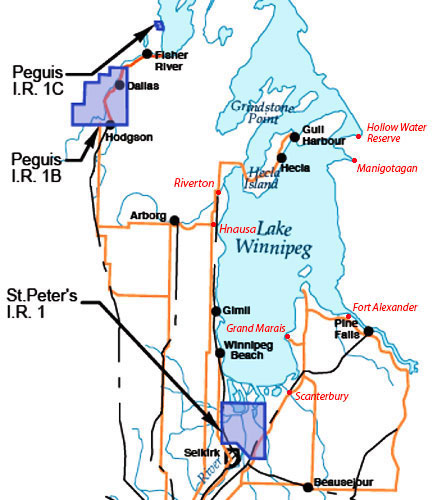 Census of 1911 in St Peters Indian Reserve: Charles BIRD, (widowed Saulteaux Indian; age 44. Children:  William James (age 22), Thomas Walter (21), Florence Mildred (13) and Victoria Jane (age 11).
The St Peters Reserve is Gone Forever
1911
Subsequent events, in particular a 1911 Manitoba Royal Commission investigating the titles to the river lots and the surrendered land, were to vindicate those who had opposed the surrender's validity. In the meantime, however, a significant proportion of the Band had relocated to Fisher River, patented lots had been sold, a sale of the remaining surrendered reserve land had taken place, and proceeds had been distributed to band members. The dominion government was unwilling to turn back the clock and reopen the St Peter's land question. It was perhaps inevitable that the surrender would ultimately be validated by special legislation: the St. Peter's Reserve Act.Under its provisions, purchasers would be required to pay an extra $1 per acre (to be added to the St Peter's Band fund) to obtain a secure title to their land. The legislation had the effect of increasing the balance in the Band's trust account by $40,000, but the St Peter's Reserve was gone forever.
In 1913 son Tom married Bella PRNCE in St Clements Parish, the son of Maria Jane SINCLAIR and John Henry "Long Jake" PRINCE (1858-1910). ** Bella was a granddaughter of Sarah BADGER and Chief Henry "Red Eagle" PRINCE (1819-1899).
** MORE ABOUT CHIEF HENRY (MIS-KOO-KE-NEW) "RED EAGLE" PRINCE
In the 1916 Census three of Charles' children were together in the Peguis Reserve: Thomas (age 25), Florence (21) and Victoria (age 17).
In 1919 son William married Cecilia KIPLING, the daughter of Jessie PARISIEN and John KIPLING (1868-1955).
** MORE ABOUT JOHN KIPLING
Comments and queries at this link: FORUM FOR DISCUSSING THE CHARLES BIRD FAMILY
========================== Family Details ==========================
Children:
1. Feb 12, 1891 WILLIAM JAMES BIRD (m. Cecilia KIPLING)
** MORE ABOUT WILLIM JAMES BIRD
2. Mar 25, 1892 WALTER THOMAS "TOM" BIRD (?m. Bella Jean PRINCE)
3. Dec 26, 1893 DAVID BIRD (?Died in infancy, age 1)
4. Mar 14, 1895 CHARLES ALEXANDER BIRD (Died in infancy, 3 mos)
5. Jul 2, 1896 JOHN ALLAN BIRD (Died in infancy, age 2)
6. Sep 28, 1898 FLORENCE MILDRED BIRD (?Died age 22?)
7. Sep 28, 1900 VICTORIA JANE BIRD