JOHN KIPLING (1868-1955)
JESSIE PARISIEN (1875-1954)

(Last Updated: August 01, 2017)
John KIPLING / KIPPLING was born around 1868 in Red River, the son of Maria BEAR and George KIPLING (1838-1906+).
Census 1881: John (age 10) with his parents in St Clements Parish.
Marriage to Jessie PARISIEN
1896
On Nov 5, 1896 John married Jessie PARISIEN in St Clements Parish, the daughter of Sarah PRINCE and John PARISIEN (1852-1923), a Cree Indian of the St Peters Reserve.
Census of 1901 in the Grand Marais area:  John KIPPLING (age 30, "can't tell") and son Sidney, age 1.
Census of 1906 in St Peters Parish (Treaty Land): John KIPPLING, age 34; wife Jessie, age 25. Children: Alfred (age 8), Cecilia (4), Samuel(3) and baby Louis (age 5 mos). With them is John's sister, Victoria (nee KIPLING) YOUNG (age 31).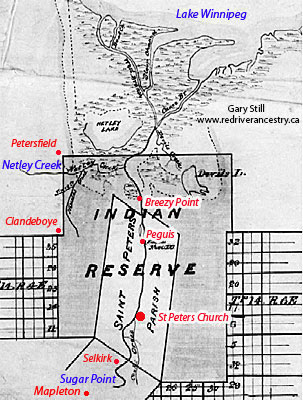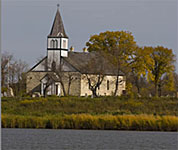 St Peters Church
Census of 1911 in the St Peters Reserve: Cree family of John KIPLING, age 35; wife Jessie, age 25.  Children: Sydney (age 11), Cecilia (8), Louis (5) and Lucy (age 3). They have a "boarder" named Edward KIPLING, age 40 (born 1870), probably John's brother, Edward George.
Census of 1916 in the Parish of St Peters: John KIPPLING, fisherman; age 40; wife Jessie, age 30. Children: Sidney (age 16), Cecilia (14), Hicks (11), Lucy (7) and Lizzy (age 5).
In 1919 daughter Cecilia married William James BIRD, the son of Mary FAVEL and William Charles BIRD (1867-1911+). ** MORE ABOUT WILLIAM CHARLES BIRD
In 1927 daughter Lucy married James DENNETT in Selkirk, the son of Catherine LAWSON and John Peter DENNETT(1869-1950).
In 1937 daughter Elizabeth married Ernest MONKMAN, the son of Mary Agnes SMITH and Robert James MONKMAN (1877-1956). ** MORE ABOUT ROBERT JAMES MONKMAN

Arouud 1937 daughter Agnes married McDougall (Scotty) SMITH, the son of Mary FAVEL and David SMITH (1864-1925). ** MORE ABOUT DAVID SMITH
On Jul 21, 1954 Jessie (nee PARSIEN) KIPLING died in the Selkirk General Hospital.; buried in the St Peters Cemetery.
In 1954 son-in-law Ernest MONKMAN died by drowning in the Red River, and widowed daughter Elizabeth later re-married to George Edward CARLSON (1859-1959) of uncertain origins.
On May 16, 1955 John KIPLING died in Selkirk.
Comments and queries at this link: FORUM FOR DISCUSSING THE FAMILY OF JOHN KIPLING
============================ Family Details ================================
Children:             
1. Nov 13, 1897 NETTIE KIPLING (Died in infancy)
2. Aug 30, 1899 SYDNEY (ALFRED) KIPPLING
3. Nov 22, 1901 CECILIA "CECIL" KIPPLING (m. William Janes BIRD)
** MORE ABOUT WILLIAM JAMES BIRD
4. 1903 SAMUEL (HICKS) KIPLING
5. May 20, 1904 CAMPBELL KIPPLING
6. 1906 LOUIS HAYDEN KIPLING
7. May 19, 1908 LUCY KIPLING (m. James DENNETT)
8. Jul 15, 1911 ELIZABETH "LIZZY" KIPPLING (m1. Ernest MONKMAN; m2. George Edward CARLSON)
9. Dec 7, 1916 JOHN KIPPLING
10. Dec 1, 1920 AGNES (TOOTIE) KIPPLING (m. McDaougall (Scotty) SMITH)