ROBERT JAMES MONKMAN (1877-1956)
MARY AGNES (MINNIE) SMITH (1880-1914)
JESSIE JANE KENNEDY
(Last Updated: July 26, 2017)
Robert James MONKMAN was born in September of 1877 in the St Peters Indian Reserve, son of Jane Mary TAIT & James MONKMAN 1847-1932). ** MORE ABOUT JAMES MONKMAN
Robert grew up in the St Peters Reserve; in all of the census records from 1881 through to 1901 he was enumerated there with his parents.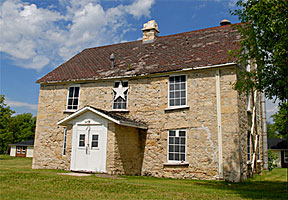 The Historic St Peters Dynevor Anglican Church Rectory stands today
It was built back in 1865 for Reverend Abraham Cowley (1816-1887)
Marriage to Mary SMITH
1903
On March 16, 1903, Robert married Mary Agnes (Minnie) SMITH in St Clements Parish. The 1906 Census recorded Robert MONKMAN (age 28); wife Mary (age 26) and son Wilfred (age 1) in St Peters, Dynevor. They had a "hired man" James HARPER (age 21) staying with them.
** Need help in determining the origins of Mary Agnes (Minnie) SMITH
The Historic and Controversial Surrender of the St Peters Reserve
1907
On Oct 14, 1907, after many years of haggling over non-Indian land claims, Chief William PRINCE and his four Councillors (Henry PRINCE, John PRINCE, William HARPER and James PRINCE), as well as ex-Chief William ASHAM, accepted and signed the historical and controversial Surrender of the St Peters Indian Reserve to the Crown. The same month, the Band and representatives of the department selected the site of the new Peguis Reserve in the Fisher River area north of Hodgson, Manitoba.
In 1911 the Manitoba Royal Commission investigating the titles to the river lots and the surrendered land, vindicated those who had opposed the surrender's validity. In the meantime, however, a significant proportion of the Band had relocated to Fisher River, patented lots had been sold, a sale of the remaining surrendered reserve land had taken place, and proceeds had been distributed to band members. The dominion government was unwilling to turn back the clock and reopen the St Peter's land question. It was perhaps inevitable that the surrender would ultimately be validated by special legislation: the St. Peter's Reserve Act. Under its provisions, purchasers would be required to pay an extra $1 per acre (to be added to the St Peter's Band fund) to obtain a secure title to their land. The legislation had the effect of increasing the balance in the Band's trust account by $40,000, but the St Peter's Indian Reserve was gone forever.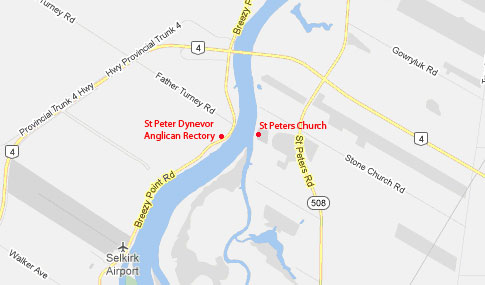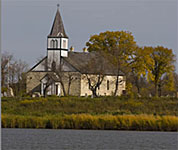 St Peters Church
Census of 1911 in St Peters West:  Robert MONKMAN, age 33; wife Mary, age 30. Children: Wilfred (age 6), Edgar (3) and baby Ernest.
On July 16, 1914 Mary Agnes (nee SMITH) MONKMAN died in St Peters at the age of 32.
World War I
1914-1919
On Aug 4, 1914 Great Britain (Canada on Aug 5) declared war on Germany and Austria-Hungary to uphold treaties with France and Belgium which were under German attack. This marked the beginning of World War I.
Census of 1916 in St Peters (Lot 43 near Dynevor Hospital): Widower Robert J MONKMAN, age 39. Children: Frederick Wilfred (age 12), Edgar (9) and Ernest (age 5).
November 11, 1919; Armistice Day (Remembrance Day) marked the end of the First World War.
Census of 1921, still on Lot 43 in St Peters: R.J. MONKMAN, widowed, age 45. Children: Wilfred (age 15), Edgar (13) and Ernest (age 10). Housekeeper Jessie KENNEDY, age 40.
Marriage to Jessie KENNEDY
1924
On July 9, 1924, Robert married Jessie Jane KENNEDY in Selkirk. ** If anyone knows the origins of Jessie Jane KENNEDY, please let us know on the Forum.
Son Edgar married Winnifred Victoria SMITH, daughter of Elizabeth KIPLING and Colin Robert SMITH (1889-1935).
In1937 son Ernest married Elizabeth KIPLING, the daughter of Jessie PARISIEN and John KIPLING (1868-1955).
** MORE ABOUT JOHN KIPLING
On Aug 16, 1956 Robert James MONKMAN died at his residence in St Peters, Dynevor at the age of 79. He was buried in the St Clements Church Cemetery at Mapleton.
Comments and queries at this link: FORUM DISCUSSING the ROBERT JAMES MONKMAN FAMILY
======================= Family Details =======================
Children:
1. Mar 1, 1905 FREDERICK WILFRED MONKMAN
2. Mar, 1908 EDGAR LAWRENCE MONKMAN (m. Winnifred Victoria (Winnie) SMITH)
3. Jan, 1911 ERNEST MONKMAN (m. Elizabeth KIPLING)