JAMES MONKMAN (1847-1932)
JANE MARY TAIT (1852-1922)
(Last Updated: December 09, 2015)
James MONKMAN was born April 12, 1847 at Fairford, son of Isabella SETTER & Joseph "Ole Joe" MONKMAN (1810-1899). Around that time, his father operated the Salt Works at Salt Point, located to the west of Fairford on Lake Winnipegosis. James was baptized later that year at St Johns Church in Red River. Not long after he was born, the family moved to St Peters Parish, north of Selkirk. ** MORE ABOUT OLE JOE MONKMAN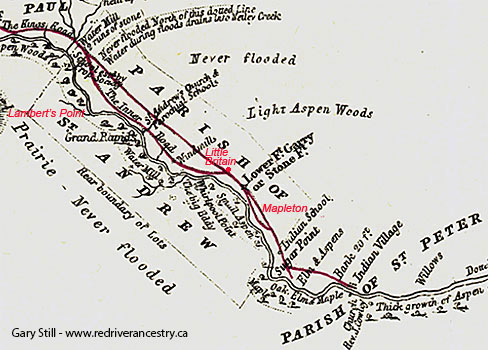 Part of Henry Hind's Map based on his observations of 1857
In 1857 James MONKMAN was 10 years old. By this time the Canadian Government had firmly established settlements in Upper Canada, and now politicians  were allowed to look to the prairies as a possible region to open up for immigrants. Two explorers, John PALLISER (1817-1887) and Henry Youle HIND (1823-1908), would set out that year on a "scientific expedition" to discover if this land was suitable for mass settlement.
James would have been about 18 years old in 1865 when his 90 year old grandfather, the elder James MONKMAN died in St Peters. ** MORE ABOUT GRANDPA JAMES MONKMAN
Canadian Confederation
The Riel Rebellion
1867-1870
On July 1, 1867 the British colonies in North America were united under theBritish North American Act to become the Dominion of Canada. Sir John A MACDONALD (1815-1891) was appointed as Canada's first Prime Minister.On Oct 11, 1869, Louis RIEL (1844-1885) placed his foot on the surveyors' chain to tell them their work was finished! This marked the beginning of another Red River Métis Rebellion.
RIELbegan to organize resistance to the anticipated transfer of the North-West to the Dominion of Canada without prearranged terms.His strongest and most ardent and outspoken opponents among the English speaking population were Dr John Christian SCHULTZ  (1840-1896) and Thomas SCOTT (1842-1870).
Under the leadership of RIEL, the Métis soon after established their National Committee of the Métis of Red River. Then, on Nov 2, 1869 he and 120 armed men took control of Upper Fort Garry.
SCHULTZ fortified his house and store ("Fort Schultz"), and recruited about 50 followers as guards, but on Dec 7, RIEL captured and imprisoned the occupants in Fort Garry, including SCHULTZ and SCOTT. On Dec 10 the Métis raised a flag of the future Provisional Government over Fort Garry to the sound of musket and cannon fire. They continued to arrest 'Canadians' wherever they could find them.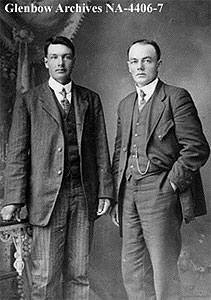 James (L) and his brother Thomas Monkman (R)
James MONKMAN's daring Rescue of Dr SCHULTZ
On Jan 23, 1870, SCHULTZ escaped from Upper Fort Garry..
In 1993 Frank WALTERS (1898-1995) published a book called Pieces of the Past; an excellent documentary about the first settlers of St Peters and Petersfield that includes a chapter entitled James Monkman's Rescue of Dr. Schultz. The following is an excerpt from Walters' book:
Of SCHULTZ's dramatic escape James MONKMAN's own son (who had the story from his father when he was a small boy) tells how his father affected the rescue with his fast-trotting horse, hitched to a 'jumper' (sleigh). The son, Oliver, still remembers (although he's 88 years of age) all the details of how his father drove up in front of the building where SCHULTZ was hiding and, without stopping, picked up his man on the run. The rescue had been pre-arranged so SCHULTZ was ready and waiting behind the door and, even though scouts were out looking for the escaped prisoner and other people were standing nearby as the sleigh drove up to the door, out came SCHULTZ and fell into the moving vehicle. MONKMAN was stopped by two of RIEL's men, but got away by saying, "Bye, I'm in a hurry," and whipping the horse. Before onlookers realized what was happening, the horse was too far away to catch. Mr. MONKMAN said that although everybody knew the horse to be his father's because it had made a reputation for speed, they did not recognize his father dressed in a disguise, so they were not too curious a he came driving along.
A story has been handed down by people living in St Andrews district at that time that MONKMAN covered SCHULTZ with a robe. And stories have been repeated around the homes of Red River settlers down to the third generation of different families who sheltered the doctor after he escaped from Upper Fort Garry.
First, Mr. Sidney MILLER, who was born in a log house on the lot in West St Paul where there's a cemetery now, said that his father hid SCHULTZ up in the attic then drove him down the river, when the coast was clear, to another house. Then there was Mrs. SINCLAIR, who lived to be 96, who remembered her mother telling her that when she was a girl of 14 she saw men with guns on their backs riding on horseback out looking for SCHULTZ. Her father said to her, "What are you scared of? They're not looking for you." And a Mrs. GRIEVE, born at Grand Rapids 98 years ago, recalled being sent to Parkdale to go to school as a girl of eight. She had to pass the cottage of an old Mrs. SPENCE that was on the River Road, so once in a while she called on the old lady to chat. She remembers how Mrs. SPENCE was proud of keeping the Doctor up in the attic for quite a few days and, even though his hiding place was supposed to be kept a secret and RIEL's scouts were out looking for him, the old lady would tell everybody, in good old Red River dialect, "I'm not supposed to tell, but I got him hid up in my attic but you'll see." He may have even been kept hidden in the stone church house that once belonged to the St Andrews Church, according to the museum's owner's sign. But wherever James MONKMAN deposited him, he surely found his way to MONKMAN's father's home across the river. From then on, the father, Joseph MONKMAN, became the real hero.
To read more about the Rebellion and about the MONKMAN family's involvement in it, please click on the following link: THE FAMILY OF JOSEPH MONKMAN
================================ // ================================
Manitoba becomes a Province
The Red River Census
1870
On July 15,1870 Manitoba became the fifth province of Canada, the Canadian Government having acquired the territory previously governed by the HBC.
The Manitoba Act provided substantial land grants to the Métis (Half-breeds) at Red River. Section 31 set aside 1.4 million acres of land for distribution among the children of Métis heads of families residing in the province, while section 32 guaranteed all old settlers, Métis or white, "peaceable possession" of the lots they occupied in the Red River settlement prior to July 15, 1870. Subsection 32(5) guaranteed allotments of land to commute the rights of hay and common in the outer two miles that accompanied many of the old river lots. This, in turn, made the Métis vulnerable to dispossession because it became more difficult for them to pass occupation and improvement standards.
In the Census of 1870 James MONKMAN was recorded as 23 years old and living at his parents' home in the St Peters Indian Settlement north of Selkirk, MB. James' older brother, Thomas (in above photo), was about 25 years old and had recently married Mary INKSTER. His oldest brother, Joseph MONKMAN Jr., was in his mid 30's by this time; also married with several children.
On Aug 21, 1870, Colonel Garnet Joseph WOLSELY (1833-1913) and his soldiers arrived at Fort Alexander. On Aug 24 they forced their way into Upper Fort Garry. RIEL, having learned that the soldiers were planning to lynch him, fled, (to the USA) just a few hours before they arrived. The Rebellion was over.
Treaty Number One
1871
In 1871 Wemyss SIMPSON (1824-1894) was selected by the Department of Indian Affairs (DIA) as General Indian Agent (Indian Commissioner) to make Treaties with the Indian Tribes between Thunder Bay and Fort Garry and to represent the Government in the Northwest. On July 25, 1871, negotiations began at Lower Fort Garry.
On Aug 3, 1871, Chief Henry Red Eagle (Mis-koo-ke-new) PRINCE (1819-1902) signed Treaty Number One, representing the St Peters Indian Band. ** MORE ABOUT CHIEF HENRY PRINCE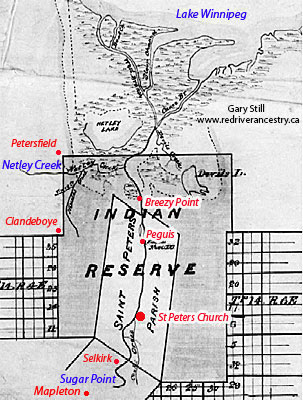 Plan showing St Peters Reserve No.1
From Selkirk The First 100 Years:  In exchange for their promises of obedience to the Crown and abandonment of all land claims, the Indians of the St Peters Band were to receive, among other gifts, "so much of land on both sides of the Red River, beginning at the south line of St Peters Parish, as will furnish 160 acres for each family of five. St Clements Parish had not yet been surveyed by the government between St Andrews and St Peters, and consequently the southern boundary of the new reservation began just south of Sugar Point. As such, it included all of the planned Town of Selkirk.
Marriage to Jane Mary TAIT
1872
On Apr 10, 1872 James married at St Peters to Jane Mary TAIT, daughter of Catherine CUMMINGS & William TAIT (b-1827), both half-breeds.
December 1872, the newly appointed Lieutenant-Governor, Alexander MORRIS (1826-1889),wrote to Ottawa urging that the terms of the treaties be fulfilled. MORRIS was soon busy travelling throughout the region dealing with Indian treaties under his jurisdiction.
On Jan 24, 1873 James' first child, daughter Catherine was born in St Peters.
In 1874 James filed an Application for Patent to Lot 102 in St Peters Parish.
More than 1000 people lived between Sugar Point and Netley Marsh, mostly half-breeds and Indians. Less than 50 were whites. These were settled people with a 40-year tradition of agriculture. Those lots closest to Sugar Point seemed to take best to farming, but lately even they had not had much success because of grasshopper plagues that ravaged their fields every few years.  Still, most families had a small herd of cattle, some pigs and a few chickens to help them through the winter months. Some of the men found work on the HBC boats that plied Lake Winnipeg and it's tributaries, while others cut hay and wood on the east side of the Red for sale to white settlers closer to Winnipeg.
The First Indian Act is Passed
Dr. David YOUNG and Alex MUCKLE as Indian Agents for St Peters
1876-1882
On Oct 7, 1876 the Federal Government passed the first Indian Act, and much like its predecessor, the Act continued to subordinate Aboriginal peoples to the discretion of federal lands. In 1877 Dr. David YOUNG (1847-1931), a resident of Little Britain (near Lower Fort Garry), became Indian Agent for the Reserves at Brokenhead River, St Peters, Fort Alexander.
On Jul 24, 1877 James MONKMAN, farmer of St Peters, and his wife, Jane Mary, both filed claims for their Half-breed Scrip. James' Certificate was issued on Oct 2 that year.
In the Census of 1881 James MONKMAN was enumerated (St Andrews Parish) as age 38; wife Jane, age 28; children as Catherine (age 8); Robert (age 4); and baby Elizabeth.
Town of Selkirk Incorporated
Rural Municipality of St Clements is created
The First Passenger Train from Montreal to the Pacific
1882-1887
In the New Year of 1882 Alexander MUCKLE (1844-1908) replaced David YOUNG as the Indian Agent for the St Peters Band. That year William PRINCE replaced Henry PRINCE as Chief of the St Peters Band.
On June 15, 1882 the Town of Selkirk was incorporated. The first Mayor was James COLCLEUGH (1841-1918). It was still anticipated that the CPR main railway route would be built from Fort William to Selkirk (Mapleton), there to cross the Red River and extend to the Lake Manitoba Narrows; then on to Edmonton. There was already (since 1878) a branch line in full service from Winnipeg to Colville Landing (East Selkirk) where there was a large HBC store (managed by E. TURNER & J.D. MOWAT; not operated after 1883). On the west side of the river, construction was well under way on a branch line from Winnipeg to Selkirk (it would open for service the following year). At this point, rail service from the east was primarily via the USA.
From MUCKLE's Annual Report for St Peters, June 30, 1882: "The Indians are very uneasy about the land question, as they hear so many stories about patents being issued for parts of their reservation, and in fact there are certain non-treaty men who live on the reserve who are continually exciting them with stories, if not about land about something else. These people are really the root of all evil in St. Peters; if it were not for them and their evil counsel, this reservation would be as quiet and easily managed as any in the North-West."
In 1883 Selkirk people were devastated when it was decided to build the main Red River Bridge crossing at Winnipeg rather than Selkirk.The population of Selkirk dropped to 8,000, the place was almost deserted, and its 5 hotels shrank to one, its 6 general stores to 3. The Rural Municipality of St Clements was formed that year. Without going to a lot of detail, essentially the RM of St Clements now referred to the East side of the Red River and Lake Winnipeg all the way from Winnipeg to Grand Beach, extending eastward as far as Garson. Hereafter, St Andrews now only referred to the west side of the river.
In 1884 the first Selkirk Newspaper began publishing. The region's first Mental Health Centre, also known as the Asylum, was under construction (opened in 1886). There were wooden sidewalks along the main streets of Selkirk. 
On June 28, 1886 the first through passenger train of the new CPR left Montreal for the Pacific and arrived in Winnipeg crossing the Louise Bridge on July 1, 1886 and arrived at the BC Terminal at one minute to noon hour on July 4, 1886 heading for the Pacific.
On July 13, 1886, Sir John A MACDONALD arrived in Winnipeg. He was the first Prime Minister to visit the city while in office.
In 1887 the first Merchant's Hotel was built in Selkirk by John Christian SCHULTZ
=============================== // ================================
On Oct 31, 1887 James MONKMAN received Patent to Lot 96 and Lot 102 in St Peters.
In the Census of 1891 James MONKMAN was recorded as age 44; Jane as age 34. Children recorded were Catherine (age 17), Robert (13), Fred (5) and Oliver (age 2).
Questions of Land Ownership in the St Peters Reserve
1894-1897

L-R: John C. Schutz, Thomas M. Daly, John A. MacDonell and George T.  Orton
John SCHULTZ was the 5th Lieutenant Governor of Manitoba from Jul 1, 1888 to Sep 2, 1895. James and his father became very close friends of SCHULTZ for the obvious reasons mentioned above. Through SCHULTZ James became acquainted with many of the leading politicians and businessmen of the day. In 1892 Thomas Mayne DALY (1852-1911) became the Minister of the Interior and Superintendant of Indian Affairs in the Cabinet of Sir John ABOTT. DALY became the first Federal Cabinet Minister from Manitoba.
Around 1894 James MONKMAN began correspondence regarding the legality of ownership of several parcels of land in the St Peters Reserve. (Library of Archives Canada hereafter referred to as LAC). All of the above pictured politicians were mentioned in James' letters. Lot Numbers referred to in his letters were Lots 142, 148, 165, 243 and 63.
Names associated with St Peters Lots mentioned in James' correspondence:
Lots 142, 148: James MONKMAN (himself)
Lot 165: Philip MONKMAN (his brother)
Lot 243: Executors of John COCHRANE
Lot 63: Joseph MONKMAN (his brother)
On Jan 15, 1895, a Federal election was held in Manitoba. James MONKMAN acted as Purveyor for Ballot boxes from the far north down to Selkirk during that Election. John Alexander MACDONELL (1854-1912) was elected (by one vote) to the House of Commons for Selkirk constituency, succeeding DALY as MP in that capacity. DALY continued as Supt of Indian Affairs until 1896.
On June 6, 1899 James' father, Ole Joe MONKMAN, died; buried in the St Peters Dynevor Cemetery.
In 1901 James MONKMAN himself was the Enumerator for St Peters Parish. He recorded himself as age 53, wife Jane as age 48.  Children: Catherine (age 28), Robert (age 25), Fred (age 17) and Oliver (age 12).
On Mar 16, 1903 son Robert married Mary Agnes SMITH.
On March 4, 1904 James' mother, Isabella MONKMAN died, age 88. She was buried with her husband in St Peters.
On June 20, 1906 the Census was taken in St Peters Parish. The family of James MONKMAN (age 59) was recorded on Lot 102; wife Jane (age 54) and children: Catherine (age 30), Frederick (age 21) and Oliver (age 17).  His address was indicated as Gilulo Post Office. This Post Office, originally called the Eagle's Nest P.O. and later the Peguis P.O., had previously been operated by his father (Joseph) and later his brother (Albert).
The Historic and Controversial Surrender of the St Peters Reserve
1907
On Oct 14, 1907, after many years of haggling over non-Indian land claims, Chief William PRINCE and his four Councillors (Henry PRINCE, John PRINCE, William HARPER and James PRINCE), as well a ex-Chief William ASHAM, accepted and signed the historical and controversial Surrender of the St Peters Indian Reserve to the Crown. The same month, the Band and representatives of the department selected the site of the new Peguis Reserve in the Fisher River area north of Hodgson, Manitoba.
In 1911 the Manitoba Royal Commission investigating the titles to the river lots and the surrendered land, vindicated those who had opposed the surrender's validity. In the meantime, however, a significant proportion of the Band had relocated to Fisher River, patented lots had been sold, a sale of the remaining surrendered reserve land had taken place, and proceeds had been distributed to band members. The dominion government was unwilling to turn back the clock and reopen the St Peter's land question. It was perhaps inevitable that the surrender would ultimately be validated by special legislation: the St. Peter's Reserve Act. Under its provisions, purchasers would be required to pay an extra $1 per acre (to be added to the St Peter's Band fund) to obtain a secure title to their land. The legislation had the effect of increasing the balance in the Band's trust account by $40,000, but the St Peter's Indian Reserve was gone forever.
The 1911 Census in St Peters Parish recorded James MONKMAN as 64 years old; wife Jane, age 59, and children as Catherine (age 38); Frederick (age 28) and Oliver (age 25). They had a "boarder" named Frank EDGERLY (b-1886).
On July 17, 1912 daughter Catherine married Alfred James Frank SMITH, son of Hannah FRANKS and William Robert Pemble SMITH (1855-1901). They made their residence on the same property as her father (Lot 102).
** MORE ABOUT WILLIAM ROBERT PEMBLE SMITH
It was said that James was blind for the last 14 yrs of his life.
World War I
1914-1919
On Aug 4, 1914 Great Britain (Canada on Aug 5) declared war on Germany and Austria-Hungary to uphold treaties with France and Belgium which were under German attack. This marked the beginning of World War I.

On Jan 3, 1918 son Oliver enlisted for service in the 249th Battalion of the Canadian Over-seas Expeditionary Force.

November 11, 1919; Armistice Day (Remembrance Day) marked the end of the First World War.
In 1922 Jane MONKMAN died.
On Jul 9, 1924, widower son Robert remarried to Jessie Jane KENNEDY in Selkirk.
On Nov 3, 1925, son Frederick married in Selkirk to Nellie McLENNAN, daughter of Mary Olive TELLIER & Frank McLENNAN (1873-1954).
On Dec 24, 1932 James MONKMAN died in Selkirk. He was buried near his wife in St Peters, Dynevor.
Around 1933 son Oliver was married to Charlotte Olive KIRTON, daughter of Isabel McLENNAN & Norman Gilbert KIRTON (1880-1922).
Link to queries and discussions about this family: ** FORUM DISCUSSIONS about JAMES MONKMAN
======================= Family Details =======================
Children (of 9): Children who survived to adulthood according to census records. Some sources indicate other children
(William Alexander, Thomas, Isabella and Richard) all of whom may have died in infancy.
1. Jan 24, 1873 CATHERINE ANN MONKMAN (m. Alfred James Frank SMITH)
2.  Sep, 1877 ROBERT JAMES MONKMAN (m1. Mary Agnes SMITH, m2. Jessie Jane KENNEDY)
** MORE ABOUT ROBERT JAMES MONKMAN
3. 1881 ELIZABETH MONKMAN (Died in infancy?)
Indicated as a baby in Census 1881 but does not appear in later censuses.
4. 1885 FREDERICK WILLIAM MONKMAN (m. Nellie McLENNAN)
5. May 24, 1888 OLIVER GEORGE WELLINGTON MONKMAN (m. Charlotte Olive KIRTON)