JAMES MONKMAN (1775-1865)
MARY (Muskegon – Cree Indian)
(Last Updated: January 10, 2017)
James MONKMAN was born March 30, 1775 in Whitby, Yorkshire, England.
Hudson's Bay Company
1793
HBCA: On Sep 5, 1793 James (age 18) contracted with the Hudson's Bay Company (HBC) as a Seaman. He arrived at York Factory that fall aboard the Prince of Wales. James was said to be about 5' 6".
** MORE ABOUT JAMES MONKMAN in HBC ARCHIVES
Monkman Ancestry by Kathleen Monkman: James and his brother were to attend school in England, however, neither of these young men had a desire to continue their education. They hopped off the coach at Orkney and boarded a ship that was bound for the New Land. Not in the preferred manner, but as stowaways! Three days out at sea, feeling it was now safe, they made their presence known. The captain gave them the "what-for", but they had expected this. Their plan was to give an anonymous name so as not to bring disgrace upon the MONKMAN Clan. There was no way the ship would turn around at this point; therefore, they were put to work as a way of paying their passage. The brothers proved their ability and redeemed themselves in the eyes of the captain and crew.
Base map from Yahoo (Fort locations added by G.N. Still)
James was assigned to work under George TAYLOR (1759-1838) on the brig Beaver which was based at the HBC post of Fort Severn. In 1798 James became a Brig's Mate and worked under TAYLOR for the first eight years of his employ.
James weds a Swampy Cree Indian named Mary
1804
Around 1804 James took a Swampy Cree (Muskegon) Indian named Mary as his wife. Son James Jr. was born around 1805, followed by Nancy Ann around 1807, Joseph in 1810 and Ernest in 1811, probably all at Fort Severn.
James becomes an Assistant Trader
1812
Although James was classified as a sailor, he undoubtedly spent the winter months apprenticing as a fur-trader. In fact, after 1812 he became an Assistant Trader in the York District, serving inland at Island Lake as well as Fort Severn.
Daughter Harriet was born in 1815.
Red River Settlement
Métis Rebellion
The Seven Oaks Massacre
1816-1817
On Apr 24, 1816 James settled in Red River, just when the first Red River Rebellion was about to explode, led by Cuthbert GRANT (1796-1854). Two months later, on June 19, the Seven Oaks Massacre took place resulting in the death of Governor Robert SEMPLE (1777-1816) and 20 of his men at Frog Plain (Kildonan area). Fort Douglas, the settlement headquarters, surrendered the next day and the settlers were forced to seek refuge at Norway House.
On June 21, 1817, Lord SELKIRK arrived at Ft Douglas with an army of soldiers allowing the colonists to return from Jack River. In order to secure greater stability for his colony, he entered into an agreement (the Selkirk Treaty) with Chief PEGUIS and several other local chiefs by which some 300, 000 square km of land along the Red and Assiniboine Rivers were granted to George III for use of the colony. The ceded territory included land occupied by PEGUIS and his followers on both sides of the Red River, from Sugar Point north to the mouth of the river at Lake Winnipeg. This became the site of the St Peters Reserve. 
In.August Cuthbert GRANT gave himself up and was taken prisoner east to stand trial on charges of murder, theft and arson. On Sep 9, 1817, with peace restored, SELKIRK departed from Fort Douglas to return to Montreal via United States territory.
There seems to be no evidence of James being involved in the events of the rebellion. He may have taken his young family up to Lake Winnipegosis at some point during the turmoil.
Daughter Mary was born in December of 1817.
The Saltworks on Lake Winnipegosis
Birsay Village "Orkney Town"
1818
In 1818 James started the Saltworks at Red Deer Peninsula; Lake Winnipegosis (now called Salt Springs Point). He also made salt at Swan River and Duck River. For many years he struggled against the importation of English salt, which sold in the settlements at a cheaper rate than he could afford to manufacture it.
The manufacture of salt was conducted in a rude manner. Pits were dug four or five feet deep, and into them the waters (from brine springs) infiltrated. Nearby, temporary furnaces were erected, on which were placed evaporating pans made of iron plate 1/8 inches thick and 5-6 feet long by 3 feet wide and 8-10 inches deep. Beside the pans were trays on to which the salt was raked. No pumps were used, the water being lifted into the pans directly from the pits by means of pails. The manufactured salt was put into birch-bark boxes or "mococks" holding about 100 pounds each, and was then ready for market.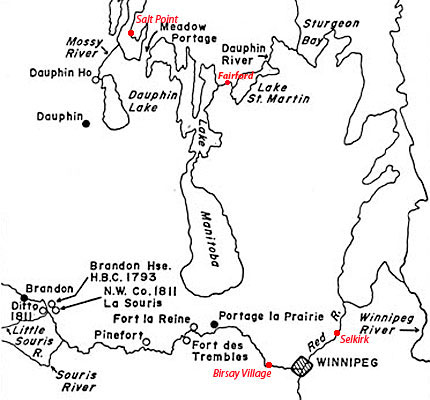 Birsay Village later became St Francois Xavier
James may have spent the winter of 1818-1819 at Brandon House.
In the spring of 1819 Peter FIDLER (1769-1822)  made a map of Red River District, recording the settlement of Birsay Village (on the White Horse Plains, west of Winnipeg), where he recorded James MONKMAN with a wife and family. Oman NORQUAY was one of the elders of Birsay Village. (Oman's son Henry would later marry James' daughter Mary)
Around 1822 Jane "Jenny" and John were born.
Union of the Hudson's Bay Company and the North West Company
1821
In 1821 the North West Company (NWC) was absorbed by the HBC in a merger that ended many years of bitter and costly fur-trade rivalry that seriously affected their financial stability. As a result, many voyageurs and fur trade employees were either dismissed or retired. These retirees were mostly of Scotch, English, Irish and French Canadian origin. Most of them had acquired Indian wives early in their careers and their children were referred to as Half-breeds or Métis. It was probably not long after this that James retired and settled in St Paul Parish (Middlechurch).
Around 1822 Jane "Jenny" and John were born.
St Paul Parish (Middlechurch)
In 1826 daughter Nancy Ann married James WHITEWAY (1778-1838), an HBC fur tradder and interpreter from the Orkneys of Scotland. ** MORE ABOUT JAMES WHITEWAY
In 1827 James was church-wed to Mary at St Johns (Winnipeg) in the Red River Settlement. He was recorded that year as a married man (age 50) living on Lot 212 (presumably in St Paul Parish). He had a stable, two horses, three cows, three oxen, three calves. He had a cart and a canoe and had two acres under cultivation. The census indicates five children at home: two adult sons (James & Joe); one son under 16 (John) and two daughters under 15 (Mary & Jenny). My information indicates that James & Mary had at least nine children by 1827. Recognizing that daughter Nancy Ann was then married, this leaves three more children not accounted for in that census (Ernest, Harriet and Marguerite).
In 1829 son James Jr. married Nancy CHABOYER.
Around 1833 daughter Harriet married James Asham COCHRANE.
The Red River Census of 1835 showed that James homesteaded Lots 7 and 8 in the Parish of St Paul (Middlechurch area). There were seven persons in his household; he had 3 horses, 22 cattle, 4 farm implements, and he owned 34 acres, 17 acres being farmed.  He would have been 60 yrs old then.

It was around 1835 that son Joseph married Isabella SETTER.
In 1836 daughter Mary married Henry NORQUAY.
On Dec 25, 1843, daughter Jenny had a child by Pierre DUCHARME.
On Dec 23, 1847 at Middlechurch, son John married Mary RICHARD
In 1858, when Henry Youle HIND (1823-1908) visited the Saltworks, son John who was running the operations there.
James MONKMAN died on Aug 7, 1865; buried at St Peters, Dynevor, MB.
The Saltworks was continued by his sons Joseph and John until about 1874, when it was sold to a Mr McKAY.  In the 1860's they were the main suppliers to the HBC, producing 200 bushels per season.  There are still slight ruins there today.
Please post comments & queries as this link: FORUM DISCUSSING the JAMES MONKMAN FAMILY
======================= Family Details =======================
Children:
1. 1805 JAMES MONKMAN (m1. Nancy CHABOYER, m2. Marguerite RICHARD)
** MORE ABOUT JAMES MONKMAN JR
2. 1807 NANCY ANN MONKMAN (m. James WHITEWAY)
3. 1810 JOSEPH "Ole Joe" MONKMAN SR (m. Isabella SETTER)
** MORE ABOUT JOSEPH MONKMAN
4. Jan 3, 1811 ERNEST MONKMAN
5. 1815 HARRIET MONKMAN (m. James Asham COCHRANE)
6. Dec, 1817 MARY MONKMAN (m. Henry NORQUAY)
7. 1819 MARGUERITE MONKMAN
8. 1822 JANE "JENNY" MONKMAN (m1. Pierre DUCHARME, m2. Caesar MOORE, m3. Robert CUMMINGS)
** MORE ABOUT JANE and PIERRE DUCHARME, CAESAR MOORE and ROBERT CUMMINGS
9. 1823 JOHN MONKMAN (m. Mary RICHARD)