JAMES WHITEWAY (1778-1838)
MARY PARK (1785-1823)
NANCY ANN MONKMAN (1807-1839)
(Last Updated: December 07, 2014)
James WHITEWAY was born 1778 in Burray, Orkney Islands (Scotland).
Employed by the Hudson's Bay Company
1798
In 1798 James sailed from the Orkneys to York Factory as an employee with the Hudson's Bay Company (HBC) where for the next 13 years he worked inland, first as a laborer, then as an interpreter.
Fort Edmonton
Mary PARK
1811-1823
From 1811 to 1823 James was an Interpreter at Fort Edmonton in the Saskatchewan River District. He worked under Chief Trader James CURTIS BIRD (1773-1856) who was In Charge of Inland Posts at the time.
** MORE ABOUT JAMES CURTIS BIRD
In the spring of 1812 BIRD recorded that he had sent WHITEWAY to spend the summer with the Muddy River Indians, to learn their language as well as to "acquire certain intelligence of the Americans on the Missouri River, and across the Mountains that we may be able to form some idea of the effect they may produce on the 'Trade of this River.'" By November, WHITEWAY was still living with the native bands. A few Missouri Indians, arriving at Edmonton House to trade, brought word to BIRD that WHITEWAY was well. Learning the native languages meant living with the bands over long periods of time, as WHITEWAY obviously did successfully.
Union of the North West Company with the Hudson's Bay Company
1821
In 1821 the union of the North West Company (NWC) and the Hudson's Bay Company (HBC) occurred, ending the years of bitter rivalry for dominance of the fur trade in Western Canada. After the merger, almost 1,300 employees lost their jobs since the single HBC organization that emerged had no need for most of the voyageurs and fur traders.
According to the HBC Archives, James' first wife was a lady named Mary PARK who died in 1823 after giving birth to a son named John. Mary PARK's origins are uncertain at this time. ** Perhaps she was a daughter of Margaret and John PARK (1770-1847) – worth further investigation. ** MORE ABOUT JOHN PARK
A Red River Settler
Marriage to Nancy Ann MONKMAN
1826
Retired from the HBC, sometime after 1823 James became a settler in Red River.
On Feb 20, 1826 James re-married to Nancy Ann MONKMAN, probably in St Paul Parish, the daughter of Mary (Cree) and James MONKMAN (1775-1865), a retired HBC trader from England. ** MORE ABOUT JAMES MONKMAN
The Red River Census of 1827 recorded James WHITEWAY on River Lot 170, a 43 year old Protestant from the Orkneys with a wife and two young sons (John & James). He had a house, a stable, a plough and a cart, and he had five acres under cultivation. His livestock included four mares, five cows, three oxen, three calves and 12 swine.
St Andrews Map of1835 shows James WHITEWAY on River Lot 134 with 18 acres of land under cultivation. This location is up-river from Lambert's Point near the boundary with St Paul Parish as shown on the map below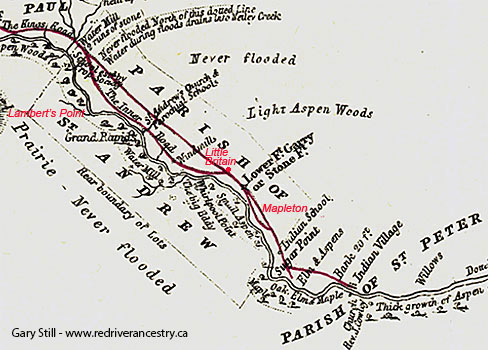 St Andrews Parish from Hind's Map of 1857
On Jan 2, 1838 James WHITEWAY died, and in 1839 Nancy (nee MONKMAN) WHITEWAY died at the age of 32, both were buried in St Andrews.
HBCA 1841: James' balance of £104. 12. 9 was divided among his three sons after his death (James, William and Joseph).
In 1847 eldest son James Jr. married Chloe SPENCE in St Andrews, the daughter of Margaret (Cree) and Andrew SPENCE (1789-1851).
Around 1850 son William married Jane CUMMINGS of uncertain origins.
About 1865 youngest son Joseph married Elizabeth HAMILIN who was born about 1842 in Quebec (parents uncertain).
Comments and queries at this link: FORUM DISCUSSING JAMES WHITEWAY and his DESCENDANTS
========================== Family Details ==========================
Child by Mary PARK:
1. 1823 JOHN WHITEWAY (Died age 16)
Children by Nancy MONKMAN: 
1. Nov 14, 1826 JAMES WHITEWAY (m. Chloe SPENCE)
2. 1828 MARY ANN WHITEWAY (Died age 11)
3. 1829 CATHERINE WHITEWAY (Died age 9)
4. Oct 12, 1829 WILLIAM WHITEWAY (m. Jane CUMMINGS)
5. 1833 MARGARET WHITEWAY (Died age 2)
6. 1835 JOSEPH WHITEWAY (m. Elizabeth HAMELIN)
7. 1837 MARY WHITEWAY