PIERRE DUCHARME alias LANOUCHE (1824-1886+)
JANE MONKMAN (1822-1908)
MARIE DESJARLAIS (1834-1880+)
(Last Updated: May 03, 2017)
Pierre DUCHARME (alias LANOUCHE) was born about 1824 in Pointe-aux-Anglais, Quebec (west of Montreal), son of Charlotte ABINOCH (Indian) and Nicholas DUCHARME (b-1795). ** A birth date of 1834 for Pierre is shown in his Scrip affidavit of 1886, but seems to be erratic in that he allegedly fathered a child (James) with Jane MONKMAN in 1843. The handwriting of the date appears somewhat scrambled and my guess is that it should probably be 1824.
Jane "Jenny" MONKMAN was born about 1822 in St Paul Parish, Red River, daughter of Mary (Cree) and James MONKMAN (1775-1865), an HBC fur trader born in England. ** MORE ABOUT JAMES MONKMAN
It is uncertain when Pierre DUCHARME came to Red River (St Francois Xavier), but it was apparently before 1843.
A child with Jane MONKMAN
1843
Around the month of March, 1843, Pierre conceived a child (out of wedlock) with the aforementioned Jane MONKMAN. The child, James, was born on Dec 25, 1843, probably in St Paul Parish. He is most commonly referred to later as James MONKMAN rather than DUCHARME.
Around 1852 Jane MONKMAN became the third wife of Robert CUMMINGS (1785-1863) in St Paul Parish. Illegitimate son James would have been about nine years old at that time and it seems he probably remained with his maternal grandparents (Mary & James MONKMAN) after his mother's marriage to CUMMINGS.
Jane would have two children with CUMMINGS; Elizabeth Ann CUMMINGS in 1852 and Harriet CUMMINGS in 1855.
Pierre marries Marie DESJARLAIS
1855
Around 1855 Pierre DUCHARME was married to Marie DESJARLAIS in St Francois Xavier (MB), daughter of Brigitte CARDINAL and Marcel DESJARLAIS (1808-1881).
Around 1858 Jane MONKMAN conceived another child out of wedlock with Caesar Augustus MOORE, son of Clementina ROSS and John MOAR aka MOORE (1777-1843) from the Orkneys of Scotland. This child was Caesar MOORE Jr., born about 1858. Caesar MOORE Sr. would later have two more wives; Isabella SANDERSON and Margaret (nee CUMMINGS) KNIGHT.
In 1962 Robert CUMMINGS (Jane MONKMAN's husband) died.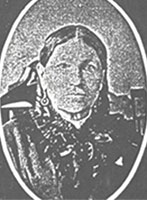 Jane Monkman (From Sharon Cox)
Pierre DUCHARME at Lac La Biche, Alberta
1862-1873
In 1862 Pierre DUCHARME left Manitoba and moved to Lac La Biche (Alberta).
On July 1, 1867 the British colonies in North America were united under the British North American Act to become the Dominion of Canada.  Sir John A MACDONALD (1815-1891) was appointed as Canada's first Prime Minister.
In 1867 Pierre's illegitimate son James (DUCHARME aka MONKMAN) married Margaret HALCRO in St Andrews Parish, the daughter of Charlotte KNIGHT & Thomas HALCROW (1815-1854). 
** MORE ABOUT THOMAS HALCROW
On July 15, 1870 Pierre was living in Lac La Biche.
Morleyville Indian Reserve
1873
Wikipedia: Settlement in the Morley area of Alberta began with the arrival of the Methodist missionary John McDougall and his wife in 1873 to establish a missionary outpost in the Bow Valley for outreach to the Nakoda (Stoney) and Siksika (Blackfoot) First Nations. They founded the mission at the request of John's father, George McDougall, the superintendent of Methodist missionary work in western Canada. The site John chose was originally called Ghost River, but he renamed it Morleyville in honour of his friend Morley Punshon, an Ontario doctor.
In 1873 Pierre moved from Lac La Biche to the Morleyville Reserve.
On June 11, 1886 Pierre received a Discharge from Treaty as a member of the Chomaqyays (Stoney) Band at Morleyville.in order to receive Half-breed Scrip which he claimed on June 14 while living in Calgary.
On Nov 18, 1908 Jane (nee MONKMAN) CUMMINGS died in Portage la Prairie at the age of 88,
Comments and queries at this link: FORUM DISCUSSING the PIERRE DUCHARME FAMILY
========================== Family Details ==========================
Child with Jenny MONKMAN:
1. Dec 25, 1843 JAMES (DUCHARME) MONKMAN (m. Margaret HALCRO)
** MORE ABOUT JAMES DUCHARME aka MONKMAN
Children with Marie DESJARLAIS:
1. 1856 ANGELIQUE DUCHARME (m1. Joseph KANEPOW; m2. Baptiste dit Kakikekamiek MOISE)
2. 1857 FRANCOISE DUCHARME (Died age 13)
3. 1859 ANNE DUCHARME (Died age 11)
4. 1861 VIRGINIE DUCHARME (Died age 10)
5. 1863 CATHERINE DUCHARME (m. Leon BEAUCHEMIN dit MILLET)
6. 1866 HARRIET (HENRIETTE) DUCHARME (m. Joseph DESJARLAIS)
7. 1868 ROSALIE DUCHARME
8. 1870 ISABELLE DUCHARME
9. 1875 LOUIS DUCHARME (Died age 15)
10. 1877 ADELAIDE DUCHARME (Died age 8)
11. 1880 PIERRE DUCHARME (Died age 16)