JAMES MONKMAN (1805-1865)
NANCY CHABOYER (1806-c1846)
MARGUERITE RICHARD (1819-1906+)
(Last Updated: July 23, 2015)
James MONKMAN was born around 1805 at Severn Post (on Hudson Bay), the eldest child of a Mary (Cree woman) and James MONKMAN SR (1775-1865) from England, a sailor and HBC trader. ** MORE ABOUT JAMES MONKMAN SR
In 1818 James' father began operating a Saltworks on the Red Deer Peninsula of Lake Winnipegosis (Salt Point on map below). Around 1819 the MONKMAN family was also recorded at Birsay Village (later St Francois Xavier).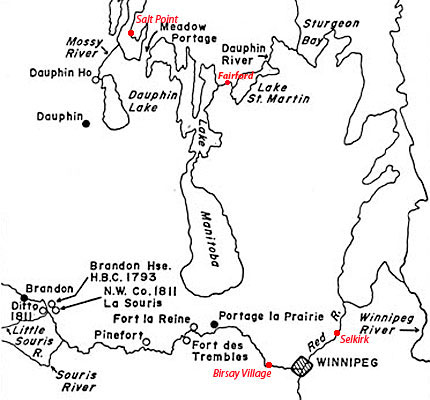 Birsay Village later became St Francois Xavier
Around 1827, the elder James MONKMAN was church-wed to his Cree wife and retired to the Middlechurch area (St Andrews), while his sons continued with the Saltworks (there were 9 children in the family).
James & Nancy CHABOYER
1828-1846
On May 12, 1829 James married Nancy CHABOYER at St Johns in Red River, daughter of Jessie BRUCE and Charles CHABOILLEZ (1772-1812). ** MORE ABOUT CHARLES CHABOILLEZ in DCBO

By the early 1830s, the younger James MONKMAN and his family were spending at least part of the year near Oak Point, a Métis-Salteaux community on the south-eastern shore of Lake Manitoba. It was the transit point at which the Monkmans' salt was transferred from York boats to Red River carts before being transported to market.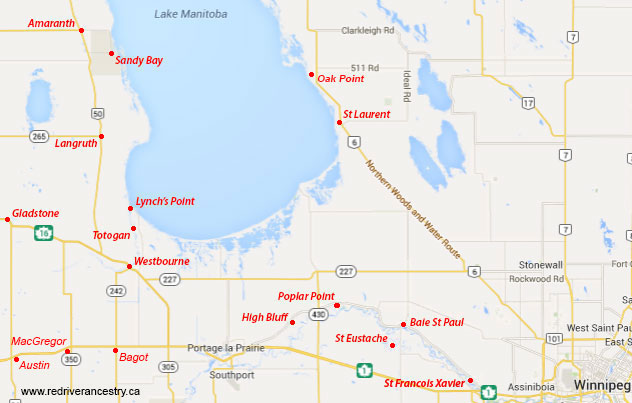 Around 1846 Nancy (nee CHABOYER) MONKMAN seems to have died after giving birth to Charlotte who also died about two months old.
James marries Marguerite RICHARD
1847
Around 1847 James re-married to Marguerite RICHARD, daughter of Marguerite (Indian) and Francois RICHARD (1770-1871).

In 1852 eldest daughter Mary married Philip TATE in St James, son of Mary BEAR & William TATE (1792-1878).
** MORE ABOUT WILLIAM TAIT / TATE

Around 1852 eldest son Joseph married Elizabeth HENDERSON, daughter of Charlotte YORKSTONE and Peter HENDERSON (1795-1863), a retired HBC voyageur from Scotland.
Around 1860 son Edward married Josephte (Suzette) RESSON aka RICHARD of uncertain origins.
James MONKMAN Dies
1865
On Dec 8, 1865 James MONKMAN died and was buried in St Paul (Red River).
Canadian Confederation
A Red River Rebellion
Manitoba becomes a Province
1867-1870
On July 1, 1867 the British colonies in North America were united under the British North American Act to become the Dominion of Canada.  Sir John A MACDONALD (1815-1891) was appointed as Canada's first Prime Minister. William McDOUGALL (1822-1905) became the Minister of Public Works, and he began negotiations to acquire Rupert's Land from the HBC; surveyors were sent to Red River to prepare the way for an expected influx of settlers.
In 1868 son Henry (widowed) re-married to Nancy (nee WHITFORD) SPENCE in Portage la Prairie, daughter of Christiana SPENCE and Peter WHITFORD (1780-1872).
On Oct 11, 1869, Louis RIEL (1844-1885) placed his foot on the surveyors' chain to tell them their work was finished! This marked the beginning of the historic Red River Métis Rebellion.
On July 15,1870 Manitoba became the fifth province of Canada, the Canadian Government having acquired the territory previously governed by the HBC. The Rebellion was essentially over.
Census of 1870 in Oak Point: Widow Margaret MONKMAN, age 50. Children: William (age 30), Francois (24), Jane (20), Annie (18), Catherine (16), Marguerite (14) and Alexander (age 12).
In 1871 son Phillip married Mary McLEOD, daughter of Josephte GOULET and Antoine McLEOD of uncertain origins.
In 1872 son Francois married Margaret STEVENSON in St Peters who may have been a daughter of Elizabeth JOHNSON and John Thomas STEVENSON (1818-1868). ** More information needed to substantiate this.
In 1875 Marguerite of Oak Point claimed her Half-breed Scrip as the widow of James MONKMAN.
Around 1875 son Charles married in St Laurent to Caroline SINCLAIR of uncertain origins.
Around 1875 daughter Catherine married her brother-in-law John HENDERSON, son of Charlotte YORKSTONE and Peter HENDERSON (1795-1863) previously mentioned.
In 1876 son William married Mary WATTAM in Swan Creek, son of Jessie and Joseph WATTAM.
Around 1880 daughter Jane married Pierre McLEOD, son of Cecile LARIVIERE and Abraham McLEOD (1825-1878).

Around 1881 son George married Harriet SINCLAIR of unknown origins.
Census of 1881 in the Winnipegosis District: Widow Margaret MONKMAN, age 63. Children: Annie (age 26), Margaret (age 23) and Alexander (age 20).
In 1882 daughter Marguerite married Michel CHARTRAND in St Laurent, son of Josephte CADOTTE and Paul CHARTRAND (1812-1886).
In the 1901 and 1906 censuses Widow Margaret (age 80 and 96 respectively; obvious errors) was recorded in the Minniwaken area with her daughter Annie and granddaughter Pauline (Annie's child). Minnewaken is located to the north of Oak Point.
Comments and queries at this link: FORUM DISCUSSING THE FAMILY of JAMES MONKMAN JR
======================= Family Details =======================
Children with Nancy CHABOYER:
1. 1830 JOSEPH MONKMAN (m. Elizabeth HENDERSON)
2. 1832 MARY MONKMAN (m1. Philip TATE)
3. June 1, 1834 HENRY MONKMAN (m1. Louise McLEOD, m2. Nancy (nee WHITFORD) SPENCE)
4. 1839 EDWARD MONKMAN (m. Josephte (Suzette) RESSON aka RICHARD)
5. 1842 THOMAS MONKMAN (Died in infancy, age 4)
6. 1842 JOHN MONKMAN
7. Nov 20, 1843 CHARLES MONKMAN (m. Caroline SINCLAIR)
8. 1846 CHARLOTTE ELIZABETH MONKMAN (Died in infancy 2 mos)
Children with Marguerite RICHARD:
1. 1848 FRANCOIS MONKMAN (m. Margaret STEVENSON)
2. May 12, 1849 ANNE MONKMAN
3. Oct 20, 1851 WILLIAM MONKMAN (m. Mary WATTAM)
4. Sep 10, 1854 PHILIP MONKMAN (m. Mary McLEOD)
5. Apr 23, 1854 JANE MONKMAN (Pierre McLEOD)
6. 1854 CATHERINE MONKMAN (m. John HENDERSON)
7. April, 1855 GEORGE MONKMAN (m. Harriet SINCLAIR)             
8. 1856 MARGUERITE MONKMAN (m. Michel CHARTRAND)
9. 1862 HELENE MONKMAN
10.  Dec 24, 1862 ALEXANDER MONKMAN (m. Jennie)
11. 1868 MARIE MONKMAN