ERNEST MONKMAN (1911-1954)
ELIZABETH KIPLING (1912-2012)
(Last Updated: July 26, 2017)
Ernest Gifford (Clifford) MONKMAN was born in January of 1911, son of Mary Agnes SMITH and Robert James MONKMAN (1877-1956). ** MORE ABOUT ROBERT JAMES MONKMAN
In the Census records for 1911, 1916 and 1921, Ernest (baby, age 5, age 10 respectively) with his parents in St Peters West (near the Dynevor Hospital across from the old St Peters Church.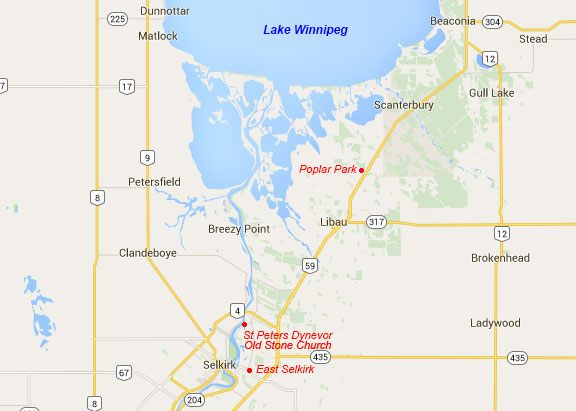 Ernest and Elizabeth KIPLING
1937
Around 1937 Ernest was married to Elizabeth KIPLING, the daughter of Jessie PARISIEN and John KIPLING (1868-1955). Their only child, Oliver, was born on May 25, 1938, probably in St Peters Parish (See map above).
Ernie Dies by Drowning
1954
On Aug 7, 1954 Ernest Gifford MONKMAN died, by drowning when he and two friends (George KAROL and Ronald FAVEL) were attempting to cross the river from east to west, and their boat tipped. Peter STEVENSON managed to rescue KAROL and FAVEL, but not Ernest. Ernest (only 43 years old) was survived by his wife Lizzie and son Oliver. He was buried in the Old St Peters Church Cemetery.
Elizabeth KIPLING and George Edward CARLSON
Sometime after Ernest died Elizabeth (nee KIPLING) remarried to George Edward CARLSON (1885-1959) of uncertain origins.
On July 7, 1959 George Edward CARLSON died at the Winnipeg General Hospital at the age of 74. His obituary indicates that he was survived by his wife Elizabeth of 402 Kennedy Street in Winnipeg. He was buried in the Brookside Cemetery.
From Obituary: Elizabeth CARLSON (nee KIPLING, MONKMAN) worked as a young woman at the Dynevor Hospital and later at the Selkirk Mental Health Center. She also was a cook on several of the boats including the Luberc, Suzanne E and Lady Canadian until her retirement.
On Apr 7, 2012 Elizabeth (nee KIPLING) – MONKMAN – CARLSON died at the Victoria General Hospital at the age of 100 years. Her obituary indicated that she was survived by her son Oliver (Patsy); daughter-in-law Josephine MONKMAN, grandchildren, Ernie (Kathy), Willie, Richard, Lizann (George), Clara, Angel, Eileen (Patrick), Jason (Sara), Trevor, Conrad, Syndi (Camilo). She was predeceased by her parents, special grandson John and granddaughter Patricia. Funeral services will be held on Thursday, April 12 at 2:00 p.m. in the Gilbart Funeral Chapel with Rev. Brad Elliott officiating. Interment will follow in the St. Peter's Old Stone Church Cemetery.
Comments and queries at this link: FORUM DISCUSSING THE ERNEST MONKMAN FAMILY
============================ Family Details ============================
Child:
1. May 25, 1938 OLIVER MONKMAN (m. Josephine (Patsy) THADDEUS)