OLIVER MONKMAN (1938-Living 2017)
JOSEPHINE THADDEUS (1935-)
PATRICIA SEENIE (?)
(Last Updated: June 23, 2019)
Oliver MONKMAN was born on May 25, 1938, probably in St Peters Parish (Manitoba), the son of Elizabeth (nee KIPLING) and Ernest MONKMAN (1911-1954). ** MORE ABOUT ERNEST MONKMAN
In 1954 Oliver's father (Ernest MONKMAN) died by drowning in the Red River. Oliver was about 16 years old at that time. His mother (Elizabeth KIPLING) remarried to George Edward CARLSON (1885-1959) of uncertain origins.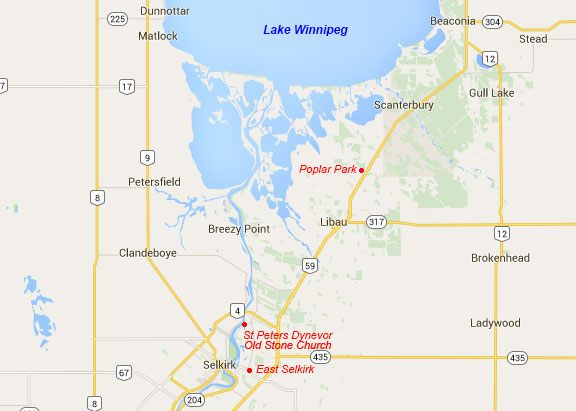 Oliver marries Josephine THADDEUS
1956
Around 1956 Oliver married Josephine THADDIUS, daughter of Mary Jane COCHRANE and Alexander THADDEUS (1892-1978+). ** MORE ABOUT ALEXANDER THADDEUS
In 1977 son Ernest married Catherine STILL, daughter of Jean McKENZIE and Gordon STILL (b-1926).
** MORE ABOUT GORDON STILL
A 1977 article in the Free Press about the Manitoba general election indicates that Oliver MONKMAN (Liberal),  "a 38 year old Metis transport company operator from Norway House whose quixotic campaign has been characterized by Pimpernell-like elusiveness - " On Oct 11, 1977 the election was held. Results for the Thompson Constituency indicated Ken MACMASTER (PC) 3947; Ken DILLEN (NDP) 3031; and Oliver MONKMAN (L) 283.
In 1979 son John Robert died accidentally at Lac du Bonnet at the age of 21. He was living at 325 Morris Ave in Selkirk at the time and was working as a carpenter for his father's contracting company, Monkman Builders at the time. His obituary indicated surviving brothers, Ernie and his wife Cathy, William, Richard, Trevor, Conrad and Jason; his sisters Elizabeth, Clara and Cynthia; and his grandmother, Mrs Lizzie CARLSON.
Marriage to Patricia SEENIE
1998
On Dec 24, 1998 Oliver married Patricia SENNIE from the Roseau River Reserve, the daughter of Agnes and Stephen SENNIE (1922-2005).
On Apr 11, 2003 the Red River Local of the Manitoba Metis Federation (MMF) hosted a retirement social honoring Mr. Oliver MONKMAN, former Vice-President of the Interlake Region of MMF. He was retiring from Métis politics after 35 years of serving our Manitoba communities.
From a 2012 obituary for Oliver's mother, Elizabeth (nee KIPLING) MONKMAN-CARLSON - her surviving son Oliver (Patsy); daughter-in-law Josephine Monkman; grandchildren, Ernie (Kathy), Willie, Richard, Lizann (George), Clara, Angel, Eileen (Patrick), Jason (Sara), Trevor, Conrad, Syndi (Camilo.;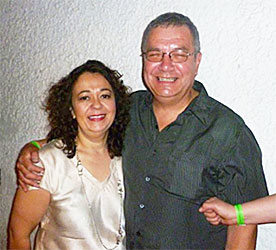 Catherine Still and Ernie Monkman
Comments and queries at this link: FORUM DISCUSSING THE OLIVER MONKMAN FAMILY
========================== Family Details ==========================
Children with Josephine THADDEUS:
1. Jan 14, 1957 ERNEST CLIFFORD MONKMAN (m. Catherine "Cathy" STILL)
2. 1958 JOHN ROBERT MONKMAN (Died age 21)
3. WILLIE MONKMAN
4. ELIZABETH (LIZANN) MONKMAN (m. George)
5. CLARA MONKMAN
6. ANGEL MONKMAN
7. EILEEN MONKMAN (m. Patrick)
Children with Patricia SEENIE:
1. JASON (SEENIE) MONKMAN (m. Sarah)
2. TREVOR MONKMAN
3. CONRAD MONKMAN
4. SYNDI MONKMAN (m. Camilo)